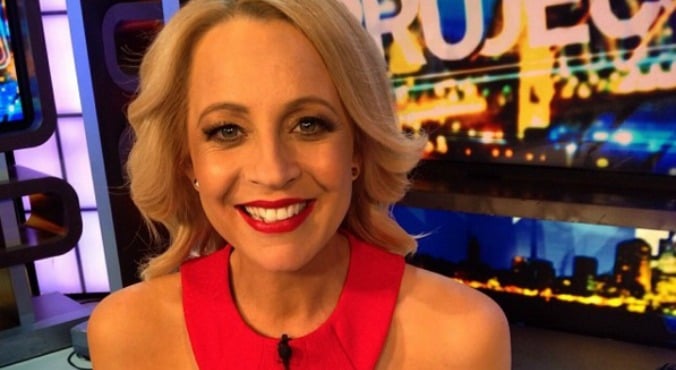 Image: Instagram/@bickmorecarrie.
Most family photos you see on social media look like they could be lifted straight out of a magazine shoot. Everyone is smiling. Outfits are perfectly colour coordinated. Oh, and the sun just happens to be setting while your children are actually behaving as though they like each other.
Any parent knows this is far, far from reality – which is exactly what makes Carrie Bickmore's latest snap so refreshing.
The Project host shared a picture of her with partner Chris Walker and daughter Evie, showing what a family photo really looks like, warts and all.
"This is what family photos used to look like… before we all took 100 photos until we got the perfect one where we are all looking!!!," she wrote.
"#LookAtTheCameraEvie #smile #evie #LookOverHere #Evie!! Everyone collectively makes weird noises to get her to look #SheDoesnt #proud."
Despite no-one actually, erm, looking at the camera, it's a great photo of the family including Evie's fantastic Bonds tutu and Bickmore's less tulle-y but equally fabulous red dress. (Watch: Fellow presenter Georgie Gardner on wanting more kids. Post continues after video)

Bickmore's honesty was well received by her followers.
"Haha! Looks like my family 'pre' photo @bickmorecarrie," wrote redfined_hair_studio.
"We still have plenty of these – kids pulling each other's hair, bunny ears, angry facial expressions and general chaos – bring back the Polaroid shots," added petertaliangas. (Post continues after gallery.)
Carrie Bickmore on Instagram
Racking up over 1,000 likes in less than an hour, we'd say that despite the lack of sunset and Hollywood smiles, this is one candid AND successful family photo.
As for the next time a similar situation arises, one follower has a handy suggestion:
"Sports mode all the way."
Genius.
Have a hilarious family photo story to share? Tell us below.
Listen to the full episode of No Filter, featuring Carrie Bickmore.