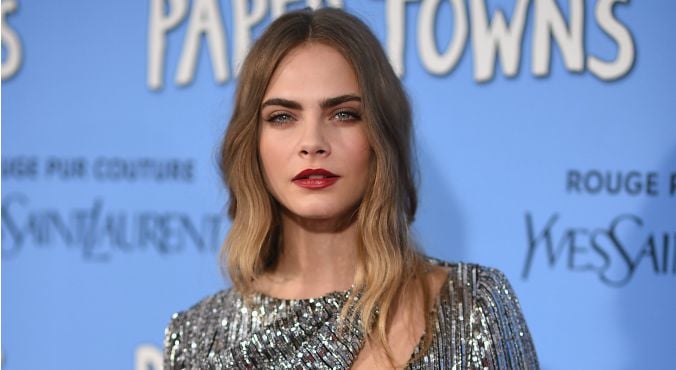 Image via Getty.
Recently, it feels like celebrities have been going for hair colours that are, well, pretty normal (Blake Lively and your "bronde" hair, we're looking at you).
But now it looks like the candy-inspired colours may be set for a return – and of course, it's It model Cara Delevingne leading the charge.
RELATED: Phoebe Tonkin, Amanda Seyfried, Ruby Rose and Chrissy Teigen farewell their old hairstyles
Supporting her girlfriend St Vincent (real name Annie Clark) at the Osheaga festival in Montreal, Delevingne's bronde hair seems to have been replaced by a fairy floss-inspired pastel pink shade.
While her personality might be fluorescent, the Paper Towns actress has rarely strayed from her usual brown/blonde colour.
RELATED: This is one celebrity we didn't expect to try pastel pink hair
There is speculation that the bubblegum pink hair is actually a wig donned either for fun or even to try and stay incognito at the festival.
If the latter is true, from the number of fans sharing selfies with Delevingne (and her pink hair) on social media, it doesn't look like it worked very well.
Either way, we think the candy colour looks great on Delevingne. Keep the changes coming!
The best celebrity hair transformations