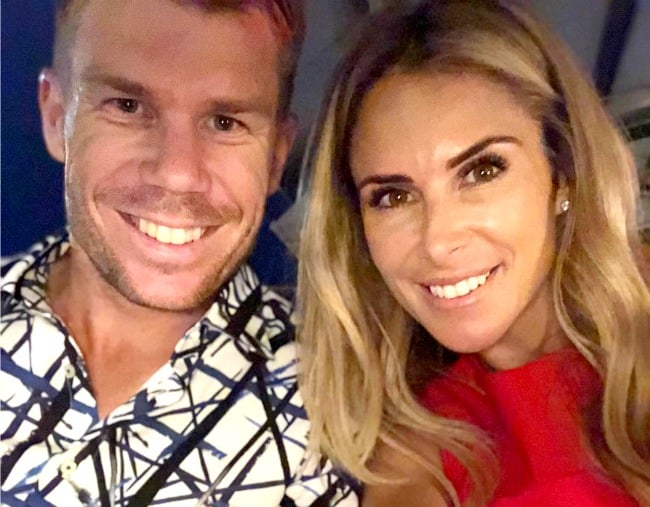 There's a woman on the front page of a Sydney tabloid today because she once had a sexual encounter with a man who is not her husband.
This same woman, over the past week, has been discussed at length on television, radio and in countless online columns, like this one.
All because, like the vast majority of Australian women, she has had more than one sexual partner in her lifetime*.
Candice Warner is married to the Australian cricketer David Warner, but long before she ever met him, she was a young, single woman who dated other people. Imagine that.
Listen to Jessie Stephens, Mia Freedman and Holly discuss the "shaming" of Candice on Mamamia Out Loud:
In case you missed it, the reason Candice – a former athlete, now a business woman and mother – is on the front page of the paper today is because a South African cricketer – with the most excellently appropriate name of Quinton de Kock – thought it would be fun to hassle her husband about the fact that Candice wasn't a virgin when they married.
Specifically, he wanted to "sledge" Warner about a night in 2007 – 11 years ago – when she got drunk and was surreptitiously photographed in a Sydney pub toilet with rugby league player Sonny Bill Williams. She was 23 at the time, he was 22.
In the gentlemanly culture of cricket, de Kock knew that if he poked Warner about his wife's sex life, he'd get a rise, and he did. Warner had to be held back by four of his team-mates to stop him attacking de Kock on the way back to their changing rooms after a game in Durban last week.
Handed over to cricket authorities to deal with, this story might have gone away if South African fans – smelling blood in the water – hadn't decided to turn up the next day wearing Sonny Bill Williams masks to taunt Warner further.
Today, the story's legs keep on pumping because, almost unbelievably, Sonny Bill Williams himself has turned up to stay at the same Cape Town hotel where the Warners – David, Candice and their two small children – are staying during the South African Test.
Cue the pictures of Candice walking out of the hotel, and Williams walking in, being front-page news. The soap opera rolls on.
That this is deemed a story is unsurprising. This is Australia, and we love our sport. We love stories about sledging. We love stories about Aussies sticking up for themselves (although Warner himself is known as an aggressive sledger, so he's hardly lily-white here).
But most of all, we love salacious stories about women having sex. We loved them in 2007, and depressingly, nothing has changed.
The subtext running through all of this is that Warner, a protective husband and father, had no choice but to attack de Kock because making a sexual slur about someone else's wife is pretty much the lowest of the low. What a dog act. What a disgrace.
But stop. Hold that narrative up to the light.
Why are we giving so much power to the neanderthal idea that a woman's sexual past is a shameful secret?
Why are we still convinced that a man would really rather believe that his wife has never even looked at another man?
Why are we so happy to buy into the idea that David Warner can't handle the fact his wife is a sexual being?
Sonny Bill Williams is a married man these days, and no-one seems to be lighting a candle of sympathy for his wife, Alana Raffie. The double-standard is blinding.
As Liz Ellis so eloquently put it on Nine's Sports Sunday, "Here we have an international sporting contest that is essentially saying to women, the message is you come here as a Madonna, you come here as pure or you don't come here at all… I don't see fans turning up to All Blacks games with Candice Falzon masks. So how dare they turn up at a South African cricket game in masks of someone the wife of one of the cricketer's was formally involved in. It is disgraceful. It is upsetting."
Watch Liz Ellis' brilliant commentary of Sports Sunday:

Is the fact that any of us even know about what went on on a blurry night at the Clovelly Hotel eleven years ago a gross invasion of privacy? Yes.
Is it a time Candice would rather forget? Yes.
She said the media storm that ensued after that story broke almost drove her to take her life. "I did not want to be here. I hated life, I hated it," she told The Sunday Telegraph in 2012. She moved to Perth with her mum to escape the notoriety.
But did she do anything wrong in the first place? No.
There is nothing even a tiny bit shameful or embarrassing about being a woman who wanted to have sex with a handsome man when she was young and single and he was young and single.
Candice Warner should not be humiliated for having been human, young, and horny.
She should not be pushed into feeling ashamed of following her desire, of letting loose, of behaving exactly like hundreds of other young men and women do every Saturday night, all over the country.
As Brene Brown says, shame can't exist where there's empathy. Empathy is like kryptonite to shame.
And anyone with an ounce of empathy for Candice Warner shouldn't be saying 'poor you, how humiliating'. They should be saying, 'You go girl, you did nothing wrong'.
The person who did something 'wrong' in this situation is the idiot who pushed a camera under a toilet stall 11 years ago.
And the cricketer who decided it was a great idea to use a woman's body as a weapon to try to win a sports match.
Let's place the shame at their feet, where it belongs.
* The Australian Study of Health And Relationships, conducted once every 10 years, reported that the average number of sexual partners for women is eight.
On the latest epidsode of Mamamia Out Loud: How To de Kock Block Sex-Shaming, the team discuss everything from commitment ceremonies to school canteens to cricket.
Shout out to all Dads.
Here at Mamamia we are always looking for ways to make Mamamia even better. Dads, we need you to help us do that by filling out this quick 15 min survey for us. Click the button below for your say.

Want to win some skin care goodies? Like to have your opinion heard?
Take our short survey now for your chance to a win a skin care pack.