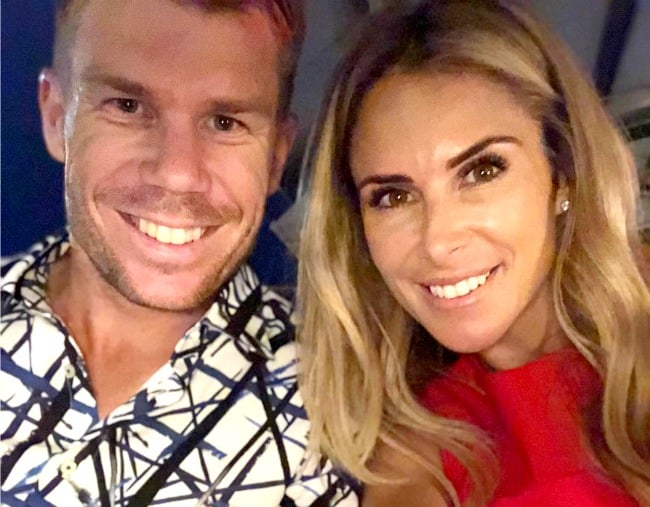 There's a woman on the front page of a Sydney tabloid today because she once had a sexual encounter with a man who is not her husband.
This same woman, over the past week, has been discussed at length on television, radio and in countless online columns, like this one.
All because, like the vast majority of Australian women, she has had more than one sexual partner in her lifetime*.
Candice Warner is married to the Australian cricketer David Warner, but long before she ever met him, she was a young, single woman who dated other people. Imagine that.
Listen to Jessie Stephens, Mia Freedman and Holly discuss the "shaming" of Candice on Mamamia Out Loud:
In case you missed it, the reason Candice – a former athlete, now a business woman and mother – is on the front page of the paper today is because a South African cricketer – with the most excellently appropriate name of Quinton de Kock – thought it would be fun to hassle her husband about the fact that Candice wasn't a virgin when they married.
Specifically, he wanted to "sledge" Warner about a night in 2007 – 11 years ago – when she got drunk and was surreptitiously photographed in a Sydney pub toilet with rugby league player Sonny Bill Williams. She was 23 at the time, he was 22.
In the gentlemanly culture of cricket, de Kock knew that if he poked Warner about his wife's sex life, he'd get a rise, and he did. Warner had to be held back by four of his team-mates to stop him attacking de Kock on the way back to their changing rooms after a game in Durban last week.
Handed over to cricket authorities to deal with, this story might have gone away if South African fans – smelling blood in the water – hadn't decided to turn up the next day wearing Sonny Bill Williams masks to taunt Warner further.
Today, the story's legs keep on pumping because, almost unbelievably, Sonny Bill Williams himself has turned up to stay at the same Cape Town hotel where the Warners – David, Candice and their two small children – are staying during the South African Test.
Cue the pictures of Candice walking out of the hotel, and Williams walking in, being front-page news. The soap opera rolls on.
That this is deemed a story is unsurprising. This is Australia, and we love our sport. We love stories about sledging. We love stories about Aussies sticking up for themselves (although Warner himself is known as an aggressive sledger, so he's hardly lily-white here).
But most of all, we love salacious stories about women having sex. We loved them in 2007, and depressingly, nothing has changed.
The subtext running through all of this is that Warner, a protective husband and father, had no choice but to attack de Kock because making a sexual slur about someone else's wife is pretty much the lowest of the low. What a dog act. What a disgrace.