I was just a happy, busy mother in 2010, looking after my three-year-old daughter, Brianna, and toddler son, Luke. I had breastfed my daughter until 15 months and my son still enjoyed being breastfed, especially at night. Life was good.
I had overcome mastitis while breastfeeding Brianna and Luke. After noticing some lumps in my left breast, I went to my General Practitioner (GP) who referred me for an ultrasound. The sonographer could not see anything sinister and the report came back as calcified milk deposits. I happily continued breastfeeding but was referred for two more ultrasounds, all of which reported the same result.
My GP remained concerned and referred me to a surgeon for biopsies of the lumps. When I returned to his practice in September 2010, with 13-month-old Luke in his pram, Brianna and my mum with me, the last thing on our minds was breast cancer. At 37-years-old, and with two young dependent children, I faced the fear of death.
The surgeon advised that I stop breastfeeding immediately and have surgery in two weeks' time to remove the affected breast. This meant I had to be separated from Luke as he demanded milk from me. We were both traumatised. Mum had the task of introducing a bottle to Luke.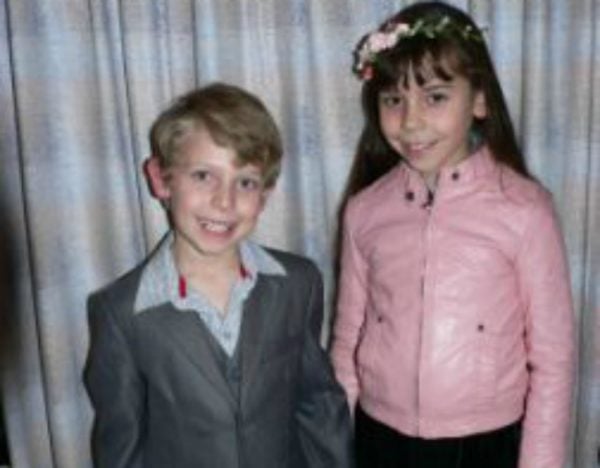 He rejected it each time it was offered. In the end, desperation made her add a small amount of flavouring, which finally resulted in him taking it.
After numerous nerve-wracking tests, no cancer was detected anywhere else. My body-changing operation came and went well but seeing my image in the mirror after my bandages were removed was hard to deal with. I was cut to the bone and my chest was covered with staples. When my wound was healed, I started wearing a special bra, which could hold a prosthesis.
I had a very aggressive, unusual cancer, which was stage three. There was not one tumour but numerous ones within the breast. They were successfully removed with a margin around them, however, one was only a few millimetres short of going through my chest wall. The lymph nodes removed from under my left arm were clear of cancer. At the time, I was naively unaware that this was such a positive result, but when I told my brother he was over the moon.
A few weeks after surgery I went to my first appointment with my oncologist. She shocked me by wanting to start treatment straight away, having three treatments of one form of chemotherapy before Christmas and a different form of chemo a further three times after that (once every three weeks). After my first chemo treatment, I was affected badly.
I could not stay awake, had no energy and was bed-bound. To go to the bathroom I would wrap my arms around my mum's neck and she would drag me there. Having a shower was exhausting. I was so weak. My appetite had gone and after mum listed all sorts of foods to eat, I ended up forcing down a banana. I slowly improved and to me, after a week, I would feel myself again.
After two weeks recovery I was back again and, thankfully, found each chemo session less of an impact on my body. I had a port inserted into my chest after the first chemo treatment to avoid damage to my veins. I did not look up side effects of my treatments and I lived by the saying 'what I don't know won't hurt me'.
Since I was a child, I had always had long hair. Now I knew I was going to lose it and that my identity was to change again. I prepared myself for when I had no hair left. I would be at my lowest, but from there I would climb up again. One late night, when both my kids were asleep, I forced my mum to cut it short to a pixie cut, which would be less devastating for me when it fell out.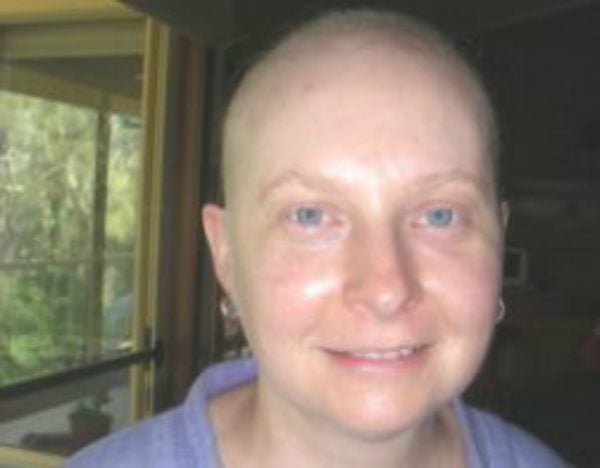 I decided to make a negative situation positive by banding the hair prior to it being cut and consulting the website of Variety's Princess Charlotte Alopecia Program to donate it to a deserving child suffering unexplained hair loss. My beautiful blonde hair would be made into a wig and I can only imagine how happy I could make a child when they put my real hair on their own head.
I continued my cancer journey. After finishing the chemo treatments, I started six weeks of radiation treatment, which I fared well with. It left me tired by evening, but the skin area being radiated only peeled off three days after ceasing treatment. It was not sore and I wore special bandages on the affected area, which healed quickly.
For a year, I went to hospital every three weeks for an intravenous dose of Herceptin, which is a form of chemo. This did not affect me in any way. The downside was all the treatment times meant I was missing out on being a mum to my kids.
After years of wearing a prosthesis, my surgeon and oncologist gave me the go ahead to have a reconstruction. If the cancer was to return, it would have done so straight away due to its aggressiveness.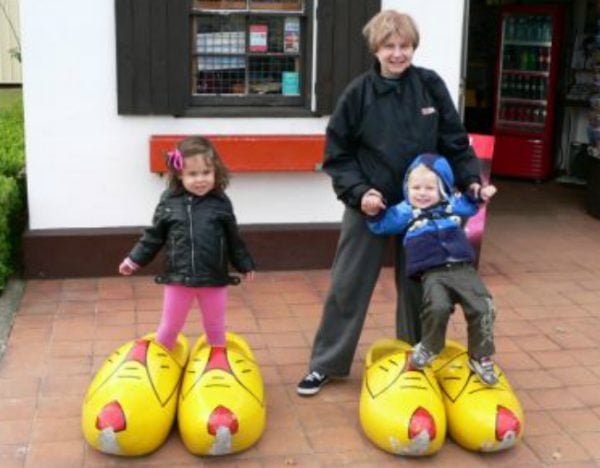 I was cut from side to side and my stomach external area was removed and transplanted with microsurgery to form a breast. I was on the operating table for eight hours and although I am very happy with the end result, it was not for the faint hearted.
The impact of cancer and its effects, witnessed by my young daughter Brianna, empowered her to help others. She was in school when I underwent my reconstructive surgery, I spoke with her principal and teachers to let them know I'd be in hospital for about a week.
Brianna was old enough to understand what I was going through and had been by my side throughout this journey and I wanted her to have a sense of normality and stability at school.
The staff at Padstow North Public School were amazing in providing her support and making her experience as normal as possible. Brianna decided that she would grow her hair long and donate it to the same alopecia program but she also wanted to raise funds for Cancer Council NSW to help find a cure. In 2014, at seven years of age she did just that.
Her hair was to a length that she could easily sit on and she had it cut off at Padstow North Public School's assembly in front of all her peers. She raised $1,864 for Cancer Council NSW.
Channel 10 weather reporter, Tim Bailey, came to her school and we were interviewed by him. Brianna got the opportunity to show her cut off hair to thousands of viewers. She also inspired some friends to donate their hair and another ran a Cancer Council fundraiser to aid vital research.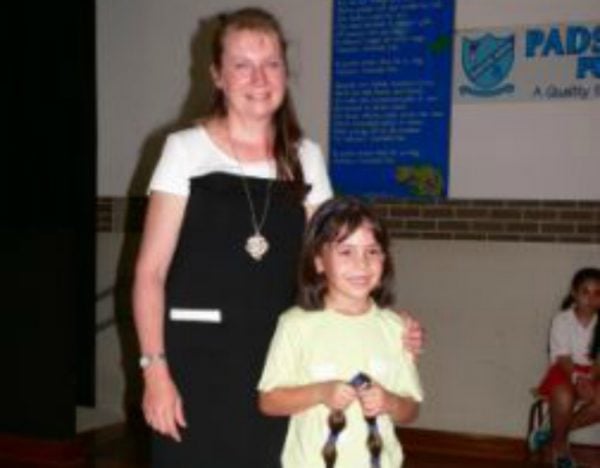 Through the fundraiser, the school opened up the conversation about cancer in a way that was appropriate for students to understand. This really brought the whole school together and I am so grateful for their support throughout our journey.
It has now been more than seven years since my diagnosis and I no longer need to see my oncologist or radiologist. I only see my surgeon twice a year for a check up. I consider myself lucky.
In memory of all those who have not made it with the current cancer treatments available, Brianna and I joined forces in August 2017 and ran the event 'Brianna and Debbie's Double Chop for Charity'. We both had very long hair again and for the second time for both of us, we donated our hair to Variety's Princess Charlotte Alopecia Program to be made into wigs for kids without hair.
Padstow North Public School showcased the event at their assembly and we again raised money for Cancer Council NSW, totalling $1,638. We are so grateful to our school and community for helping us make a difference to those affected by cancer. Our dream is a world without cancer.
To ensure every school community is able to respond effectively and sensitively to issues that cancer may raise in the school environment, Cancer in the School Community is available for download at www.cancercouncil.com.au/cancer-in-schools, or schools can order free hard copies by calling Cancer Council on 13 11 20 Information and Support Service. You can also donate to the Cancer Council by visiting cancercouncil.com.au.