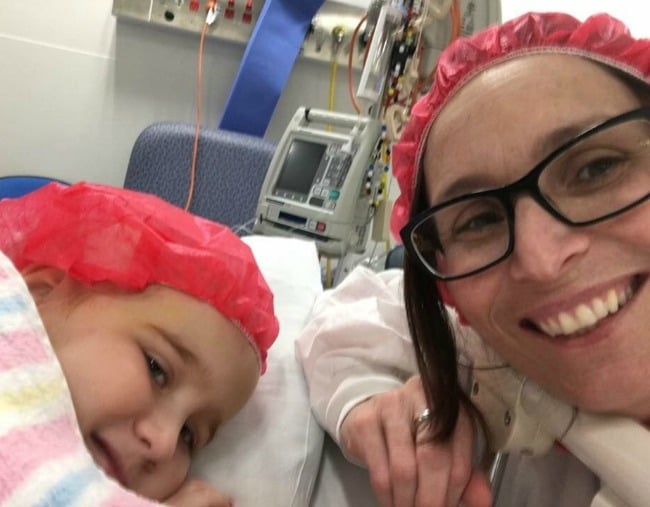 Growing up, I wanted lots of children, to find true love and be happy.
By the age of 40, I had achieved all three.
I was married to a wonderful Englishman named Ed. We met at a 'Feathers and Fur' party in Sydney over one too many Cosmopolitan cocktails. I was wearing a colourful feather head-dress looking for love, and Ed was sporting a fur coat. Our courtship moved quickly and within a year we were married and quickly producing children. In six years, we had three boys, Max, Will and Tommy, and one girl called Ruby.
Ruby was born on July 4, 2011. When I looked into her beautiful blue eyes, I knew our family was finally complete. Not because she was a girl (I was expecting a boy called Charlie) but because she was perfect (and four kids is more than enough really!).
I called our wedding photographer from my hospital bed and booked in a photo session for the children. Life was perfect. I wanted to frame it.
Nothing could have prepared me for the news delivered just a few years later.
It was Monday March 14, 2016. Ed, Ruby and I sat in the Emergency Department of Sydney Children's Hospital. Hours earlier, our GP, Dr Margaret Hamilton, knocked at our door. Ruby had been a bit pale and lethargic and had been sent home from preschool that morning. Ed took Ruby to our GP, requested a blood test and came home for a rest. We just thought Ruby may have been low in iron.
"You have to go to Emergency now. They are expecting you," Margaret told us clearly and calmly.
I didn't ask Margaret any questions. I just packed a hospital bag and Ed and I did as we were told.
Arriving at Emergency, all was calm. We were greeted by a team of beautiful nurses, volunteers and Dr Toby Trahair, who I now know as a leading Paediatric Oncologist.
Toby sat with Ed and me while the nurses played with Ruby. He looked at us directly in the eyes and said, "Your daughter Ruby has leukaemia. I hope I am wrong, but I know I am right."
Boom. Right there, I became a cancer mum.
Bald heads and tears
Our first night in the cancer ward was eerie. Hospital has never been my favourite place and other than birthing my four children, I had not spent any time there.