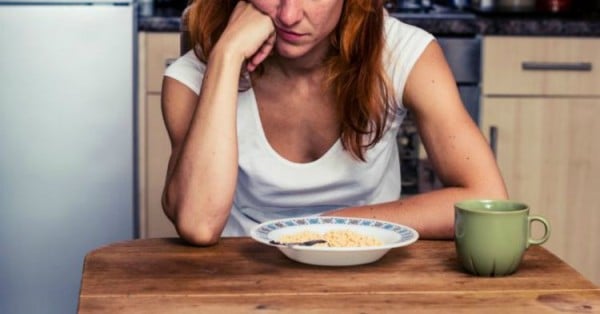 Image: iStock. Trigger warning: This post may be triggering for some readers.
When people picture an eating disorder, they often imagine shocking behaviors that deviate wildly from normal eating. But our society's definition of "normal," especially for women, can look so similar to an eating disorder that it's hard to tell when you've crossed the line between healthy and disordered eating.
That's why, by following popular health advice, I became anorexic without even knowing it. (Watch: Could anorexia be genetic? Watch MamamiaTV's discussion. Post continues after video.)
At age 15, I read an advice book for girls with a chapter on cultivating a healthy diet. It warned readers about the prevalence of obesity and gave tips to avoid it: Quell the urge to eat with gum, set down your fork between bites, don't eat between meals, stop before you're full.
At 5'6″, I was thin already and had no eating problems. But based on what I saw on TV, the thinner a woman could be, the better.
On top of that, my serial-dieter dad made disapproving comments when I reached for seconds or desserts: "You should start watching your weight as you get older." I began breaking my reflection into body parts: My stomach wasn't flat enough, my arms were too flabby, and my face was too wide.
The dieting tips in my self-help book and women's magazines promised me the fitness and beauty I feared I lacked. As a perfectionist, I followed them religiously, eating yogurt and oatmeal for breakfast and salad for lunch. And I always left at least a bite of dinner on my plate to practice self-control. (Post continues after gallery.)
I panicked at pizza parties and other events where only "bad" foods were available, sometimes skipping meals altogether. Since I also stopped consuming artificial sugar and other substances considered "unhealthy," I convinced myself my routine was about health, not weight. But I couldn't deny that the scale's steady drop was addictive.