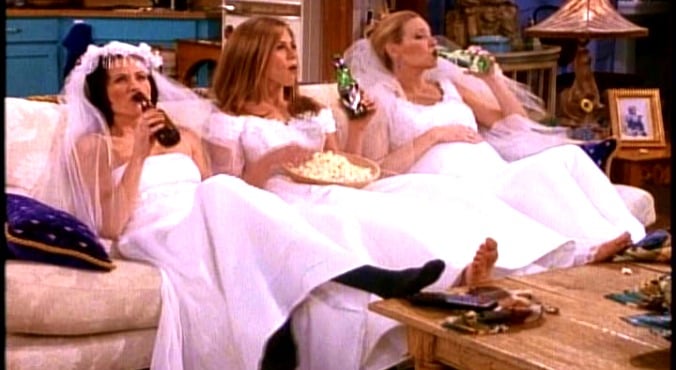 Image: Friends
A lot of funny things can happen when you live or work with a bunch of other women. You might start talking or even dressing alike, and you definitely get acquainted with one another's weird habits.
But despite the urban myths you've heard, you won't necessarily share a menstrual cycle.
"How I got my period back after 7 years without it."
Sure, the idea of being so close to your friends that your bodies team up in solidarity once a month is kind of cool, and you've probably heard of it happening to friends of your friends who lived together.
But according to Dr Ginni Mansberg, it's not something that inevitably happens. Sorry. "I am a bit of a sceptic. It has been noted that this sort of thing can happen, however there's no real biochemical explanation for it and there's no real reason why this sort of thing should happen," Dr Mansberg says.
"In terms of do the hormones that stimulate your ovaries and do you bleed them out into some kind of ether cloud that makes a hormonal aura around you that infects other people... that's not plausible from a biochemical point of view."
The surprising link between your first period and your health.
The period synchronisation debate has been around for decades now. It kicked off back in 1971 when Martha McClintock published a study of young women living together in college dorms. Her findings suggested regular interaction with other women could have a "strong effect on the menstrual cycle", a phenomenon that came to be nicknamed 'the McClintock effect'.
However this research, and a number of further studies that attempted to replicate it, has been fiercely contested by health researchers in the years since. As with almost any phenomenon, there is anecdotal evidence that women who work or live in close proximity can (and have) experienced overlapping periods, but Dr Mansberg says there's a simple explanation for that: statistics.
"Here's what I think is going on: over any four week period, 25 per cent of women are having their periods. Some women will overlap during that time - say two out of those seven days with a colleague, and another colleague might share two of those seven days at the other end," Dr Mansberg.