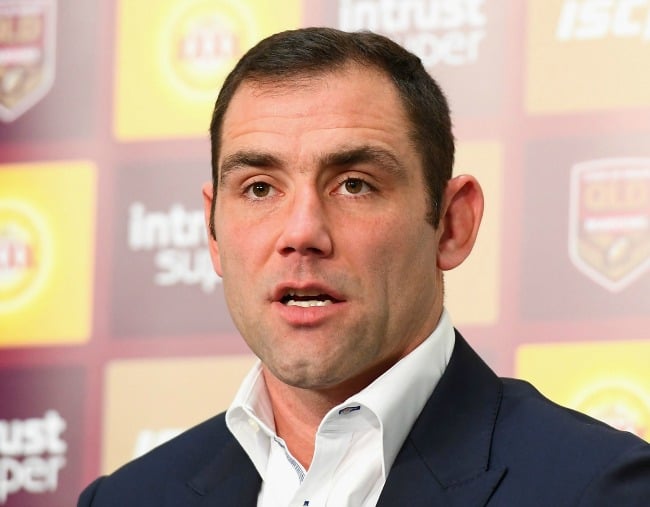 Cameron Smith knew his decision to call time on his glittering representative career was right when he told Queensland coach Kevin Walters and all he felt was relief.
The Australia and Queensland captain dropped the bombshell news at a Melbourne press conference on Tuesday, just three weeks out from the State of Origin series.
The physical and mental toll of Origin, as well as a desire to spend more time with his family were behind his decision, while Smith said he hoped it would extend his NRL career with the Storm.
Flanked by Walters and with his wife Barbara and three kids watching on, the 34-year-old said now was the right time to finish up a career that encompassed a record 42 Origin appearances – including 11 series wins – and 56 Tests including two World Cup triumphs.
"The decision is a combination of the impact that representative football had on me and my family," Smith said.
"It's a decision that I did take a lot of time to come to but in the end the reasons for not playing on far outweighed reasons to play on this year.
"I feel really good. I feel happy. When I spoke to Kev about the decision it was almost as though a weight was off my shoulders."
Watch Cameron Smith announce his retirement from representative rugby league here:

Smith said he'd started thinking about it last year, when he was unable to back up and play for the Storm the weekend after each Origin game as he'd done in the past.
"Last year, more than any other year, the Origin series in particular had an effect on me both physically and mentally," said Smith.
"Looking back on it now I just don't think that's fair for myself, I don't think that's fair on my family and also my teammates back here at Melbourne Storm.
"I couldn't back up after any of those Origin matches and maybe that was a sign there that it was time, because I have always been very proud of my ability to back up and it's something I've looked forward to."
Smith said those weekends, when unable to play for Melbourne, he was lying on the couch or in bed exhausted, and he believed few realised the drain of playing at that level.
His absence from his family through the Origin period and then six weeks away on World Cup duty with the Kangaroos also contributed to the decision.
"There's a few important things happening now with my family with school and with their junior sport that I miss out on," Smith said.
"That's a big sacrifice but it's a bigger sacrifice for them."