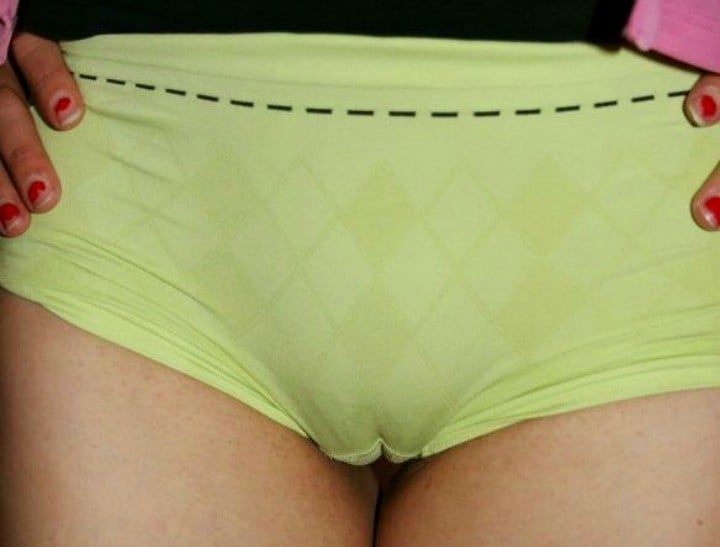 *Sigh* another day, another part of your body to feel ashamed of…
Today I learned about a remarkable new invention.
It is an alleged shame-saving contraption, designed to help women feel comfortable and confident when working out. It is made of spandex and medical-grade silicone. It's possibly bullet-proof.
It is anti-camel toe underwear.
For those who missed the early noughties pop hit by Fanny Pack, a "camel toe" is another name for a "frontal wedgie."
Enter 'Camel No' — the new underwear for ladies worried about showing too much of their vaginas to a discerning public.
I wonder, is that something that keeps you up at night? Because prior to Camel No underwear, I myself was unaware that I was terrorising gym-goers with my protruding vagina.
Is Camel No underwear merely creating a problem where there isn't one? Is it just saying, "Hey, ladies. Have you ever thought about your camel toe and the fact that you should cover it up?"
In an interview with Mashable, Camel No founder Maggie Han said her "eureka moment" came while her godmother was giving a speech.
Post continues after gallery:
Things that look like vaginas.
"I didn't hear what she said," Han admits. "I was staring at her camel toe in these beautiful white capris."
Now, if Han's godmother had approached her and said "I'm embarrassed about my camel toe, can you help me?" this would be a different story.
But instead, the invention is based on an assumption that the camel toe is haunting its owner — not the beholder.
Yes, a camel toe can be embarrassing. But wouldn't it be nice if we lived in a world that said "Hey, if my vagina is a problem for you then go f*** yourself," instead of encouraging women to cover up every part of themselves deemed unsightly?