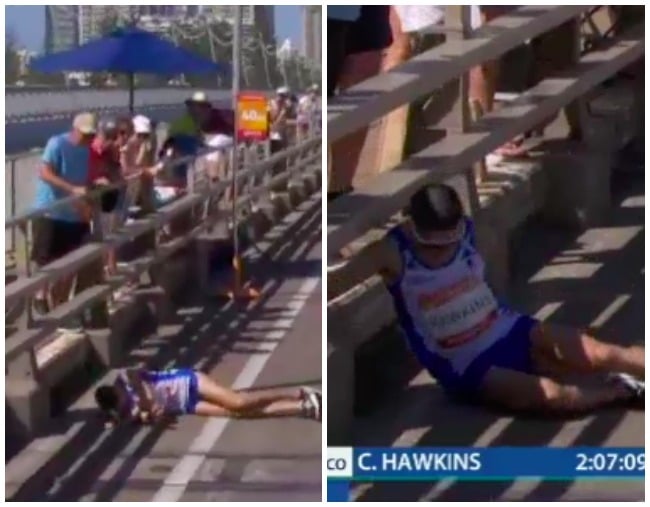 Scottish marathon runner Callum Hawkins has evoked widespread empathy after he collapsed twice in the final two kilometres of the Commonwealth Games marathon.
Hawkins was leading the race, but it appears the heat (it had reached 28 degrees) became too physically distressing for him to continue.
In scenes that sparked worldwide concern, the 25-year-old collapsed just before the Sundale Bridge in Southport and wasn't able to get to his feet for almost a minute. Just a few hundred metres later, he collapsed again, this time unable to get up.
He was forced to watch from the ground as 34-year-old Australian Michael Shelley passed him.
Poor Callum Hawkins showing all his guts under in a severe distress to reach the finishing line. A brave soul and he is Scottish Celtic! Love you mate! #BraveAthlete #GoldCoast2018 pic.twitter.com/5eMLpQByny

— Amadito Morante (@AmaditoMorante) April 15, 2018
Commentators Bruce McAvaney and Tamsyn Lewis appeared distressed as they described the ordeal.
"What we're seeing is hard to watch. Very difficult to watch," McAvaney said.
"This is a tough moment. We are parochial and we are Australians and Michael Shelley is a courageous man and he is hopefully now on his way to a second gold medal but to see what we're seeing in the background tears your heart apart, to be truthful."
"Oh no! He is in trouble. He needs help," Lewis said.
Many spectators became angry as they noted how long it took for officials to help Hawkins, who laid on the road for several minutes before medical staff arrived.
The crowd, who could be seen talking to Hawkins, were told not to intervene, because there were medical officials on their way.
Someone has to help this guy Hawkins. Surely his health is more important than finishing this race. Sickening. #commgames2018 pic.twitter.com/lk6hENRXsm

— Paul Marsh (@Marsh_Paul) April 15, 2018
Extremely hard to watch that in the marathon race. When does medical needs overcome the race itself. Just help the young man please. Hope he is OK Hawkins. Sad to see that

— brad davidson (@braddavo) April 15, 2018