Cutting a cake should be a joy-filled occasion.
Not only because, duh, you are about to eat some cake, but because a cake usually means there's something to celebrate.
But, often there's nothing more stressful than the act of carefully slicing into some spongey goodness to make sure there's a) enough for everyone and b) that every portion is fairly and evenly portioned.
So if you thought cutting a round cake into cute little wedges was the way to go, you're wrong.
Sorry, that sounded harsh. What I mean is….no, sorry, you're going about it the totally wrong way.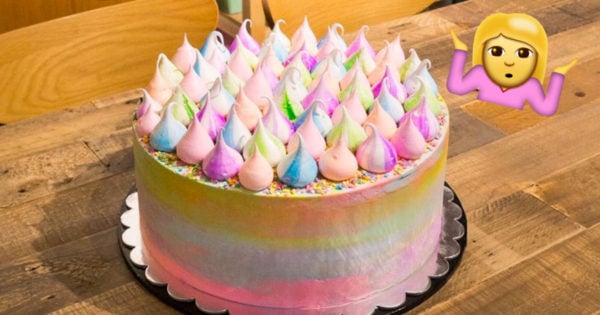 Thankfully, Australian baker Katherine Sabbath, famous for her brightly coloured confection creations, has come to our rescue, and shared with us all how we all should be slicing up Tommy's third birthday cake this weekend.
She shared an image of a 'whopper' morning tea cake, complete with alternate layers of chocolate mud cake and raspberry and vanilla bean meringue buttercream.