Cutting a cake should be a joy-filled occasion.
Not only because, duh, you are about to eat some cake, but because a cake usually means there's something to celebrate.
But, often there's nothing more stressful than the act of carefully slicing into some spongey goodness to make sure there's a) enough for everyone and b) that every portion is fairly and evenly portioned.
So if you thought cutting a round cake into cute little wedges was the way to go, you're wrong.
Sorry, that sounded harsh. What I mean is….no, sorry, you're going about it the totally wrong way.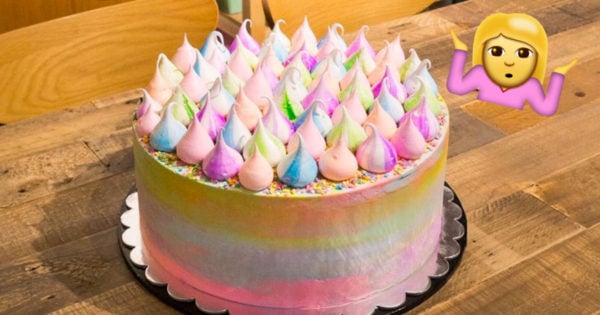 Thankfully, Australian baker Katherine Sabbath, famous for her brightly coloured confection creations, has come to our rescue, and shared with us all how we all should be slicing up Tommy's third birthday cake this weekend.
She shared an image of a 'whopper' morning tea cake, complete with alternate layers of chocolate mud cake and raspberry and vanilla bean meringue buttercream.
The cake was topped with rainbow meringue 'kisses'. Because YUM.
She then shared a video - which has been viewed more than 1.2 million times since it was posted - of exactly how the cake should be cut.
Apparently, a round cake is best cut along the length of the cake, which is then sliced into smaller, one-inch segments.
To make things easier, Katherine uses a chopping board to 'flip' the long slice onto so she can perfectly portion the servings.
The best part? Using Katherine's technique, a cake that would normally serve just six to eight people can be divided into enough for up to 30.
Oh, and there's also the fact that the smaller servings are a little more "responsible" (says Katherine) and the multitude of slices means everyone can go back for seconds or thirds if they just can't get enough.
Just when we thought cake was perfect enough as it was...
LISTEN: How this woman is shutting down trolls by turning their words into cake.