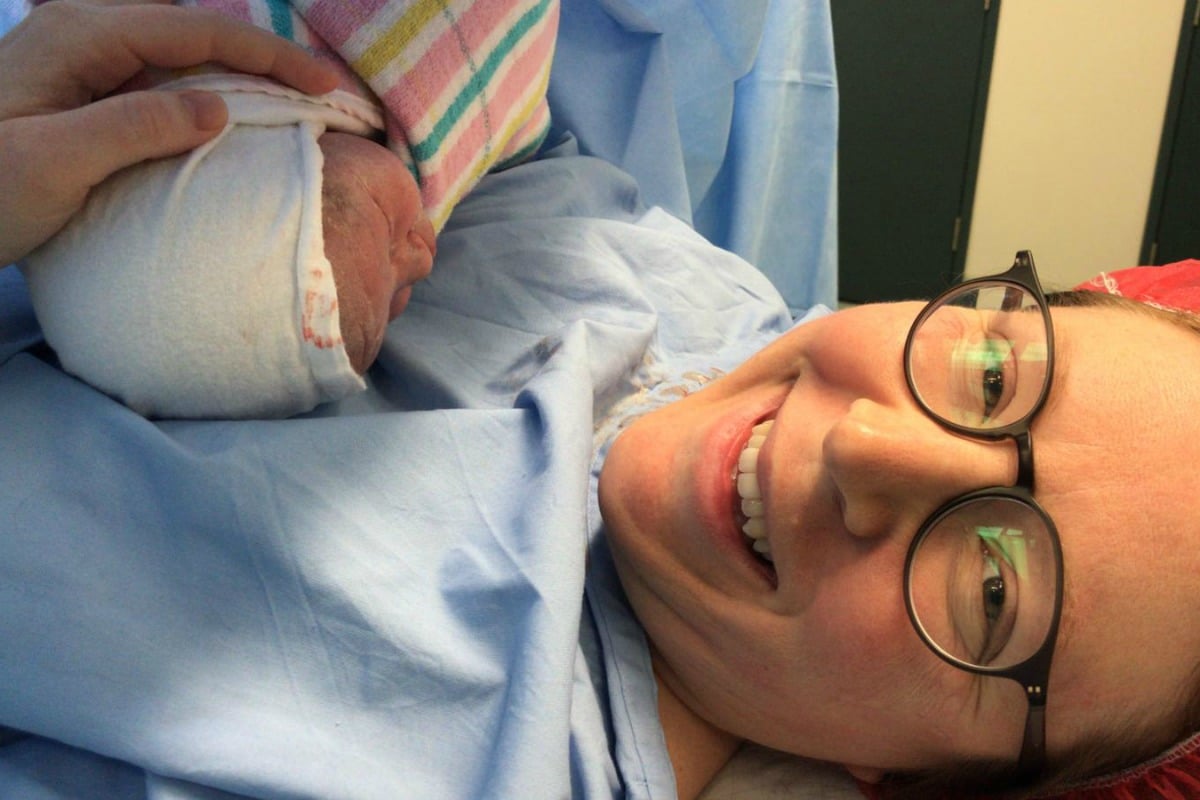 Anna Arstein-Kerslake will never forget her first glimpse of her daughter Freya. She looked down and saw her, halfway out of a small incision in her belly.
"My daughter was there looking at me," she tells Mamamia. "I don't even remember looking at my belly. I just saw her.
"I put my hands under her armpits and grabbed her and pulled her. It didn't hurt, but I could feel the pulling. It sounds scary, but it wasn't at all.
"I took her on my chest before they even cut the cord. She was crying when she came out, but the second that I put her on my chest she stopped crying and she looked up at me and it was really lovely."
Mums and non-mums at Mamamia answer questions about childbirth. Post continues after video.
Arstein-Kerslake, who gave birth to Freya two weeks ago in Melbourne, had a maternal-assisted caesarean. It's something that's becoming more common in Australia.
For Arstein-Kerslake, it was a very different experience from the birth of her first daughter. That birth, in 2016, in a different state, was also a caesarean.
"That was an emergency caesarean, at 27 weeks, due to bleeding caused by placenta previa [low-lying placenta]," she explains. "I was under general anaesthesia. It was such a strange experience to wake up and my daughter wasn't in my belly anymore. She had been whisked away to the NICU [neonatal intensive care unit].
"She passed away after five days in the hospital, due to an antibiotic-resistant infection."
When Arstein-Kerslake got pregnant again, she knew she wouldn't be able to have a vaginal delivery because she'd had a "classical" c-section.
"Once you have those, it isn't safe to labour at all because there's a high risk of uterine rupture."
But her obstetrician, Dr Peter Jurcevic, suggested a maternal-assisted caesarean, and explained exactly what it was.
"At first I was hesitant, because I was thinking, 'Am I going to be too nervous in the operating theatre?'" she remembers. "But I really liked the idea of having the opportunity to be involved, since I knew that I wasn't going to get the opportunity to have any kind of delivery aside from a c-section."