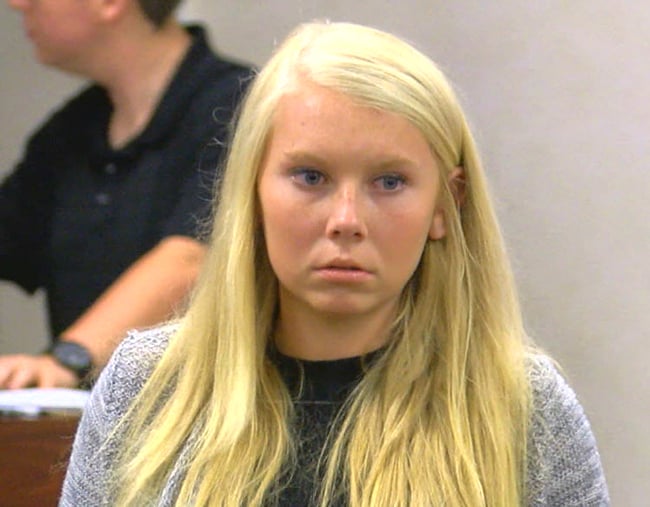 Brooke 'Skylar' Richardson is 19 years old.
She was born in March, 1999 in the middle of a snow storm to middle upper class parents Scott and Kim Richardson of Carlisle, Ohio.
According to her attorney, Charles Rittgers, Skylar was known as "a very good student. She didn't drink. She wasn't a partier or a smoker. By all measures a very good girl who helped children."
Friends, family and classmates describe her as "so sweet and sensitive".
"People only know her by her appearance," high school friend Kiley Alcorn told The New York Post.
"She drove nice cars, lived in a nice house, but she was a good person on the inside too."
Skylar was on the student council in her senior year at Carlisle High School, participated as a cheerleader, volunteered her time looking after children and children with disabilities in her local community.
The very same teenager also has Facebook groups dedicated to proving she's a murderer. To seeing her spend the rest of her life behind bars, or worse.
"She's already guilty and needs her uterus ripped out…" one user wrote about the blonde cheerleader.
"Baby killer!"
Now, Skylar is on house arrest awaiting trial on five felony charges brought by Warren County Prosecutor David Fornshell: aggravated murder, involuntary manslaughter, child endangerment, tampering with evidence, and gross abuse of a corpse.
All because she says she gave birth to a stillborn baby and buried it, because "that's what you do with dead bodies".
19-Year-Old Skylar Richardson Says She Had a Stillborn Baby. So Why Is She On Trial For Murder? https://t.co/K3AQHikNS0 pic.twitter.com/c5OMuMMc7y

— Cosmopolitan (@Cosmopolitan) March 14, 2018