James Corden has taken things up a notch on the latest episode of Carpool Karaoke, going from the standard one on one drive around, to all out super-group status of five. If you've got enough seats you may as well use them, right?
Visiting New York ahead of the Tony Awards, Corden invited a collection of Broadway's finest along for a ride – Jane Krakowski, Jesse Tyler Ferguson, Lin-Manuel Miranda and Audra McDonald.
And with five singing greats in a car travelling throughout Manhattan's iconic streets the scene was set.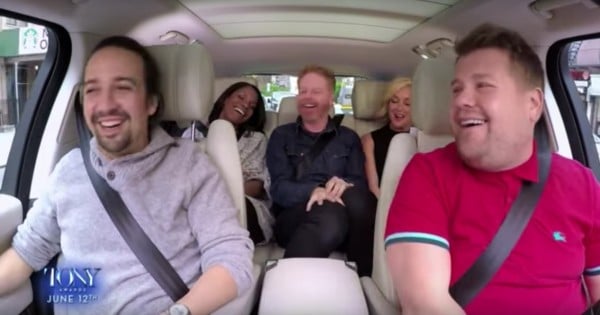 Miranda, McDonald, Ferguson, Krakowski and Corden. Source: Youtube.
From new hits taken from Hamilton to the classics of Les Miserables and RENT, and timeless tunes from Frankie Valli and the Four Seasons, the car was a musical theatre lovers dream on wheels.
Between songs Corden jokingly asked Tyler Ferguson and Krakowski, best known for their television roles in Modern Family and 30 Rock, "Jane and you, Jesse, you both have TV shows but you're both appearing on Broadway right now. Which do you prefer? Theatre or money?"