James Corden has taken things up a notch on the latest episode of Carpool Karaoke, going from the standard one on one drive around, to all out super-group status of five. If you've got enough seats you may as well use them, right?
Visiting New York ahead of the Tony Awards, Corden invited a collection of Broadway's finest along for a ride – Jane Krakowski, Jesse Tyler Ferguson, Lin-Manuel Miranda and Audra McDonald.
And with five singing greats in a car travelling throughout Manhattan's iconic streets the scene was set.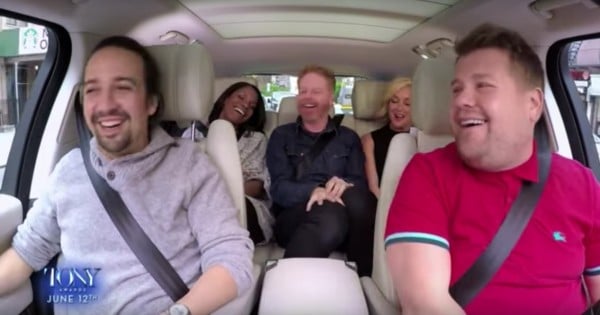 Miranda, McDonald, Ferguson, Krakowski and Corden. Source: Youtube.
From new hits taken from Hamilton to the classics of Les Miserables and RENT, and timeless tunes from Frankie Valli and the Four Seasons, the car was a musical theatre lovers dream on wheels.
Between songs Corden jokingly asked Tyler Ferguson and Krakowski, best known for their television roles in Modern Family and 30 Rock, "Jane and you, Jesse, you both have TV shows but you're both appearing on Broadway right now. Which do you prefer? Theatre or money?"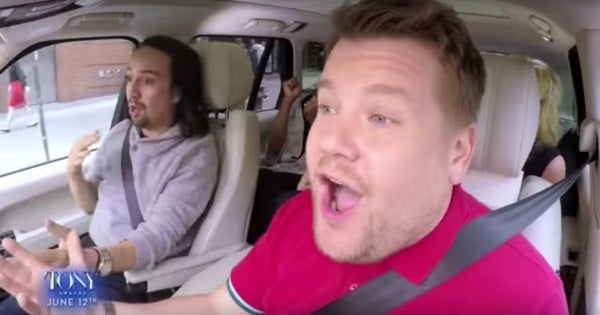 Miranda and Corden mid-Hamilton song. Source: Youtube. 
With another successful episode under his belt, it's remarkable to think that Carpool Karaoke almost never got off the ground.
Speaking with radio show host Howard Stern earlier in the week, the British host of The Late Late Show said that trying to sell the idea to celebrities was something he and producers really struggled with.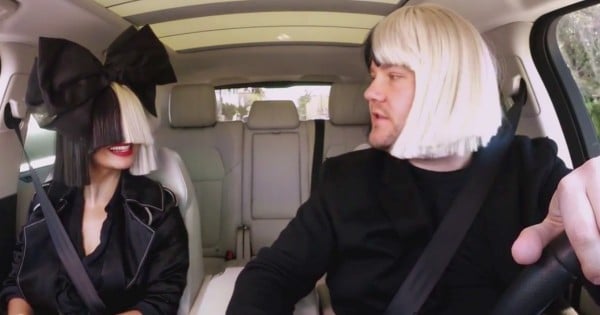 Corden with Australian pop sensation, Sia. Source: Youtube. 
"If you imagine an artist — just think of any artist in the world — they said no to it. I mean, everyone. I'm talking, like, who's the dudes who did Cotton Eye Joe? We were in those sorts of territories. And they're like, 'I'm not doing that'," he said.
But it all turned around when the elusive chartreuse, Mariah Carey agreed.
Now the rest, as they say, is history. Guests have since included Sia, Adele, Justin Beiber, Jennifer Lopez and more.