Come for Britney Spears. Stay for James Corden in blonde pigtails and a schoolgirl cardie.
Every time Corden does 'Carpool Karaoke' on The Late Late Show with James Corden, you don't think it can get better. And really, how do you follow up Michelle Obama doing Missy Elliott?
Well, like this.
If you haven't already watched the glorious Britney Spears' Carpool Karaoke with James Corden this is how it went:
"Thank you for helping me get to work," says Corden. "This traffic everywhere, it's just gridlock."
Next to him…it's Britney, bitch.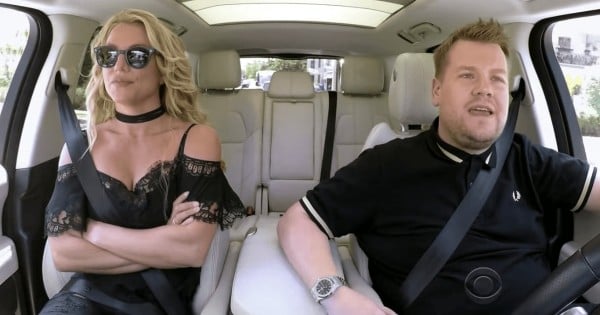 It's B R I T N E Y. Image via the Late Late Show.
They drive through L.A., and he pops the question: what's 'Oops!…I Did It Again' about, anyway?
"I really don't know," says Britney. "I think it's just a song."