Get out your double denim and put your hair up in pig tails.
Britney's back and she, erm, seems to be stuck in a child support battle with her ex-husband, Kevin Federline.
You see, Brit and K-Fed have two kids together – 12-year-old Sean Preston and 11-year-old Jayden James.
As part of their custody arrangement, Britney pays Kevin $20,000 a month in child support.
Yep, $20,000 a month.
Now the father-of-two is requesting up to "three times more" child support from the pop singer.
According to court documents obtained by The Blast, Kevin claims he earns less than one per cent of what Britney does each year.
The backup dancer earns $3000 a month, while Britney "earns in excess of $34,000,000 per year".
"We think the reasonable needs for the children while they would be in Kevin's custody is probably three times what he's currently receiving," Federline's attorney, celebrity divorce lawyer Mark Vincent Kaplan, told PEOPLE.
In honour of Britney's return to the news cycle, we thought we'd take a look back at Britney through the years, from her Disney days, right through to this "single mum stuck in a child support battle" stage.
Get ready for some serious 90's flashbacks:
1. Star Search Britney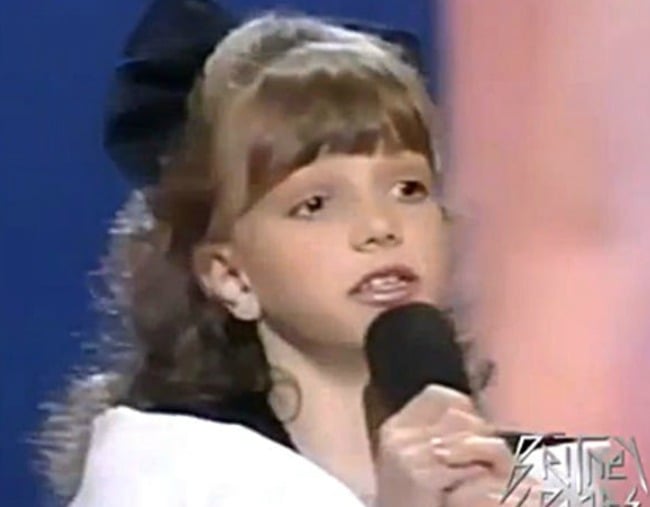 Lil' Britney first appeared on TV in 1992 on the talent show Star Search.
She was 11 years old at the time.
2. Mouseketeers Britney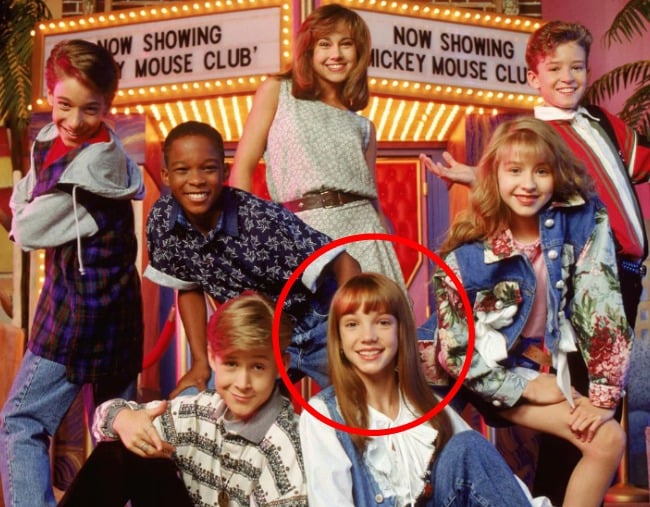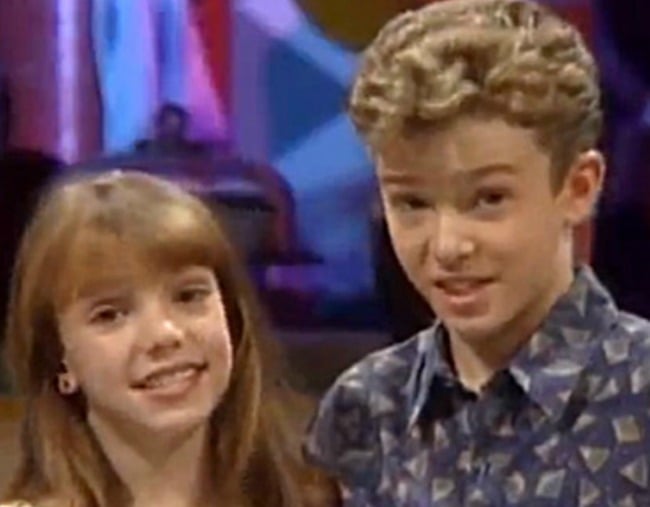 Yes, well.
Before Britney was, erm, Britney she was a mouseketeer on the Disney Channel's The Mickey Mouse Club.
That's where she met Justin Timberlake... in his pre-two minute noodle hair days.
3. Baby One More Time Britney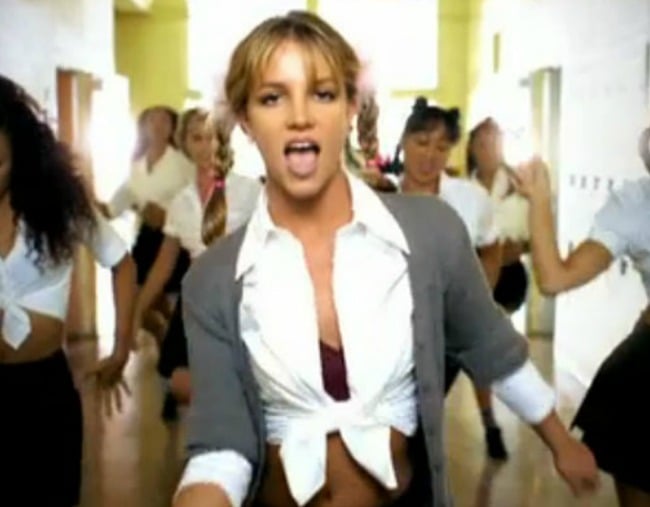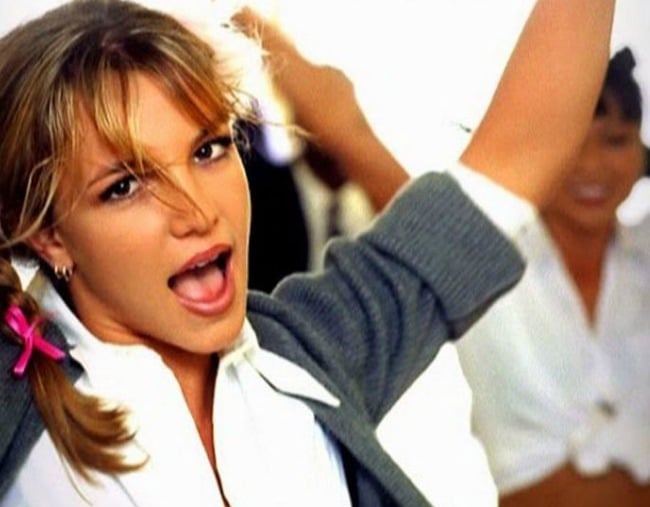 Almost overnight Britney went from a TV mouse to a teenage pop star.
Her debut single Baby One More Time was released in January 1999. You may remember it from all of your high school discos.
4. Rolling Stone Britney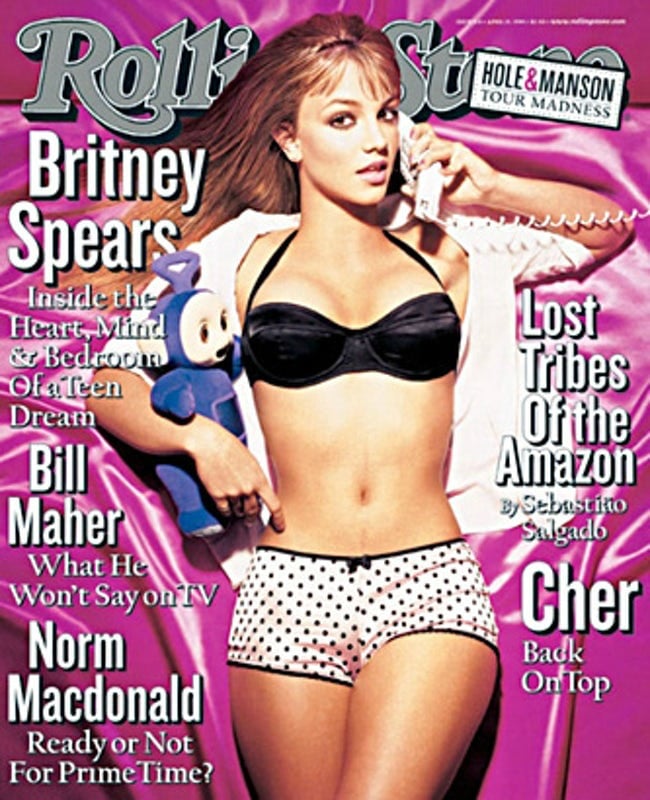 In 1999, Britney appeared on the cover of Rolling Stone in her knickers.
The American Family Association, called it "a disturbing mix of childhood innocence and adult sexuality". 
Britney responded that she has "strong morals".
This was around the same time that Britney was telling everyone she planned to stay a virgin until she was married.
5. Sheer sequined bodysuit Britney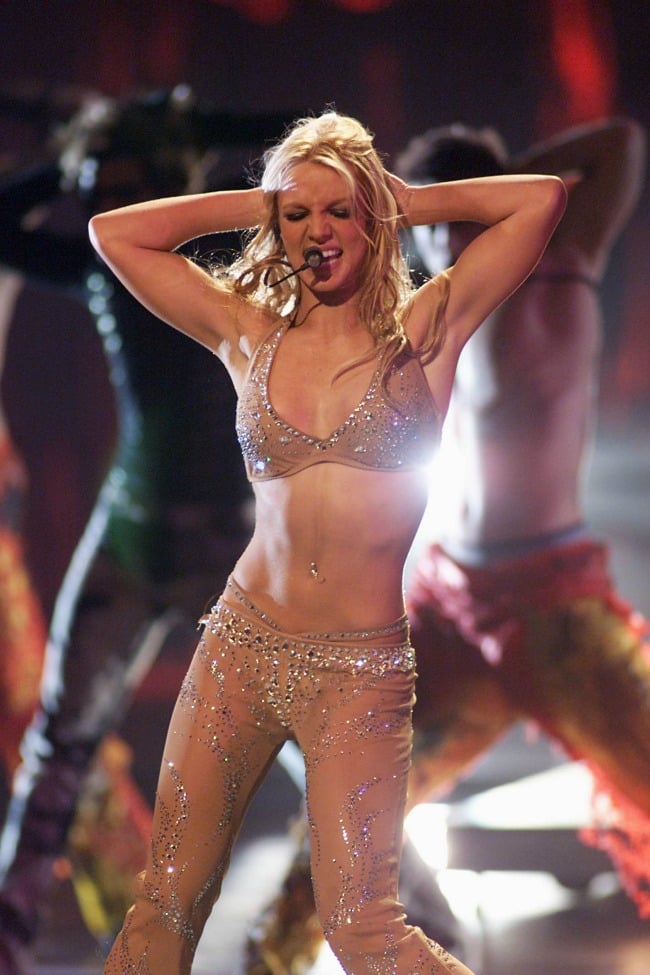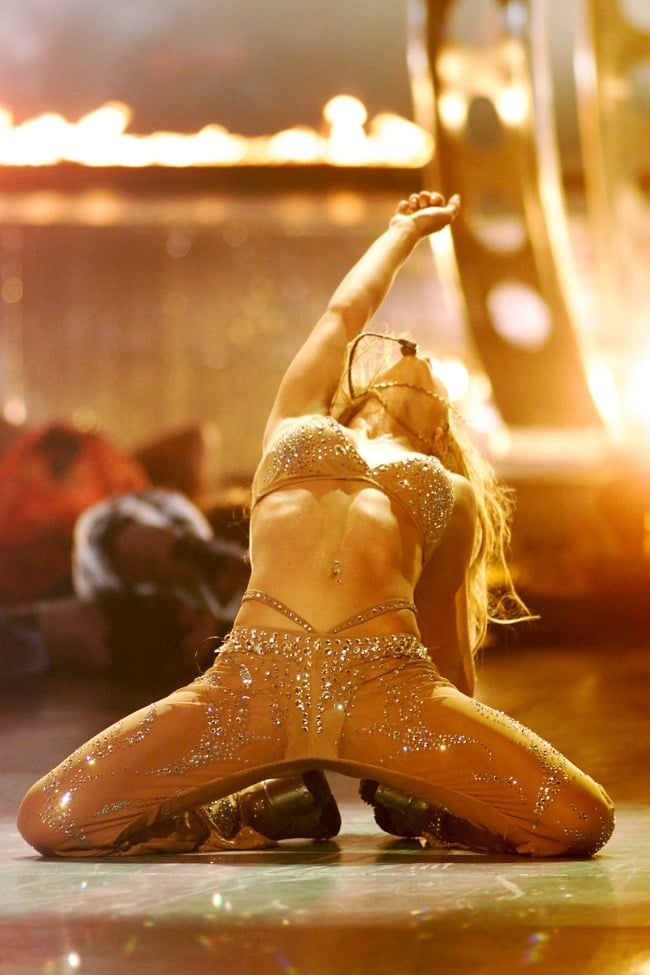 Britney performed on stage in a mostly sheer bodysuit, during her first appearance at the VMAs in 2000.
The world took this as a sign that her mouseketeer days were far behind her.
6. Double Denim Britney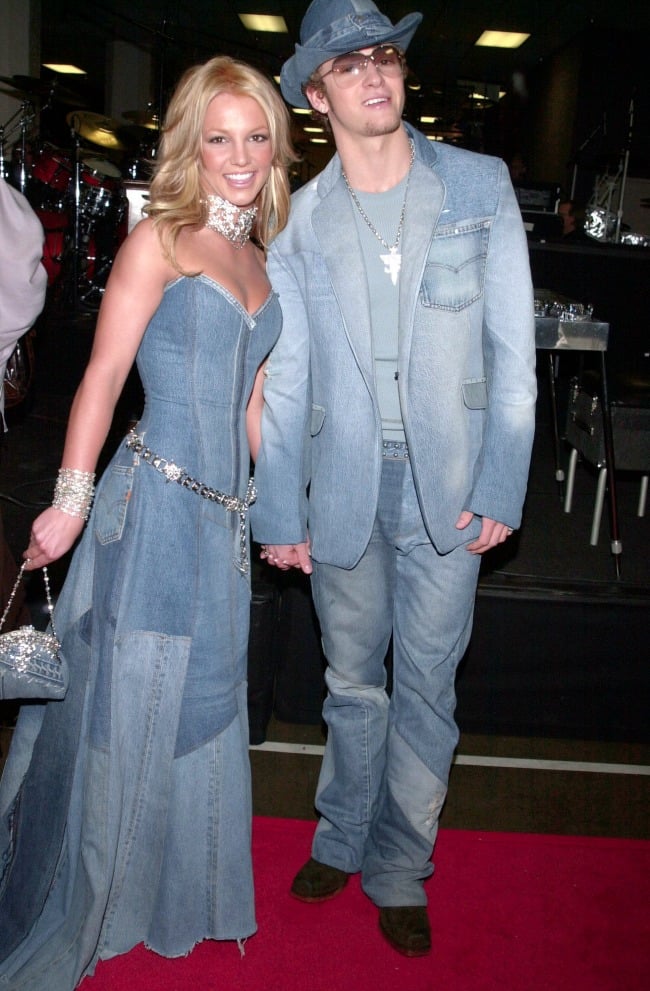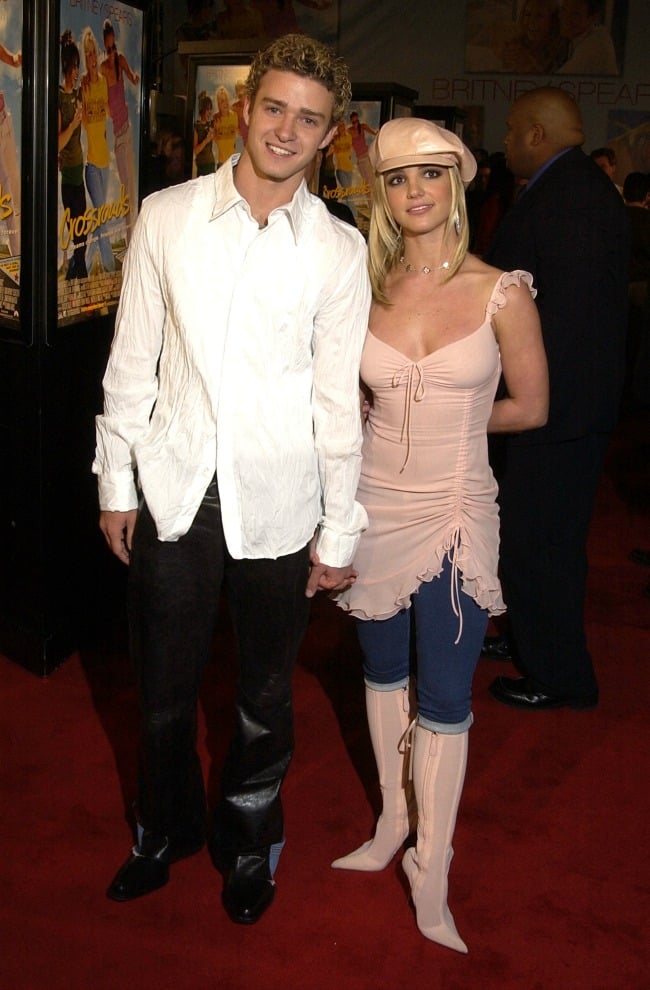 In 2000, Britney started dating her ex-castmate, Justin Timberlake.
They liked to dress in denim and also enjoyed fun hats.
Justin also had hair that resembled two minute noodles which was... fun.
7. Dancing with a snake Britney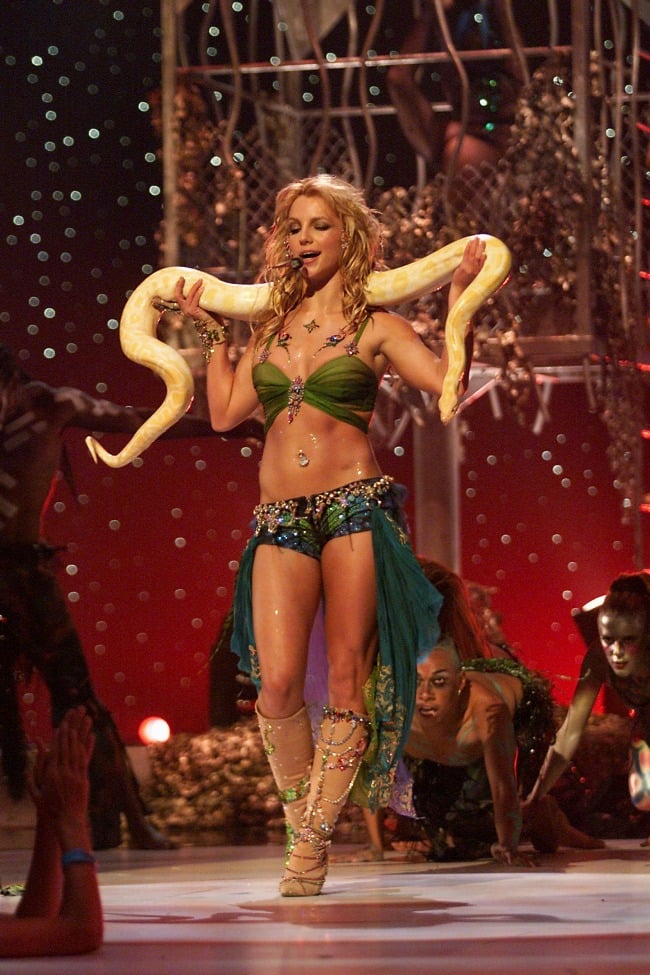 In 2001, Britney danced with a snake on stage.
That is all.
8. Performing with Michael Jackson Britney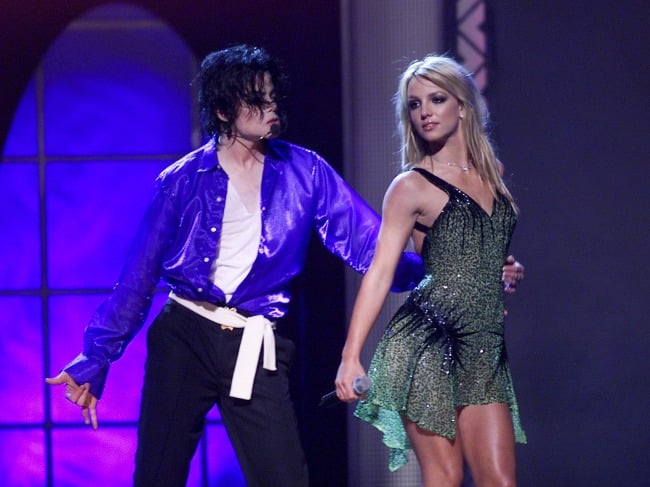 Despite all the double denim and the inappropriate snake touching, Britney's star continued to rise.
In 2001, she performed on stage with Michael Jackson during his 30th Anniversary concert.
There were no snakes involved.
9. Crossroads' Britney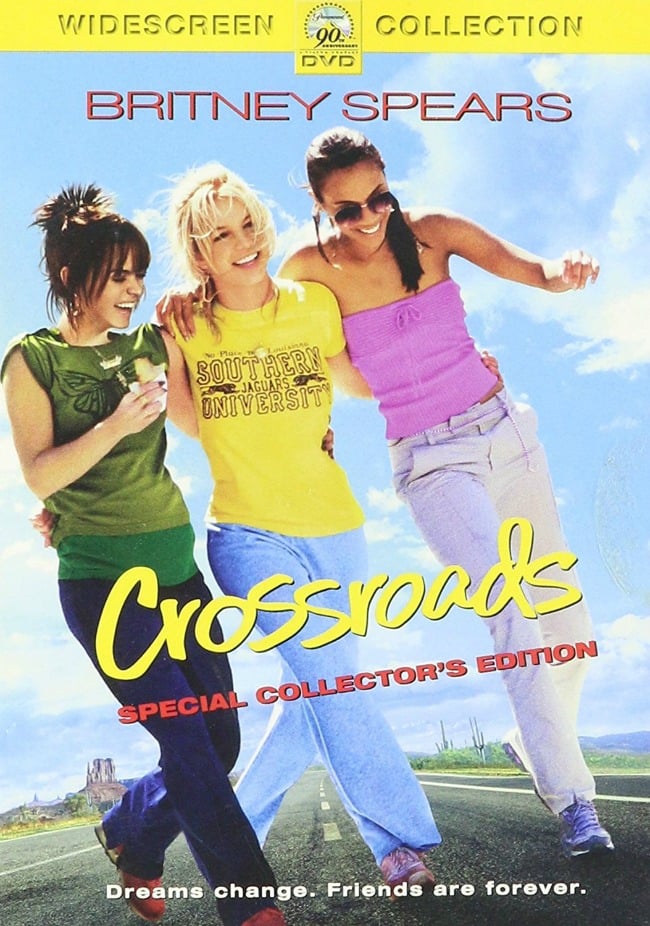 In 2002, Britney starred in a terrible movie called Crossroads.
People loved it ¯\_(ツ)_/¯.
Yep, she's wearing tracksuit pants.
10. Madonna-kissing Britney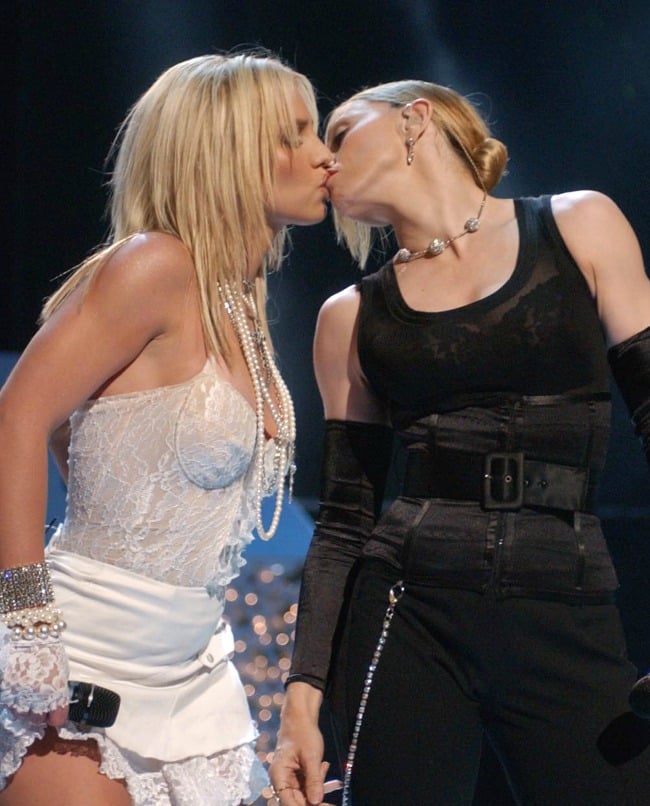 In 2003, Britney kissed Madonna.
Britney and Christina Aguilera were performing "Like A Virgin" on stage at the 2003 VMAs when Madonna joined them mid-song.
Britney and Madonna then made out. Then Christina Aguilera and Madonna made out.
We don't really know why.
11. Las Vegas wedding Britney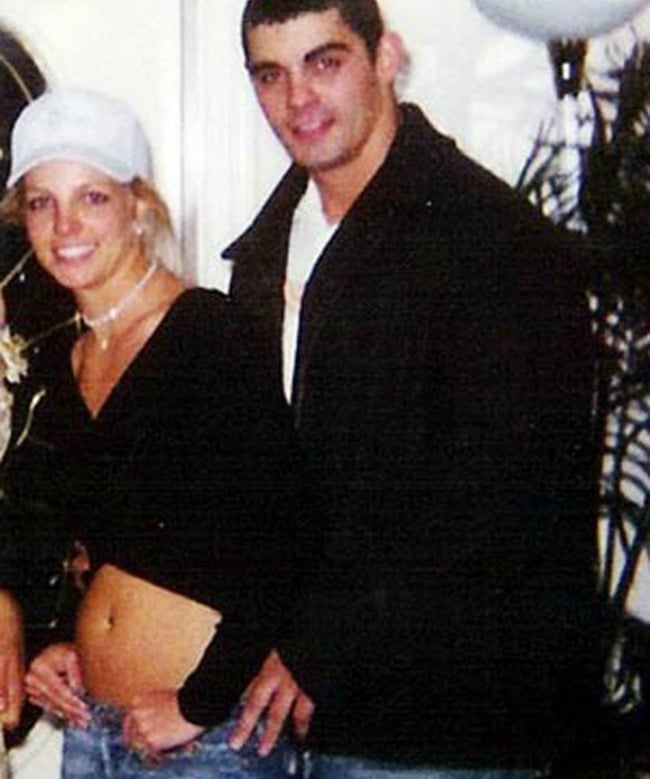 Yes, well.
In 2004, Britney decided to marry Jason Alexander, one of her childhood friends.
The couple got hitched at The Little White Wedding Chapel in Las Vegas.
Like all Vegas-based marriages, it didn't last long.
Just 55 hours later, Britney got their nuptials annulled.
12. K-Fed Britney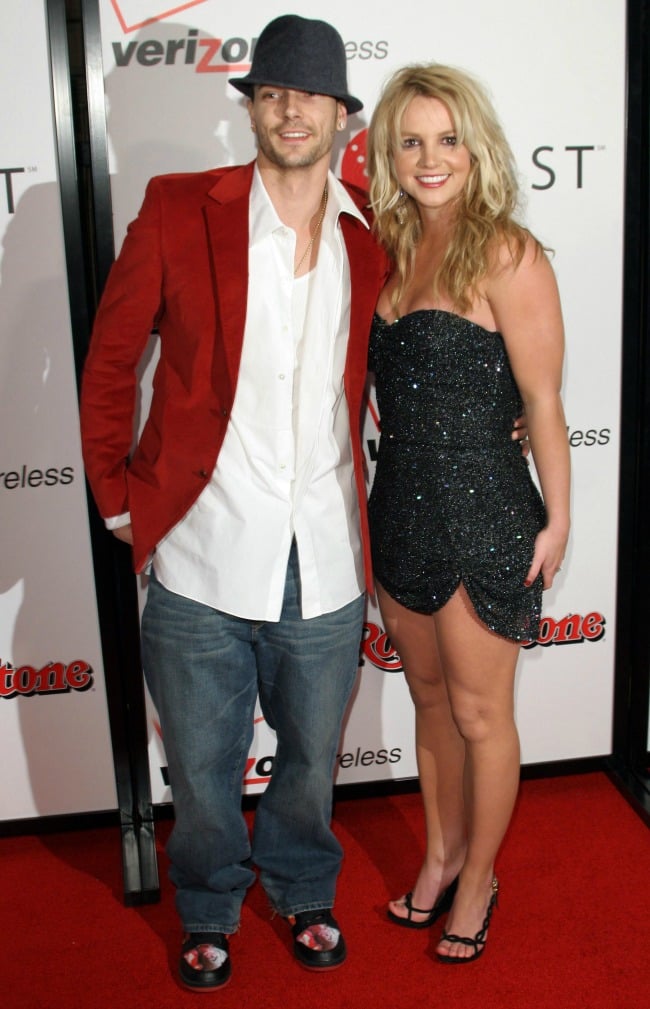 In 2004, Britney started dating Kevin Federline, who was one of her backup dancers.
He's also a rapper and DJ because isn't everyone?
They got engaged within two months and then married within the year.
Their relationship was chronicled in the reality show Britney & Kevin: Chaotic.
The couple divorced two years later.
13. Pregnant naked Britney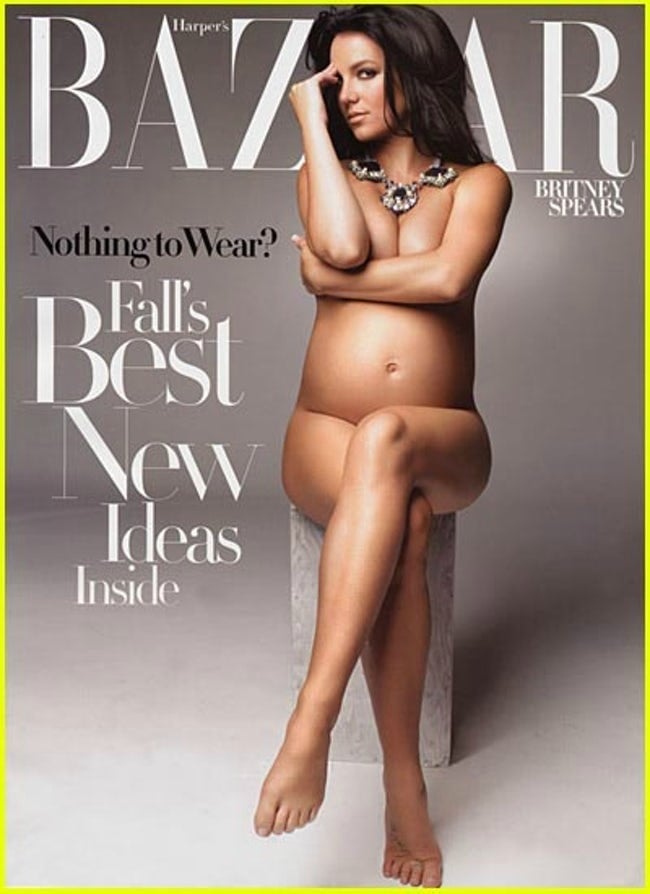 While pregnant with her second son, Britney did a nude cover for Harper's Bazaar.
People weren't actually shocked by this stage.
Around this time, Britney became the target of intense media attention after she was spotted driving around with her son on her lap... not in a car seat.
14. Shaved head Britney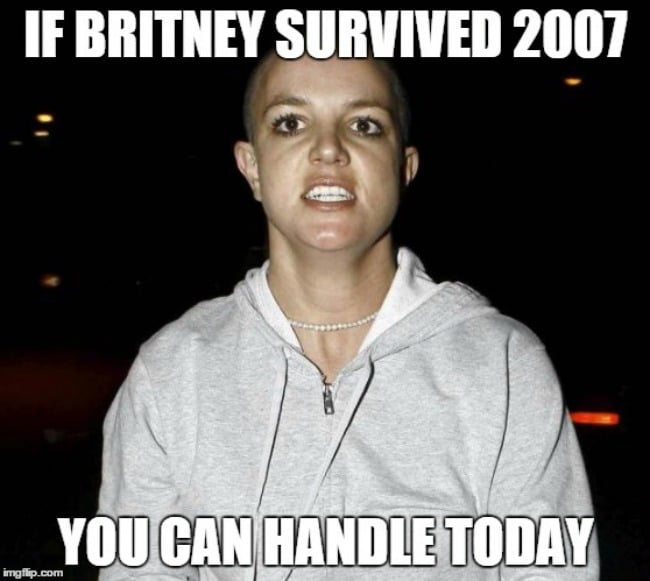 In 2007, Britney shaved her head.
She also became the subject of many a meme.
The day before she had checked into a rehab centre but only stayed one night.
Not long after this she lost custody of her two sons.
15. That VMAs performance Britney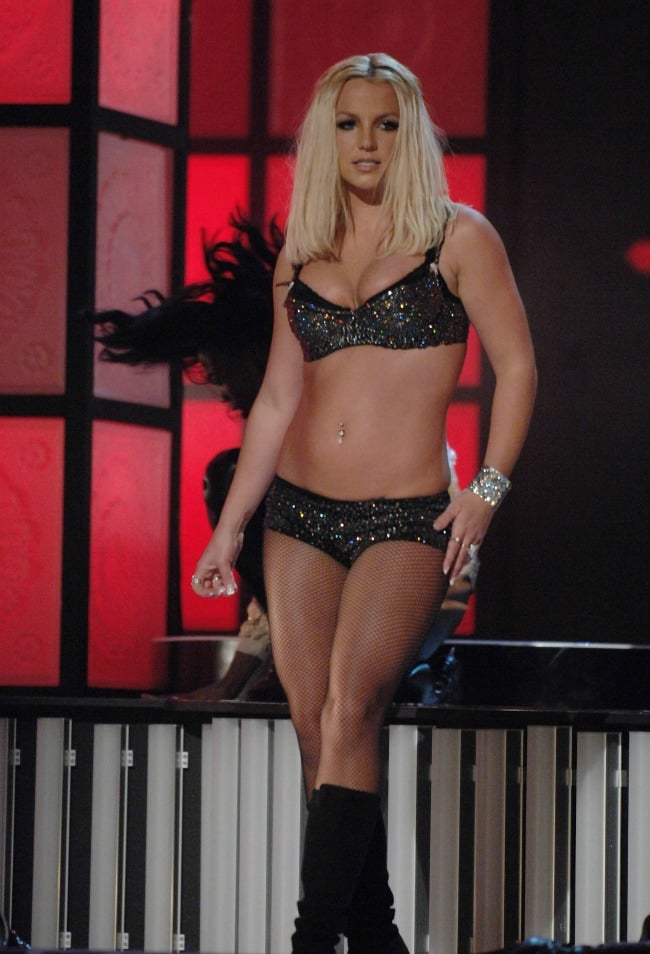 In 2006, Britney kind of... sort of... performed at the VMAs.
It wasn't great and it was probably an early warning sign of what was to come.
16. New Britney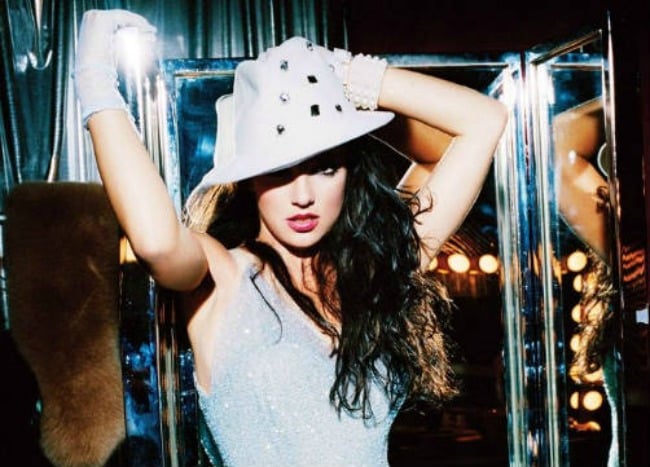 After her public breakdown, Britney released a new album, Blackout, in October 2007.
But she wouldn't fully recover for a few more years.
17. How I Met Your Mother Britney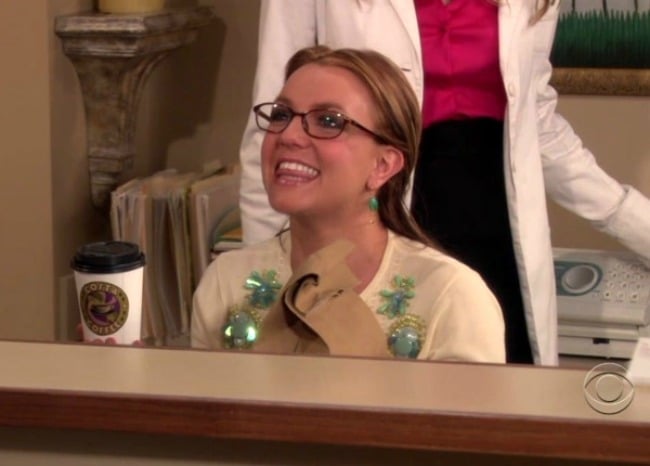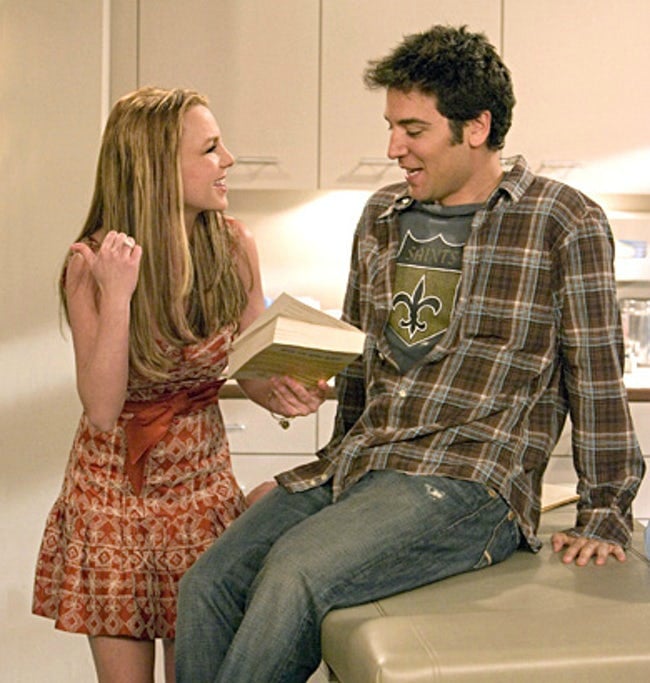 In 2008, Britney guest-starred on How I Met Your Mother as "Receptionist Abby".
Later that year she regained some visitation rights with her kids and won three VMAs.
18. Back on tour Britney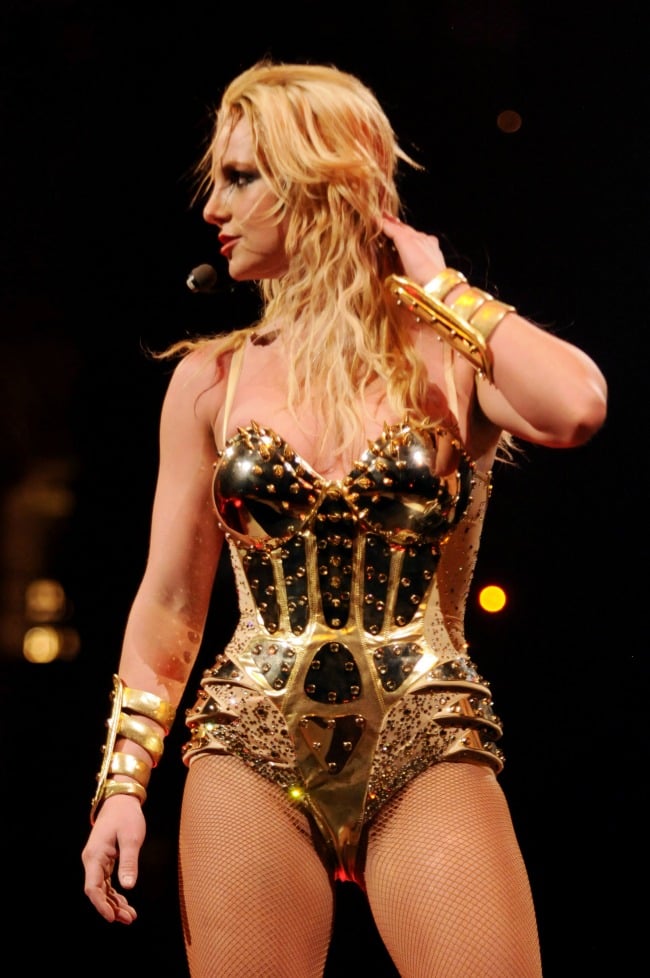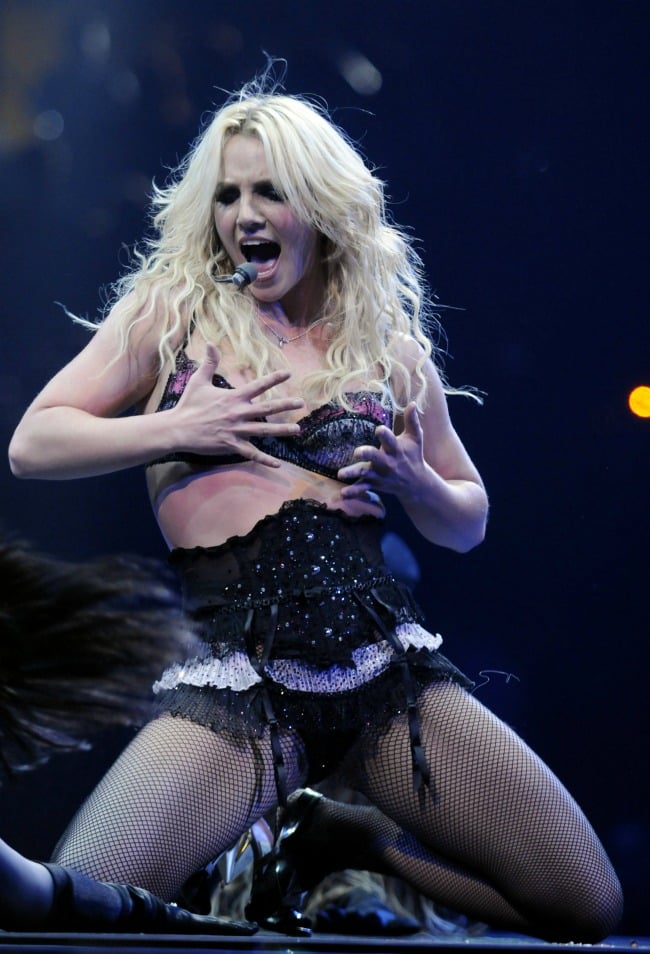 In 2009, Britney went back on tour.
Around the same time, Britney's dad filed restraining orders on her behalf against her former manager Sam Lutfi, ex-boyfriend Adnan Ghalib, and attorney her Jon Eardley,
He claimed they were trying to gain control of her finances.
19. X-Factor Britney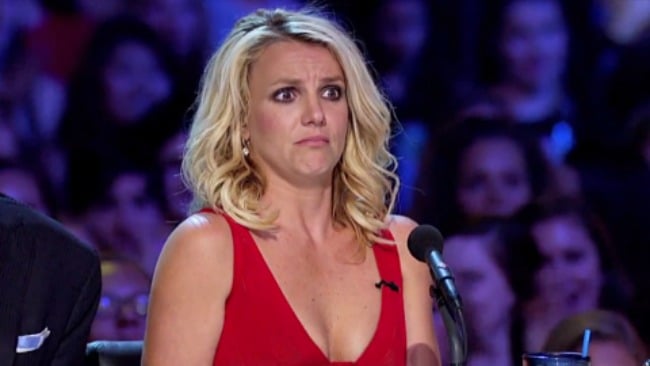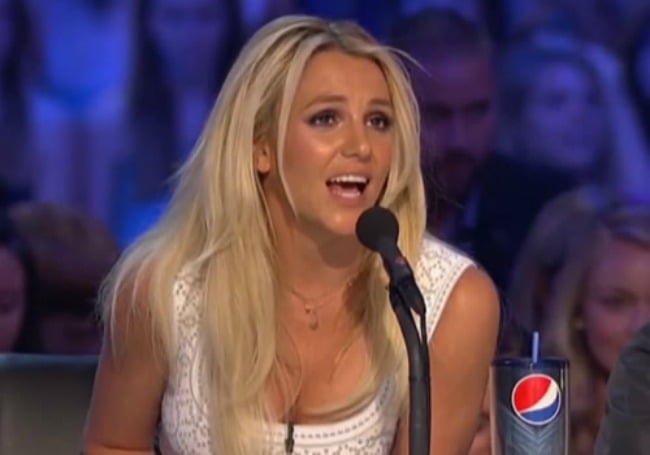 In 2012, Britney became a judge on The X-Factor.
She was reportedly paid $15 million for the role, which makes her the highest paid judge on a singing competition series in TV history.
During her time on the show she made some great facial expressions and became the subject of even more memes and GIFs.
20. Britney Jean, erm, Britney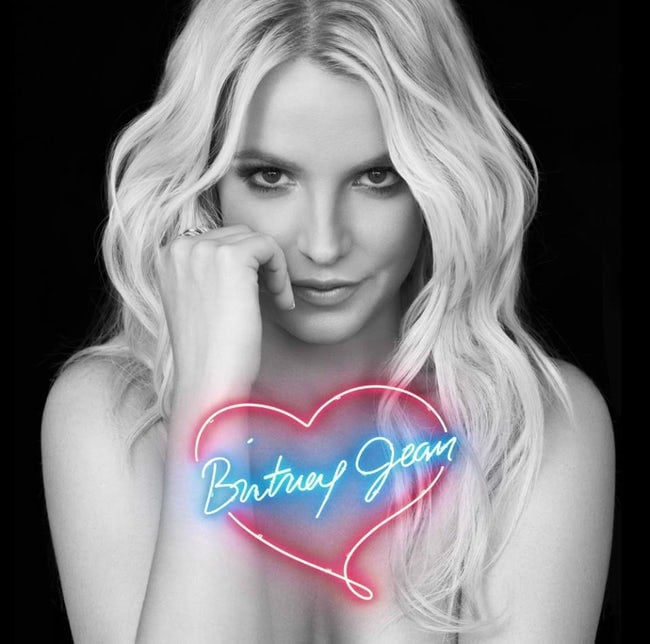 In 2013, Britney released her eighth album Britney Jean.
The single Work B*tch debuted at number 12 in the US charts.
21. Vegas Britney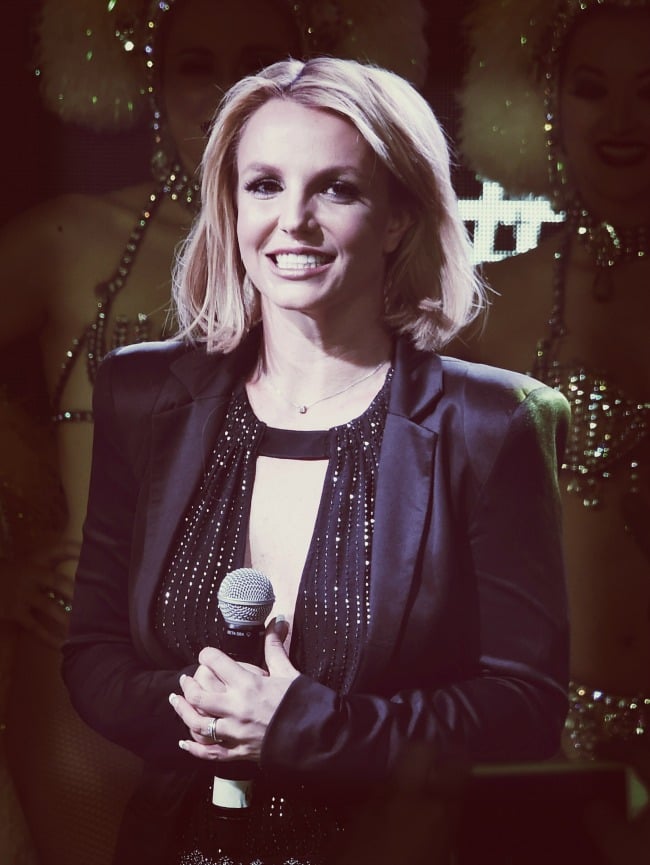 In the same year, Britney began her Vegas residency.
She stayed on for three years.
22. Instagram Britney
These days Britney is pretty active on Instagram.
She's currently dating a personal trainer named Sam Asghari.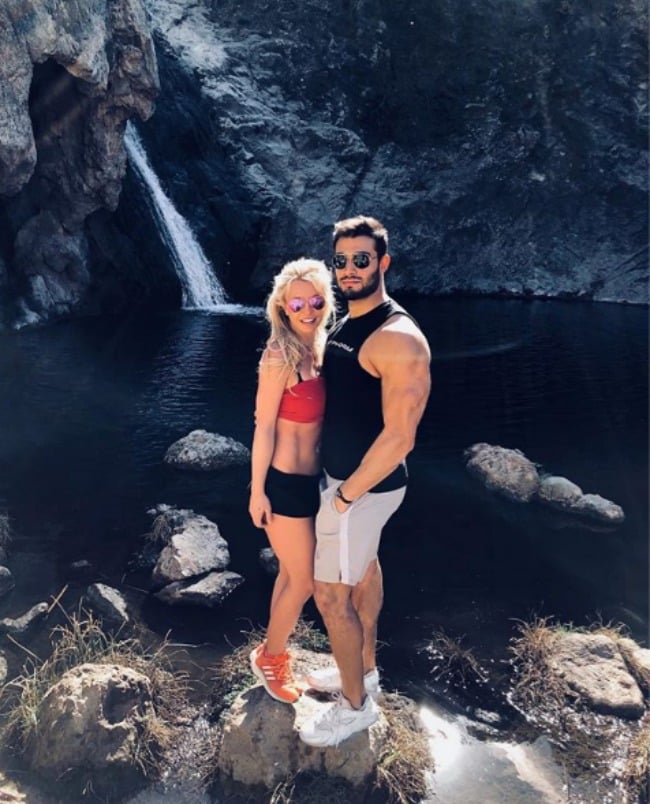 She also loves a #ThrowbackThursday and a #FlashbackFriday