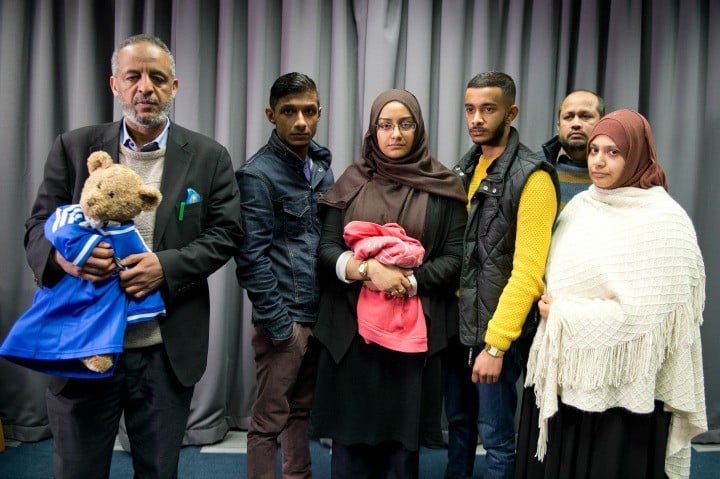 One of three UK schoolgirls who ran away to become 'jihadi brides' has confirmed she successfully entered Syria by tweeting a picture.
Amira Abase, 15, has tweeted for the first time since her departure two months ago and is believed to be in the Syrian city of Raqqa.
She posted a picture of fried chicken and chips, flatbread and kebab earlier this month with the caption "dawla takeaway".
dawla takeaway w/ @um_ayoub12 pic.twitter.com/19cK7PPIWM

— umm uthman britaniya (@BinttAbbas) April 5, 2015
Dawla refers to Isis-controlled territory.
She reportedly shared the meal with a 16-year-old girl known as Um Ayoub, who wrote: "Wanna behead some kafirs [non-Muslims] now."
Amira's Twitter account was private, but appears to have recently been made public.
In February, the 15-year-old left her East London home with Shamima Begum 15, and Kadiza Sultana, 16.
Read: The creepy social media 'inspo' enticing young women into joining ISIS.
Mamamia previously reported:
Three teenage girls packed their bras, makeup and epilators for a big adventure. But that "adventure" was a journey to the Middle East to join ISIS.
Earlier this year, British schoolgirls Shamima Begum, Kadiza Sultana and Amira Abase went shopping together, as teenage girls are apt to do, at the local Westfield.
You can imagine them together: excited, skittish, flicking through rows of bras and knickers, running their hands across the backs of coats — buying the items on their travel shopping list.
They were gearing up for a big adventure. Which may seem like no big deal — except that adventure was to Syria, where they would become Jihadi brides.
One fateful day in February, Begum, 15, Sultana, 16, and Abase, 15 told their parents they were going out for the day to a wedding — but instead, travelled to Istanbul and then made the crossing into Syria.
Now, a heartbreaking, handwritten pre-departure shopping list has been found in the bedroom of one of the schoolgirls. The details in the document are deliberate, definite and exacting — a list in keeping with an Islamic State online guide for potential recruits.
It reveals the girls calculated costings, lists and plane tickets to Turkey, The Guardian reports. The list also included ranging from boots and a mobile phone to underwear, makeup, a bag, socks and an epilator.
Related content: A father's heartbreaking message to his radicalised daughter.
Before the three school girls left, their families had no idea they had been lured into the clutches of Islamic State.