As 23-year-old bride Christine Jo Miller walked towards her college sweetheart Jon on their wedding day in September, tears streamed down her face.
Wearing a stunning lace gown, and holding the arm of her father, Christine's tears were not the usual tears of joy. Christine was actually in an incredible amount of pain after suffering an allergic reaction to the flowers she had used in her wedding bouquet.
She looked so miserable, some guests wondered whether she was having second thoughts as she was walking down the aisle.
"I literally couldn't see my husband when I was saying my vows because my vision went blurry," Christine told The Huffington Post.
"Our pastor cut it short and married us in a hurry because of the pain I was in."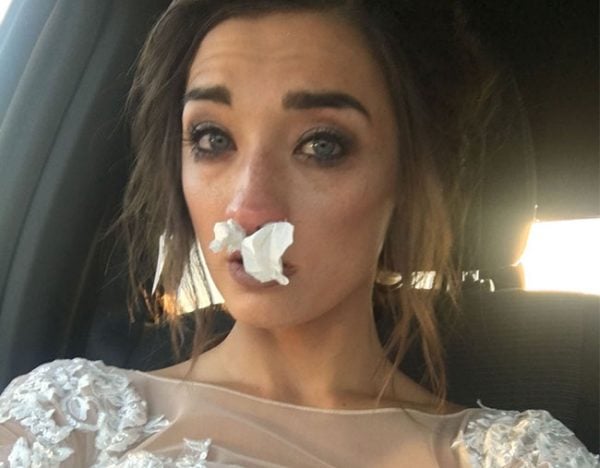 "She was struggling to keep her eyes open, and they were constantly watering. She just looked miserable," Jon told Inside Edition.
Moments after finishing their vows, the newlywed pair rushed straight to the hospital room, where a nurse administered a steroid shot, eye drops and pain medication.
It was then the couple learned what had gone so wrong: the flowers Christine had picked for her bouquet from her own property the night before her wedding were actually poisonous.
When Christine washed her face with her hands the day of her wedding, she didn't realise the plant's poisonous sap was still on her fingers.