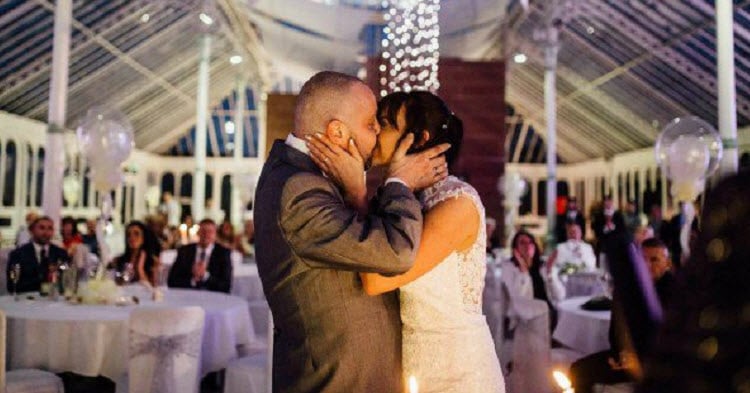 On a day that can so easily be consumed by selfishness and vanity, Joan Best shirked the temptation for her wedding to be "all about" her and instead direction attention toward something much bigger. Her husband's fight against pancreatic cancer.
Rather than simply asking for donations or mentioning the cause in her speech, the UK bride decided to make a much bolder statement and shaved her head.
Via Facebook/Struth Photography.
Taking a moment out from her guests, Joan left to wash and dry her hair and then returned to the dance floor with a razor. Guests crowded around her as her brown locks fell to the ground.
"I was really relaxed during the process, just thinking how thankful and privileged I was to be able to do this," she told CBS.
Joan's husband Craig had no choice in losing his hair. Diagnosed with stage four pancreatic cancer in August 2015, he was given between nine and 12 months to live.
But the pair, who first met as teenagers nearly 30 years ago, have chosen not to be limited by the diagnosis.
"We decided to do all the things we wanted to do but never did," Joan told CBS.
One of those things was getting hitched.
Via Facebook/Struth Photography.
Craig had been in love with Joan, now 44, since he was 14 year old, but it was only 18 months ago that they finally struck up a romance.
"I was a bit shy about it and Joan has been married previously but it has always been about Joan for me," he told The Daily Mail. "She is the woman of my dreams."
That love only grew stronger when he saw his bride's touching tribute.
"It was the obviously the first time I had seen Joan without her hair and she looked beautiful, absolutely stunning," he said.
Joan donated her hair to Little Princess Trust, an organisation that creates wigs for terminally ill children, and encouraged her guests to donate in whatever way they could.
"Charities such as this rely on public support and funds to help support families and sufferers during difficult times," she wrote on her fundraising page. "Please help us to help others."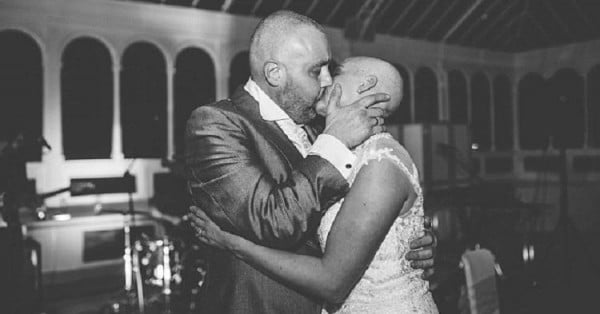 Via Facebook/Struth Photography.
Photographer Kimberly Struth, who was connected with the couple through the charity Gift of a Wedding, documented the whole beautiful event.
"To be honest, it was one of the happiest weddings I've ever been involved in. The mood was upbeat and positive," she told TODAY. "The bride actually was the smiliest bride, the happiest bride, I'd ever had."
Watch another joyful newlywed couple perform their awesome first dance. Post continues after video...

Despite everything, the pair still consider themselves lucky.
"After all these years, how blessed I was that it was me he chose to share his life with," Joan told CBS. "Nothing could ever take that moment away from me; and I will remain by his side and share his fight."