A wedding photographer has captured the beautiful moment a bride who lost her son two years prior received a bittersweet surprise on her wedding day.
Amber Lanphier of Love Adventured photography shared the unique story of Becky and Kelly Turney's Alaskan wedding to Facebook, which in just a few days has caught the attention of romantics everywhere.
Bride Becky's son, Triston, had died in 2015, but the couple still wanted him to be a part of their big day, so they left a seat aside for him with a sign.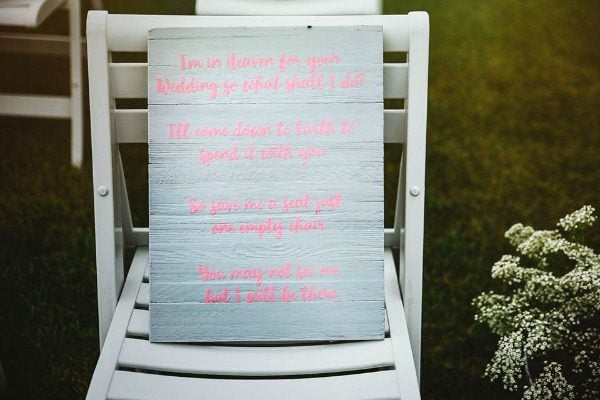 "I'm in heaven for your wedding so what shall I do? I'll come down to earth to spend it with you. So save me a seat, just one empty chair. You may not see me but I will be there," it read.
But what Becky didn't know was that her son's spirit was going to feature in their big day in more ways than one.
You see Triston was an organ donor and his heart had made its way to a young man named Jacob Kilby. As Amber explained, Becky's husband-to-be had organised for Jacob to fly over Palmer, Alaska to join them as a groomsman.
"Kelly stopped the ceremony to introduce Jacob to Becky for the first time," Amber wrote next to one of the incredible images on the Love Adventured Facebook page.
Amber's photos capture the moment Becky sees Jacob, embraces him and then is offered a stethoscope through which to listen to her son's beating heart.
Click through the gallery to see the look on Becky's face as she sees the man who now has her son's heart. (Post continues after gallery.)