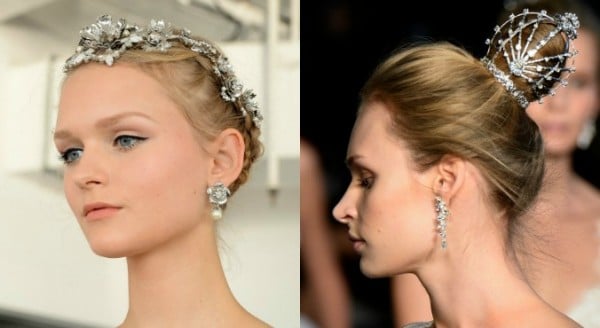 The bling was all in the hair. Image: Getty.
Whether it's for your own upcoming nuptials, or you're just looking to top up that (not-so) secret Pinterest wedding board, we all love checking out bridal inspo. From the gorgeous flowing gowns to the perfectly tousled hair and makeup, it's enough to make even the biggest marriage cynic waver just a little.
The best time to do this research? Straight after New York Bridal Fashion Week. One of the biggest events of the bridal calendar, it's the place to see the latest hair and beauty trends that will soon be all over your Facebook feed.
We've scoured all the shows to find the seven need-to-know hair, nail and makeup trends worthy to make the transition from the runway to the aisle.
1. Ornate hair
Forget about jewellery; the focus on bling moved up to the hair this year. From ornate bun cages that resemble mini crowns, to encrusted flowers intertwined with braids, it's a sophisticated way to add sparkle to your wedding day. Princess childhood dreams = made.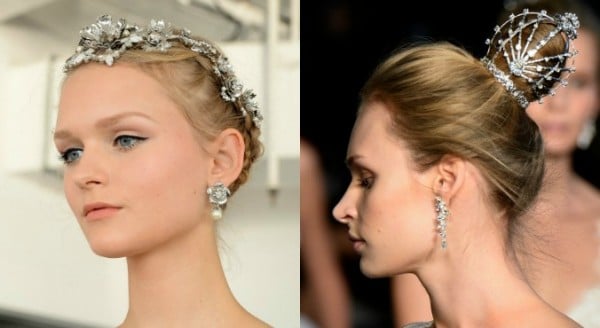 2. Dewy skin
Natural-looking beauty is still big — this year, designers sent their models down the runway with beautifully prepped dewy skin. It's a way of making the skin look flawless on the big day without being too made-up. An illuminating foundation on top of perfectly primed skin is essential for the look; or use a face mist to add a touch of sheen.
The bushy brow trend also shows no sign of slowing down, with neat but natural brows a popular accompaniment to dewy skin. (Post continues after gallery.)
Behind the scenes of Bridal Fashion Week.
3. Metallic nails
It's common to go for neutral or baby pink colours, but both Reem Acra and Di Santo embraced metallic and glitter for bridal nails. A major trend spotted on the mainstream runways earlier in the month, they're an easy and subtle way of updating a classic look to something a little more fun.