It takes a special mind to be able to grasp and contribute to complex scientific concepts. But it takes an even more unique one to be able to make those concepts comprehensible and interesting to the rest of us.
Brian Cox has precisely that kind of mind.
A professor of particle physics, the British scientist has anchored several enormously popular television documentaries including Wonders of The Universe, earned a world record for the most tickets sold for a science tour (75,193) and is often credited with "making science sexy".
It's a badge he told Mamamia he's happy to wear.
"If you look at the alternative to that, it's to make science not sexy," he laughed. "So if I were to ask myself, 'Which one do you want to do?', I'd rather make it sexy."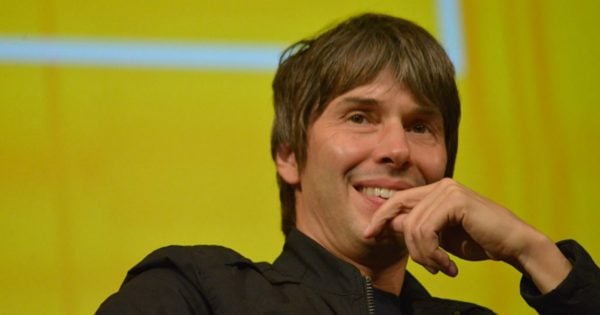 The 49-year-old is currently in the country to co-host Stargazing Live with Julia Zemiro on the ABC.
The three-part program, beamed from the Siding Spring Observatory in rural NSW, has a very simple aim: to encourage Australians to look up.
"We've all lay down on our backs and looked up at the night sky away from the city lights. It's a very beautiful thing," Prof Cox said. "But it becomes more beautiful when you know a little bit about what you're looking at."
The program will allow viewers to ask questions of him and other experts live, and will even invite them to participate in the search for distant planets.
"Some viewers will discover a planet that nobody has ever seen before," he said. "Somebody at home will know something that nobody has ever known before. That's why people do science, actually."
For more on what's coming up on TV listen to The Binge. Post continues...
More than mere entertainment, Prof Cox argues, programs like this play a role in combating the disturbing trend toward 'post-truth'; toward a world in which people will perceive the theory of a layperson to hold as much weight as that of a scientist.