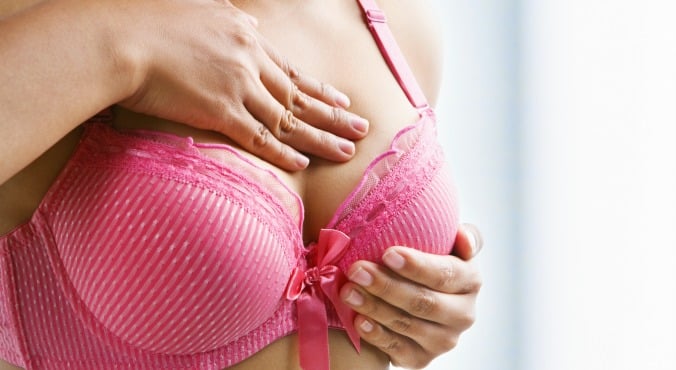 Image via iStock.
Breast cancer is a traumatic experience with many hurdles, including surgery that is often long, invasive and painful – and which some women will have to undergo multiple times if the disease remains.
A renowned US doctor believes that a simple change in the treatment could halve the number of women who require surgery a second time.
Speaking at the world's biggest cancer conference in Chicago this week, Dr Anees Chagpar of the Yale Cancer Centre said that an extra 10 minutes in the operating theatre to take a little more tissue could reduce the need for further surgery by half. Incredible, right?
RELATED: This mum shared a photo of her breasts to show women how hard it is to spot cancer
According to Dr Chagpar, at least 20 per cent of breast cancer patients in the US and UK require second operations after tests on the lump which was removed show the presence of cancer on its margins.
Given that over 15,000 Australian women are expected to be diagnosed each year, this has the potential to make a significant difference.
Dr Chagpar's findings are based on a new study that tested cavity shaving (removing a thin slice of tissue around the edges of the tumour) as a way to reduce the risk of further surgery. Turns out that when more tissue was taken the first time, the amount of people needing further surgery fell to 10 per cent. (Post continues after gallery.)
Celebrities who have battled cancer
"No-one likes going back to the operating room, especially not the patients who face the emotional burden of another surgery," she said.
"With a very simple technique of taking a little more tissue at the first operation, that doesn't require any fancy technology, that takes an extra 10 minutes in the operating room, we can reduce the chances that somebody would need to go back a second time by 50 per cent. That's a big deal."
RELATED: Why do some breast cancers come back?
In the study of 235 patients published in the New England Journal of Medicine, all had the usual surgery but half were randomly assigned to get the extra cavity shave. Researchers found there was no difference in how the women in the groups felt about their appearance of their breasts after surgery.
However Dr Susan Fraser, advisor to Cancer Council Australia and breast care physician says it's not always necessary for extra tissue to be taken during breast cancer surgery to avoid the need for follow-up operations.