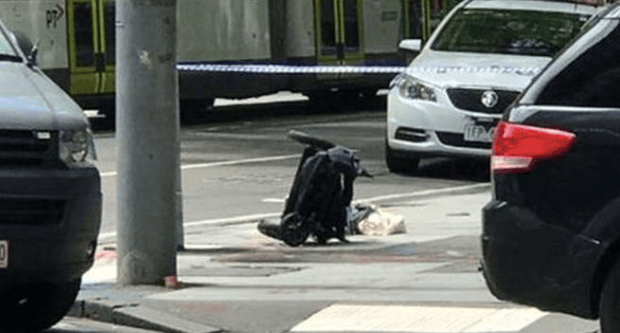 A three-month-old baby boy has died following the deadly car rampage that took place in Melbourne's CBD on Friday, bringing the death toll of the attack to five.
The baby died in hospital this evening, a statement from police said.
It is believed police were in pursuit of a vehicle in the city on Friday when the driver, suspected to be 26-year-old Dimitrious Gargasoulas, drove erratically around an intersection before speeding down a footpath on Bourke Street and crashing into pedestrians.
Hospitals have treated 37 other people who were injured during the incident, and four victims remain in critical condition.
Those who died included a 10-year-old girl, 25-year-old man, 33-year-old man, 32-year-old woman and the three-month-old baby boy who passed away this evening.
Witnesses said there was "no hesitation" as the suspect drove the car into pedestrians, sending "people flying like skittles" and running for their lives.
Gargasoulas remains in hospital under police guard, and is being treated for non-life threatening injuries.
Police were hoping to interview him and charge him later in the weekend.
"Surgery is still occurring. We still haven't been able to be in a position to interview and charge that offender [but] that's still our intention," Victoria Police Chief Commissioner Graham Ashton said on Saturday.
"Through the course of the weekend we will be looking to try and get that opportunity to step in and interview and charge that offender."
It is understood police unsuccessfully attempted to stop him multiple times during the rampage.
Some members of Victoria Police have hit out at the no-pursuit policy, with one veteran police officer telling the ABC the policy is a "disgrace".
"There was ample opportunity to stop him in the two hours before he reached the city, but the order was not to pursue," the officer said.
Victoria's Homicide Squad will be investigating the incident, with the assistance of the Major Collision Investigation Unit.