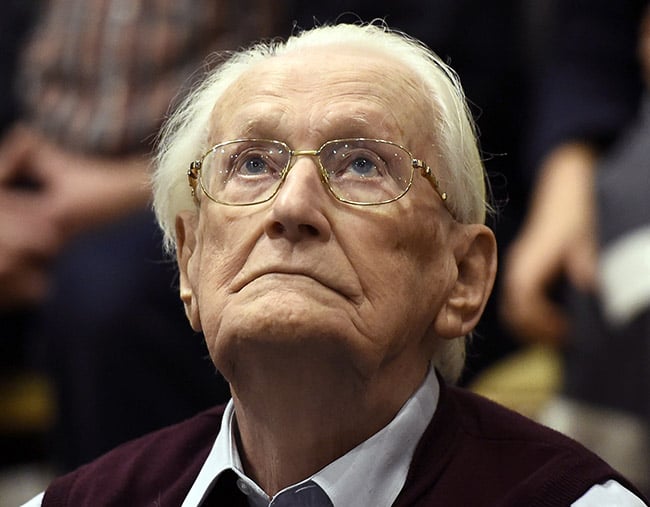 Former SS officer in Nazi Germany, Oskar Groening, known as the "bookkeeper of Auschwitz", has died aged 96.
Groening was convicted in 2015 as an accessory to the murder of 300,000 people at the Auschwitz-Birkenau death camp.
He was only the third person to be convicted as an accessory to Nazi murders, and was due to serve a four-year prison sentence for the horrors he helped to inflict.
He died last Friday, before he ever saw the inside of a jail cell.
Oskar Gröning, a corporal in Hitler's Waffen SS who became known as the bookkeeper of Auschwitz and was one of the very last Germans to face war-crime charges arising from the Holocaust, dies at 96 https://t.co/zbWxjjNG7a

— NYT Obituaries (@NYTObits) March 12, 2018
Groening grew up friends with the daughter of an Jewish Ironmonger who lived nearby. He and Anne Selig used to play marbles on the street, he told the magazine Der Spiegel in 2005, The New York Times reports.
But when German soldiers vandalised Anne's father's store and erected a sign outside saying, "Germans do not buy from Jews", Groening didn't see it as an injustice.
Raised as a member of Hitler's Youth, the soon-to-be Nazi saw nothing wrong with hating Jews. So much so that he and his friends would sing about "shedding Jewish blood" to "make things good again".
"Back then," he told Der Spiegel. "We didn't even think about what we were singing."
At the age of 21, Groening, who had been employed as a bank clerk before the war, volunteered to join the elite Waffen-SS before transferring in 1942 to work at Auschwitz, AAP reports.
His job was to count the money he found among the belongings of prisoners, and to send it to SS headquarters in Berlin.