tv
YES MA'AM: Everything we know about Bodyguard season two.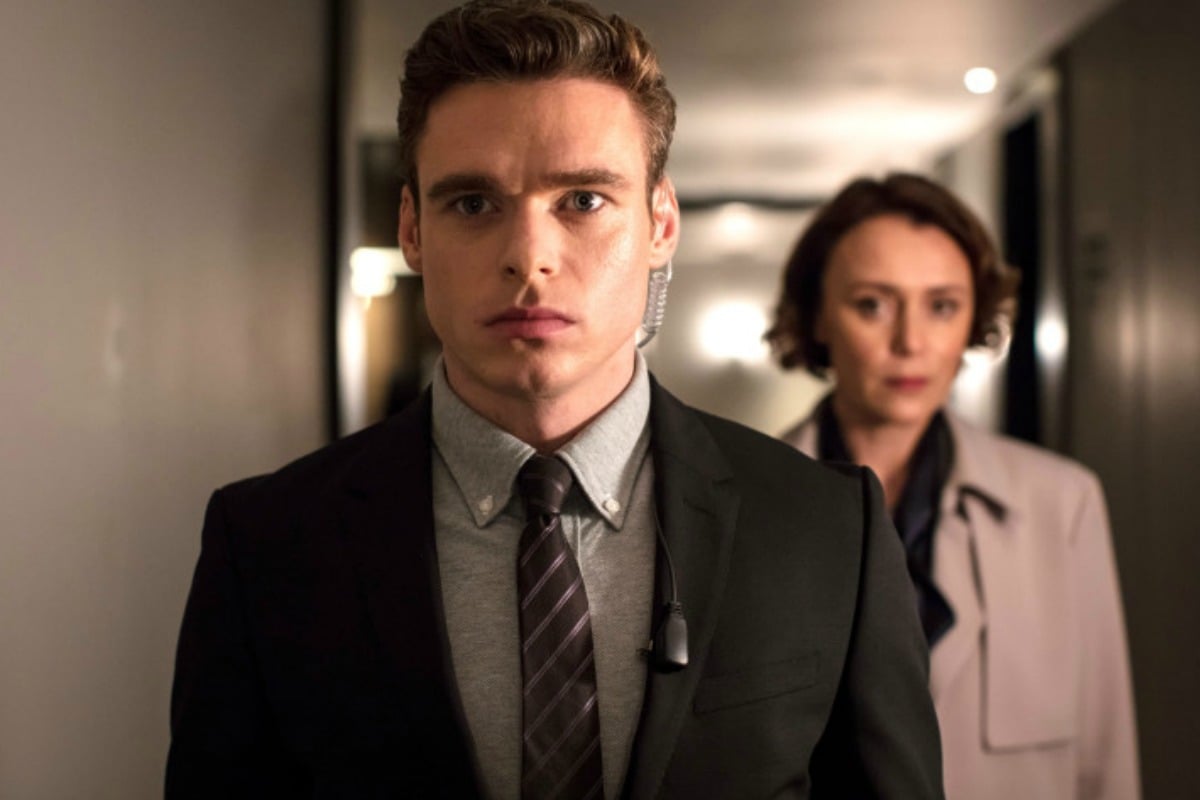 Warning: This post contains spoilers for The Bodyguard season one. 
In October last year, one of the most anticipated British TV series of the past decade dropped on Netflix.
Set in London in the present day, Bodyguard centres around David Budd, played by Game of Thrones star Richard Madden (a.k.a Robb Stark), a war veteran now working in a police unit that provides protection details.
After a particularly intense encounter with a suicide bomber, he gets assigned to the Home Secretary, Julia Montague. Then he says "M'am" a lot, and saves the day etc etc.
You can watch the Bodyguard trailer below. Post continues after video.

The moment the series dropped on Netflix, thousands of Australians tuned into the streaming service and binged their way through the six episode season.
People loved it. Because Richard Madden, and action, and sexy, sexy times between a powerful woman and her bodyguard.
And now we're all hanging out for season two.
While Netflix and the BBC are yet to officially announce a second season, it's pretty much a done deal considering the huge viewer numbers.
Here's everything we know about the second season:
1. Richard Madden is definitely up for it.
Richard would very much like to come back for a second season and say "Ma'am" a lot and also do the sexy time.
Speaking to Deadline last year, the actor said he's very curious about what Budd's been up to since the tense finale.
"You know, David Budd, he walks about London with a bomb on," he said. "I mean, everyone definitely knows his face now. He can't really slip back into police work again. What's his life like after that?"
He also hinted that maybe the show would turn into an anthology series.
"Maybe it's going to be like American Horror Story where, in the second series, it's a whole different incarnation of it, and I'm a royal and Keeley [the actress who played Montague] is on my protection team."
The 32-year-old has already been in talks with show runner, Jed Mercurio, about season two.
We unpack every drama filled moment in season one of The Bodyguard on our podcast The Recap, listen below… Post continues after audio

2. There could be a royal twist in season two.
According to Mercurio, who spoke to RadioTimes last year, the second season could see Budd being a bodyguard for a member of the royal family.
Perhaps a former Hollywood actress turned duchess?
3. There could be a season three and four in the works too.
Mercurio told The Sun last year if they did a second season, he would like it to lead to a third or fourth season.
"It's probably fair to say we would approach any thoughts of a second series with the idea that it would create an opportunity for a third or fourth," he said.
More Madden, more action, more ma'am-ing.
4. Will Julia be making a comeback?
So, Julia was killed by a bomb at the university in episode four.
But was she really?
Some fans are convinced that Julia didn't actually die and that she could make a return/come back from the dead in the second season.
The theory is that we never actually saw Julia's body so maybe her death was faked in order to protect her.
Interesting, very interesting.
You can watch the first season of Bodyguard on Netflix now.