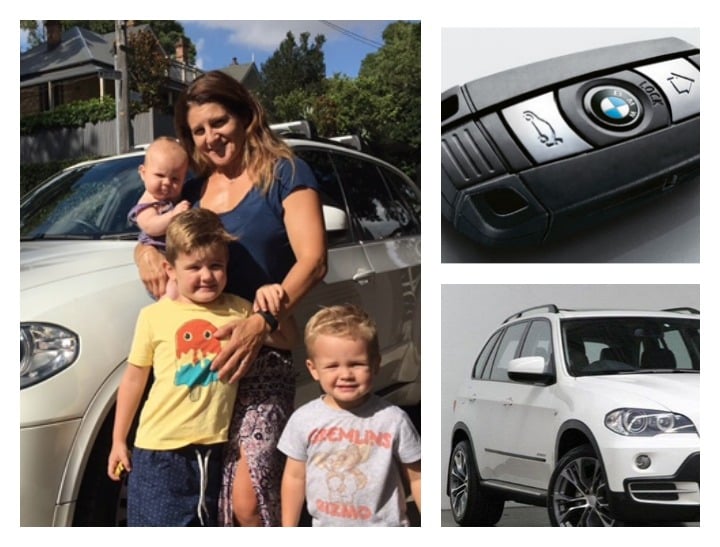 A mother-of-three has posted a frightening warning to other parents who drive cars with keyless entry when her luxury car deadlocked itself on a hot summer's day with her three children – one just 12 weeks old locked inside.
Despite numerous attempts to unlock it from the inside by her brave five-year-old, the car would not unlock stranding her children inside the dangerously hot vehicle.
The still shaken mum says the terrifying experience has left her so shocked she still can't talk about it without crying.
The incident comes just weeks after a group of consumers in the US filed a class action claiming the feature of hands-free and remote locking and unlocking of car doors in some BMWs is defective, causing vehicles to "spontaneously lock" while keys and sometimes drivers' children are inside the car.
Haidee Keegan from Sydney says that a month ago, on a hot Sydney day she put her three kids, aged five, two and just three-months-old in their BMW X5.
She says she put her baby, Scout in her car sear and placed her car key next to the baby capsule.
"I have done that as a regular practice, but this time I shut the door without first grabbing the key. "
She says "realising I'd left the key next to the seat, I went to open the door to grab it. But the door locked. I went around to the driver's door. It was locked. I went to every door & boot, all locked."
Haidee told The Motherish that she has no idea how the car became locked inside, she says she has a feature called "comfort access" which means you don't need to be holding the key to open and start the car, the key just needs to be nearby, or in the car.
"I couldn't understand when I tried to open the door why it wouldn't open."
The vehicle had deadlocked itself.
Panicked Haidee instructed her son, Jett, 5, to unbuckle his seat belt and go and press the central locking button on the dash.
She says it did nothing.
"Then, I told him to open the doors, which he tried and couldn't. At this point I realised there was a problem."
Haidee alerted the NRMA and Triple-0 while a passing friend tried to smash the window with a rock, but that too didn't work, the rock simply crumbling to dust.
"My terror grew every minute" she told The Motherish " At one point I asked a group of observers "why are they [emergency services] taking so long?"…I could see from the looks on their faces that it was becoming a long time and no-one knew how to help me further."
Haidee says at this point her frightened five-year-old son asked her through the window "is this the end of us?"
This frightening video shows just how dangerous it is to leave children inside cars in hot days. Post continues after video...
Haidee Keegan says that when the police finally arrived after around 25 minutes they smashed open her car window, but even then they too couldn't unlock the doors and her children had to be passed out through the window after a rescuer crawled through the smashed window and handed the scared children to their relieved mother.
She wrote on Facebook that her children were okay.
"My 12 week old was lethargic but was treated by a paramedic onsite and recovered quickly. I'm writing about it for anyone who has a car that has keyless entry, where the car will open if you are nearby. Never leave your keys in the car. Ever. My car is a BMW X5 2010 model. If you have one, or a car with similar feature, please be very careful. I keep my key on a lanyard around my neck now and never leave it in the car when I'm not in it."
Haidee says that she can't understand what happened and that BMW have failed to give her an acceptable answer to why the car locked.
"One of the technicians said that I must have pressed the button twice to deadlock the car (meaning it couldn't be unlocked from the inside)."
"But, I struggle to understand how you could deadlock a car with the door open."
She says she now "hates the car."
"The car shouldn't be able to lock with the keys inside. The reason we had bought the car was for the comfort access feature, as with kids your hands are always full and to be able to not worry about fishing it out of the bag is tough with everything else you are trying to do when putting kids in the car."
Since Haidee posted her warning to other parents on Facebook she says she has been flooded with stories of similar situations - some with there very same model of car, and in fact in the US BMW is facing a lawsuit with a proposed class action in a California federal court claiming its feature of hands-free and remote locking and unlocking of car doors is defective, causing vehicles to "spontaneously lock" while keys and sometimes drivers' children are inside the car.
Kieva Myers of San Francisco said in a complaint filed in January that all 2008 through 2015 X5 vehicles manufactured and sold by BMW contain a potentially defective automated feature.
Myers alleges her BMW deadlocked "very young child" and keys inside her car last October.
Haidee Keegan contacted Fair Trading and has now received a report from BMW that she says is "wishy washy."
In the report customer service said they found no issues with her keys.
"As BMW Group Australia was not present at the time of the incident when the keys were locked in the vehicle we cannot provide meaningful comment on the exact cause of the lock out," they wrote to Haidee
"Moving forward BMW Group Australia kindly reiterates that the key remote must be carried with you at all times as recommended in the owner's handbook."
The report said they identified no issues except a low key battery voltage which they corrected by putting in a new battery.
The Motherish sought comment from BMW, but they have not yet responded.
For Haidee the terrifying event has made a lasting impact, one she hopes other parents never have to experience.
"I still can't talk about it without getting upset. I have tears now! I think about what if's all the time. I think about it every time I approach my car with the kids with me. I look at my kids and I feel so blessed that they are here with me."
Here is Haidee's Facebook post in full, reproduced with her permission:
"Warning - my car deadlocked itself with kids inside on a hot day.

I'm posting my experience to hopefully stop this happening to anyone else. About a month ago, I was putting my 3 kids in our car (5,2 & 12 weeks). I'd put my pram, bag, and 2 older kids in and buckled them in. As I put my baby in her capsule I put my key down next to the seat. I buckled her in then shut the door. Realising I'd left the key next to the seat, I went to open the door to grab it. But the door locked. I went around to the driver's door. It was locked. I went to every door & boot, all locked. Through the glass I instructed my 5 year old to get out of his seat and press the central locking. He did, but nothing happened. He tried opening all the doors, and even found the boot button (he was so amazing that day). He wasn't quite able to understand to get under the baby capsule and find the key next to the capsule. By this stage I'd called NRMA and then 000. After 5 minutes my kids were sweating. After 10 and no NRMA or 000, a very strong friend who happened to be walking passed tried repeatedly to smash the window with rocks. The rocks crumbled, the window didn't. No words will ever express my absolute terror. My 5 year old asked me through the window "is this the end of us?" After 25 minutes, the police arrived, and they smashed the window with the metal edge of their baton. They still couldn't unlock the car, and my friend had to crawl in to get the kids out, and pass them through the windows. Kids were ok, my 12 week old was lethargic but was treated by a paramedic onsite and recovered quickly. I'm writing about it for anyone who has a car that has keyless entry, where the car will open if you are nearby. Never leave your keys in the car. Ever. My car is a BMW X5 2010 model. If you have one, or a car with similar feature, please be very careful. I keep my key on a lanyard around my neck now and never leave it in the car when I'm not in it. I'm still waiting for the report from BMW Australia as to why and how my car deadlocked with the keys inside, but they did confirm last week that if a car was deadlocked, then you can't get out if you are inside without access to the key (it's a "safety feature" to stop people stealing your car). It's hard to write about what happened, it still feels very raw, but I've posted this in hope that it doesn't happen to anyone else. Take care"