What advice would you take from a beauty blogger?
How about, say, the best way to contour? Or, perhaps, the benefits of a matte foundation over a dewy one? How much they eat in a day?
No? You wouldn't be interested in the last one?
You might be one of only a few.
As I found myself scrolling mindlessly through makeup tutorials on YouTube this week, I found myself consistently hit with the option of watching Australian beauty bloggers walk me through the food they eat each day.
At a single glance, there was Danielle Mansutti with over 1.4 million YouTube subscribers, Brittney Lee Saunders with 986,538 subscribers and Chloe Szepanowski with 116,000 subscribers. All had carefully curated footage of their food choices on a given day – some with quick disclaimers about the fact they're not nutritionists, but all without the self-awareness of recognising the impact these videos could inevitably have.
The power, reach and relevance of these young women grows with every new follower and every new video view. Now, it seems, they are dipping their toes into the lucrative foodie-sphere.
For Danielle Mansutti, 'Organic Green Tea Detox' (the tea label is subtly placed in the perfect lighting, beside her mug) is shown as her daily "wake up drink". It's followed by meals like sweet potato fries, spinach and chicken… and a pint-sized dinner of canned tuna, more spinach leaves and tomatoes.
For Brittney Lee Saunders, it's all about a plate of "chicken and avocado with salt and pepper". A treat constitutes a low-calorie "Skinny Cow icecream cookie".
Chloe Szepanowski – who tells her followers "heres (sic) what I eat in a day to lose weight" – also has a video devoid of bread.
In a business sense, the expansion into food makes sense for online influencers. Why just be confined to makeup when there are more followers to chase, more money to make?
But where's the responsibility to their followers, most of which are in their early teens?
There are thousands, if not millions, of young girls watching these videos. How many are directly influenced by the 'ideal' meal plans (notably absent of anything resembling bread, or pasta) their idols broadcast to the world?
For Melbourne-based nutritionist and dietitian Zoe Nicholson, the fact more and more bloggers are delving into the 'Day on a Plate' videos is something she considers "highly problematic" because of the risk of "disordered eating", no matter how good the intention.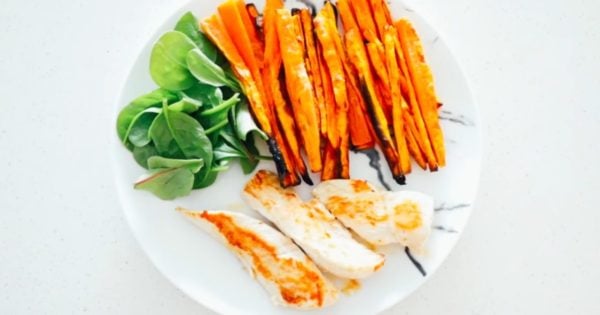 "I doubt the bloggers are aware of this and feel what they're doing is a positive thing. While there is nothing inherently wrong with showing others what you eat (after all many dietitians love photographing and sharing their food pictures) it's the context within which it's done that can be problematic," she tells Mamamia.
There is something inherently thoughtless about having conversations around food with young girls when you're not qualified to do so.
For Melanie McGrice, another Melbourne-based dietitian, it's important viewers take whatever is being shown with a "grain of salt".
"What suits one person, doesn't suit everyone," McGrice tells Mamamia.
"Reasearch shows us that things like what celebrities eat and television shows around food have quite an impact on people's choices. So yes, they are having an impact and it is quite powerful but in saying that, you can't make a law about it."
Bec Sparrow talks about her relationship with food on our lifestyle podcast, The Well.

What is apparent, very quickly, is the link to be made between makeup and food. Beauty bloggers are illuminated by professional lighting and expensive products - they're in the business of looking good. And so the message, no matter how well-intended, goes a little like this: eat like this and you too can look like this.
It's something that worries Nicholson greatly.
"There is a risk that young girls will feel there is a right and wrong way of eating - the right way being how these bloggers eat and the wrong way being anything that falls outside of this. There are a million and one different ways of eating well and all foods can fit in a balanced and varied diet," she says.
Comparing your own eating habits to an influencer is a natural response for any teenage girl, Nicholson says. After all, if sandwiches are not on any of these bloggers' plates, it's not unusual for girls to start thinking they shouldn't be eating them at all.
"Bloggers and influencers do influence people very well, they can communicate very well and we can learn a lot from them. However, there is a responsibility that if you're choosing to cut out core food groups you need to tell your followers that," McGrice says.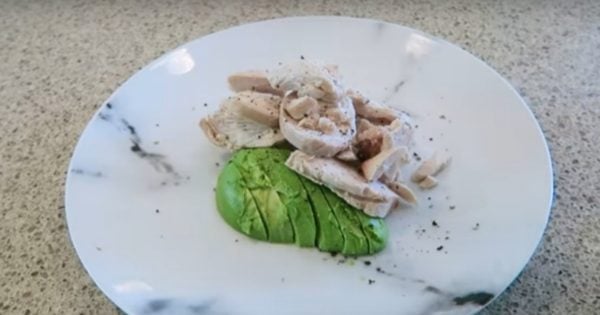 The issue here isn't about 'day on a plate' videos as a concept. It's normal, McGrice says, for us to love a pervy insight into someone else's daily habits. So many people love a little bit of food porn, and it's this knowledge that's probably the driving force behind bloggers creating the videos in the first place.
The issue here is youth, influence and the accidental promotion of unrealistic eating habits.
Unfortunately for young girls, whose habits are malleable and ideas easily influenced, a quick, three-second initial disclaimer about a blogger's lack of qualifications doesn't undo the damage that can be done in the proceeding four minutes.
There shouldn't be a disclaimer, because the videos probably shouldn't exist in the first place.
Beauty might be these bloggers' bread and butter, but they've decided it's too narrow a market for them. There's more money, more followers and greater reach expanding the resumé. Expansion is the essence of business.
It just seems that somewhere along the line, those young kids who supported their business from the beginning may be the ones losing out in the end.
Do you think it's irresponsible for beauty bloggers to give diet advice to young women?