There's something deliciously gross in squeezing your blackheads – and even more so in watching someone else do the dirty.
It's no surprise then that blackheads have exploded (sorry!) on social media, with the arrival of the charcoal mask trend that's quickly gone viral. And let's just say it doesn't always go to plan.
So naturally we decided to try one of them ourselves.
How does it work?
Most of these masks are activated charcoal based, which work by acting as a kind of "magnet" to draw dirt out of your pores, which is exactly what a blackhead is – a clogged pore.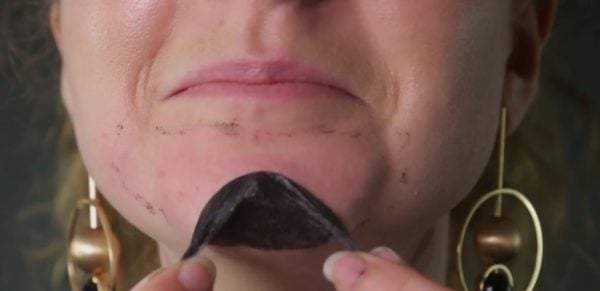 Ouch. Image: Supplied/Mamamia
What do you do?
We tried Blaq, $29, one of the many charcoal blackhead masks on the market.
To use, simple clean the area of your face you want to apply your mark and use a hot towel compress for three to five minutes to open your pores.
You can apply all over your face but this is probably best avoided for your own sake when it comes to removal. Most of us only have blackheads in one area, so it's easier (and less painful!) to just target that 'zone'.