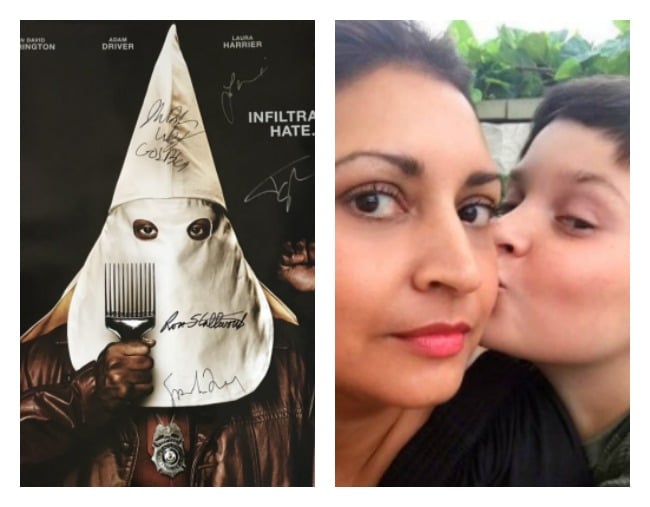 Warning, this article contains mild spoilers for the film BlacKkKlansman.
You'll hear a lot of talk about how shocking Spike Lee's new film BlacKkKlansman is, but it's really only the ending that will stun you.
Up until that point, you'll simply find yourself on one wild, incredible and hilarious ride.
That ending will, undoubtedly, leave you speechless. After spending the entire movie chortling at Lee's tale, which is told with smart, acerbic humour, the last five minutes silenced the audience in a way that I haven't seen in a cinema, ever.
It's that ending that reminded me of something I haven't thought for a while; as a mother, I'm so very glad my son is white, not brown like me.
However, let's start at the very beginning, (as the decidedly non-white supremacist Maria Von Trapp once sang).
BlacKkKlansman tells the incredible true story of Ron Stallworth (John David Washington – yes, Denzel's son), who in 1972, as the first black police officer in Colorado Springs, decides to infiltrate the white supremacist organisation the Ku Klux Klan.
He starts by adopting a 'white voice' on the phone, and is represented in KKK meetings by his colleague, Flip Zimmerman (Adam Driver). They both eventually meet David Duke (Topher Grace), the KKK's Grand Wizard (such an appropriate title).
You can imagine how that goes. A lot of fun, soon-to-be-classic one-liners, and chaos ensues.
Whilst the tale is one hell of a ride, Lee also delivers one of the most visually sumptuous movies made in a long time.
From the sets, to the music, costumes and language, the audience is submerged in the soulful 70s. Lee didn't have to do that, just as he didn't have to tell the story with such wit – because the plot is certainly sensational enough on its own. But this movie is quite evidently the masterpiece of Lee's stellar career, and it is as beautiful as it is brilliant.
Starting with the clever title, and the theatrical poster – which comically shows a hooded black man holding a wide-tooth comb that is commonly used on African hair – and trailer, the tone of the film is made clear: you will be in for a good time. Lee tells the story with ballsy wit that's so refreshing, you'll be doing one of those surprised laugh out loud faces for most of the time.
A @SpikeLee joint. From producer @JordanPeele. Based on some fo' real, fo' real sh*t. Watch the #BlacKkKlansman trailer now – in theaters August 10. pic.twitter.com/w3TLTaVDnC

— BlacKkKlansman (@BlacKkKlansman) May 14, 2018