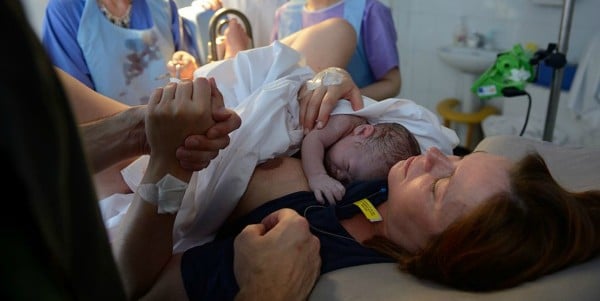 My youngest son just turned 4. He's a fiery spitball of a kid, smart as a whip, sweet as can be, and (sometimes) a real pest.
My pregnancy with him was miserable. And I don't mean 'Oh, I am really irritated that my ankles are swollen/my back hurts/I'm nauseated' miserable.
I mean my pelvis was literally coming apart.
At one point, I was crawling around my house picking up toys. When you're a prisoner of the sofa, you do what you have to do — or something.
He was due March 24th, which meant I was going to either plant the garden on my hands and knees, or with a baby on my back. I had contractions every day beginning at 14 weeks, because my uterus is like a cranky toddler.
The last week of my pregnancy was essentially one really prolonged labor. Consistent contractions every 8-10 minutes, unrelenting, sometimes moving close enough together to look like labor, most of the time just being a complete annoyance.
On the 26th of March, in the middle of a night of relentless contractions, my water broke.
It wasn't Niagara Falls or anything, but it was just enough to make me change clothes and sheets. I'd been having contractions for an eternity already, so the post-membrane rupture contractions were nothing new.
I woke up Matt, told him I wet the bed, asked him to fill the birthing pool in the kitchen. I called my midwife — a 70-year-old gift to women, who wears her waist-length gray hair in a tight bun. She asked if things seemed to be moving quick; I said no, same old shit, just with fluid everywhere. She promised to arrive in the early morning hours.