Fifteen minutes into a 63km trip to the hospital, Lindsay Hollingsworth urged her husband he had better pull over.
"We were on a highway so there was nowhere to stop. We pulled into a rest area. I got out of the car and could feel the head," Lindsay said.
She described her husband as incredibly cool and calm, having called the ambulance while laying blankets they had brought just in case, in the boot of the car.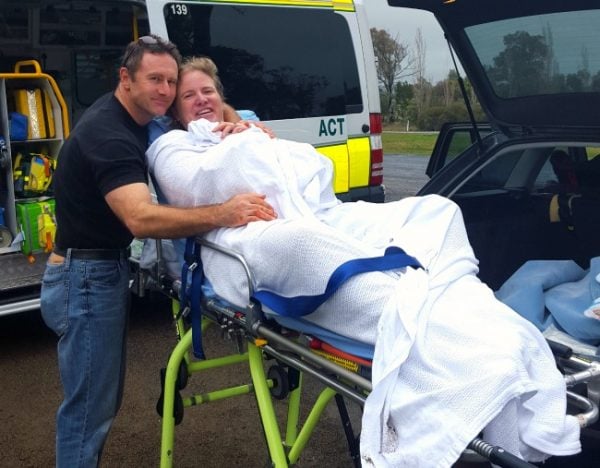 Lindsay climbed into the boot and as the ambulance arrived she began to push her second child, a baby girl, out.
"I wasn't fearful of the birth, but my biggest fear was haemorrhaging," she said.
Lindsay said looking out from the boot of the car she could see a paddock filled with gumtree saplings and felt a connection with nature.
Selena arrived two hours and 25 minutes after the first contraction, something Lindsay wasn't expecting after a 23-hour labour first time around.
"I was on such a high afterwards. The level of emotional high and empowerment after was much greater than with my first," she recalled.
She now jokes about the fact that while she doesn't have photos of the birth she does have a 000 recording.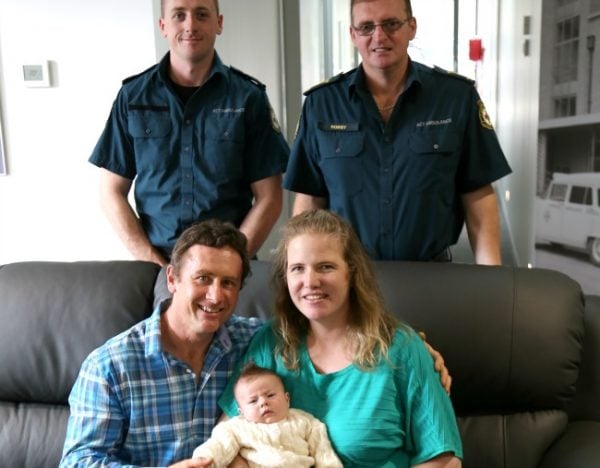 In Australia, between four to five in 1000 births occur before the mother arrives at the hospital. These births are termed 'born before arrival' (BBA).
A new study has found babies born before arrival are more likely to be smaller, most likely a second baby and a girl.
The studies co-author Professor Hannah Dahlen from Western Sydney University said the two common scenarios were mums who had had a long first labour and were expecting another marathon session or those who'd had very quick first labours.
"I have caught several babies in the hospital carpark," she said.
The research team looked at the data from more than one million births between 2000 and 2011 in order to understand what factors contributed to babies being born before arriving at hospital.
They found Australian-born mums, expecting their second child were more likely to give birth before making it to hospital. The study also found distance from the hospital was a big factor.
"There is a higher incidence of BBA in rural and remote areas, more than two hours from the hospital. This highlights the problem around the number of country hospitals being shut down," Professor Dahlen said.
Western Australian mum, Brooke Pennington, was also left blown away by the speed of the birth of her second daughter when she arrived at home on the bed two hours after the first contraction. Brooke had had a quick, six hour labour with her first birth.
"I called the midwife at the hospital when the contractions started, and she told me to go and have a bath and call back when they became painful.
"My partner was out mowing the lawns and came in when I was in the bath and I said, 'I think I'm in labour'. After about 40 minutes in the bath I lay on the bed. The pain was fast and intense, and I couldn't move," she said.
Her partner, Matt called an ambulance, which arrived about ten minutes after Mackenzie was born.
"I rushed around packing a bag with the placenta still inside me. I think I was in denial. It took me a few days to process it and come to terms with what had happened.
Prepping for that moment you finally make it to the hospital (hopefully), Bec Judd and her midwife deep dive on everything you need in your hospital bag. Post continues after audio.

She said Matt had been adamant he wasn't 'going down that end' during the pregnancy but ended up having to catch Mackenzie as she came out.
Brooke said he loved the experience and now they are planning a homebirth when it's time for a third child.
"Even though Mackenzie's birth wasn't planned at home, it was a great experience and made me want to do it that way next time. I want it to be in the comfort of my home, rather than a clinical hospital. I want it to be just my partner and I doing things," Brooke said.
Professor Dahlen stressed that giving birth before arriving at hospital is not a cause for alarm and that in the majority of cases both mother and baby were fine, especially when the baby was over 37 weeks. However, she said there were several things women who found themselves in the situation should do.
"One mistake people make is standing up, but nature has an inbuilt mechanism to make legs wobbly as you get near to giving birth, so you tend to get down on the ground. Get down low and put a soft towel under you so the baby has a soft landing.
"The biggest risk is the baby being cold. Keep baby skin to skin on mum and cover with a warm towel. Also leave the placenta and cord alone until professional help arrives.
"If the baby needs resuscitation there are two simple tricks – blow in the face to make them gasp and if that doesn't work grab a towel and rub vigorously up and down the spine," she explained.