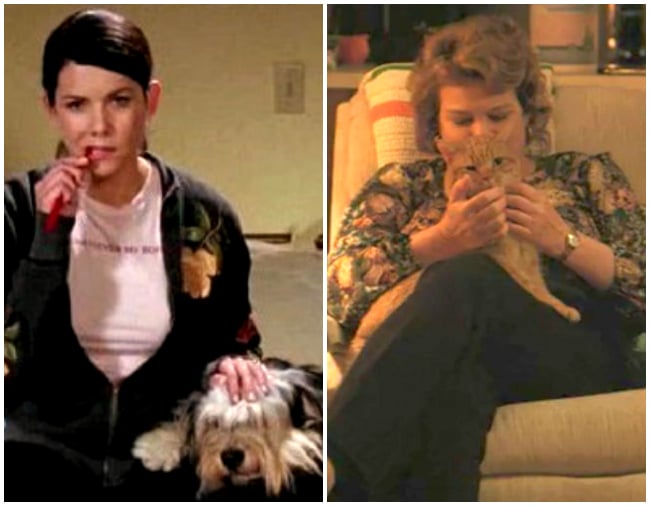 Today is International Pet Day and sales of dog treats have gone through the roof (probably).
This is because as a population, an argument could be made that we have become a little too attached to our fur / feather / scale covered friends.
In honour of this day of celebration, Netflix have released data letting us in on just how many Australian's co-binge watch TV with their pets.
And it's a lot more than what you might think.
So this is exactly what your pets want out of your next combined Netflix binge session… because some shows are more animal-friendly than others. Post continues after video.

In fact, 70 percent of Australian Netflix users have actively watched Netflix with their pets, with 59 percent admitting that their pets make the better binge partner… apologies to the spouses, boyfriends, girlfriends and best friends out there.
Is this a bit weird? Has this pet love gone too far? Do we all need to collectively leave our houses for a bit and socialise with people in the real world?
Nahhh.
It seems like all we really want is to have our very own Paul Anka (Lorelai's adopted dog from Gilmore Girls) to snuggle up with, especially with the colder months coming.
Here are some loved-up stats from the study delivered to you with zero judgement:
– 67 percent of Australian members watch Netflix with their pet for the company.
– 47 percent doing it to help them relax.
– 39 percent co-Netflix binge because they think their pets are the best cuddlers.
– And more alarmingly… 27 percent watch Netflix with their pets because they know that they won't be judged on their TV tastes.
Looking for a great show to watch with your pet? You might want to give the best TV reboot of all time a try. 
However, it also seems like pet-watchers are much more empathetic and accommodating pushovers compared to their non-pet watching counterparts with one in seven users admitting that they've bribed their pets with treats to make them stay while watching. Meanwhile,  14 percent of study respondents said that they have turned off a show because it didn't quite suit their pet's viewing desires.
Are we all barking mad? Maybe, but who's to judge?
So yes, we might be more attached at the hip than the Queen to their corgis, but it's International Pet Day and if you want to watch Stranger Things with your cat, dog, lizard, hamster, piglet or lama, so you should.
And you can do so with the knowledge, that YOU ARE NOT ALONE.
Is this a weird trend? Or are you all aboard the pet-binge bandwagon?