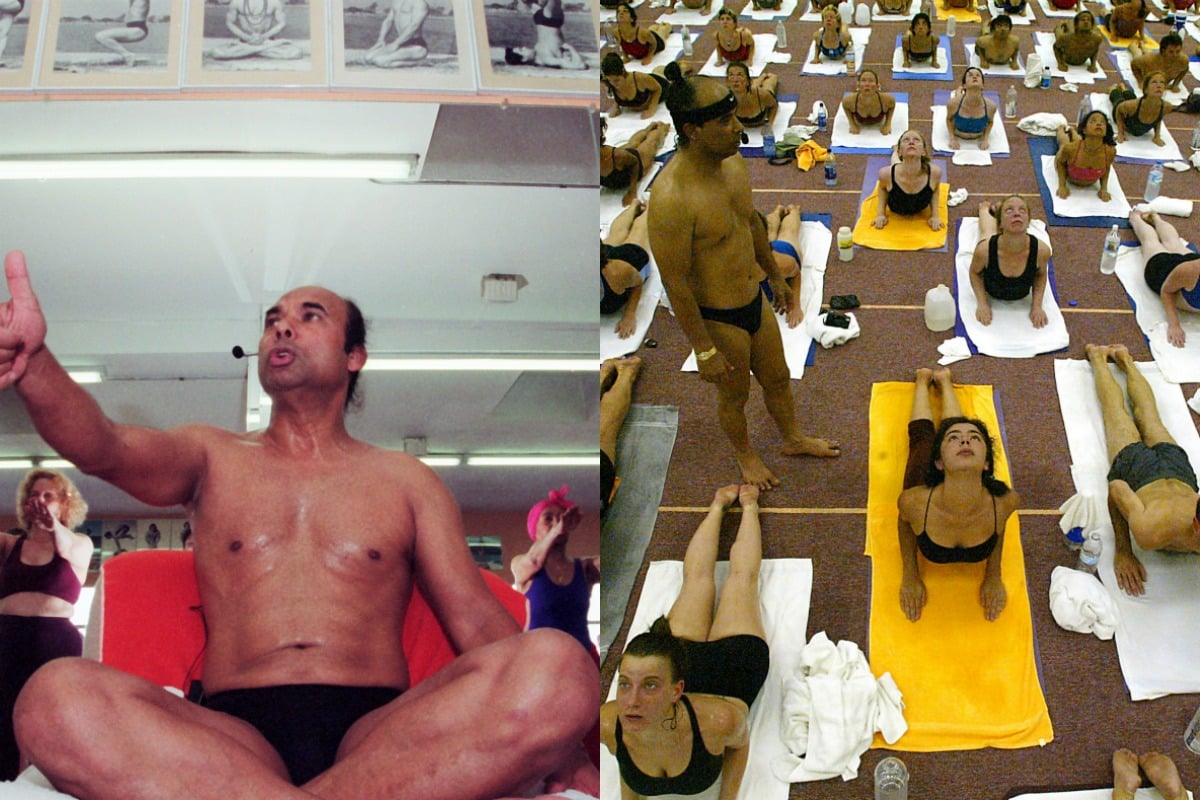 Warning. This post deals with sexual assault and might be triggering for some readers.
"Welcome to Bikram's torture chamber, where you'll kill yourself for the next 90 minutes."
Those are the words celebrity yogi, Bikram Choudhury, would say at the start of every Bikram Hot Yoga class he taught – and it's not hard to understand why.
The practice is extreme, with a series of 26 poses and two breathing positions taken over a 90 minute period – all while in sweltering 40 degree heat.
According to Bikram: Yogi, Guru, Predator, a new Netflix documentary directed by Eva Orner, that delves into the darker side of the practice and its founder, participants would often faint or vomit in class.
And it wasn't just the physical conditions making people uncomfortable.
According to Oprah Magazine, Bikram Choudhury refused to allow bathroom breaks and was known to mock participants for their weight and appearance while parading around in nothing but a speedo and his Rolex.
But this behaviour, it seems, was the very tip of the iceberg.
In recent years, disturbing allegations of sexual assault and rape have been made against Bikram Choudhury.
Who is Bikram Choudhury?
Born in Calcutta, India, in 1944, Bikram began practising Hatha yoga in his early twenties.
In 1971, he emigrated to the United States, opened studios in California and Hawaii, where he began to teach his own style of yoga. The 26 posture series was developed by piecing together existing sequences, and the 40 degree heat was supposed to mimic the Indian climate.
Bikram Yoga expanded rapidly across America and in the 90s gained a celebrity following, with Madonna, Lady Gaga and David Beckham all claiming to be devotees.
Bikram was also known to brag that he had taught US presidents, Richard Nixon, Ronald Reagan and Bill Clinton.
In 1984, Bikram married Rajashree Choudhury, a National Yoga Champion.
A darker side to Bikram.
Through teacher trainings, costing $14,000AUD a pop, as well as licensing, Bikram has reportedly amassed a fortune of $110mAUD as well as fleet of 43 luxury cars.
And it was through these lucrative nine-week training sessions, which took place in hotels, that Bikram was able to get closer than ever to his students. Even after spending a fortune on the training, students were only allowed to open a studio with Bikram's permission, their professional advancement was entirely in his hands.