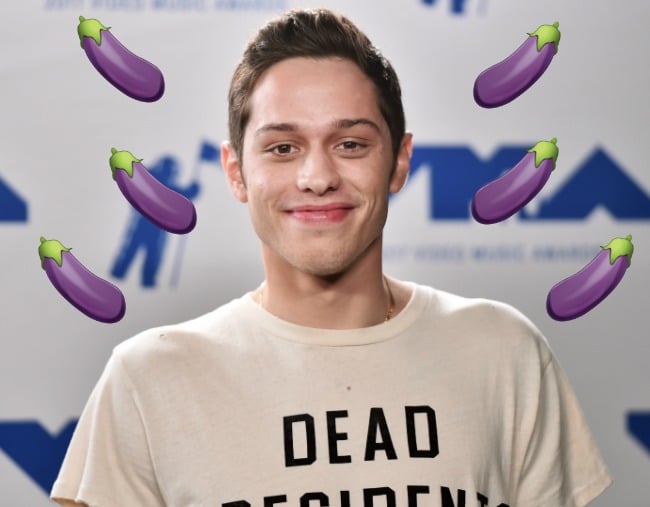 Ahem.
We need to talk about the single greatest discovery in human history.
It's called Big Dick Energy or BDE.
It all began in the early hours of this morning, when The Cut published an article by Allison. P. Davis, titled "You Know He Got That Big Dick Energy".
The article, which has since gone viral, argued that Pete Davidson, Ariana Grande's new fiance, has "Big Dick Energy".
You see, earlier this week Ariana tweeted about, erm, Pete's rather large schlong.
Since then the size of Pete's peen has been the topic of many online conversations.
Davis argues that you can "just tell" that Pete has a big D because he has that "Big Dick Energy".
Pete davidson is 6'3 with dark circles, exudes big dick energy, looks evil but apparently is an angel, and loves his girl publicly the only thing wrong w him is that he's a scorpio but anyway…..id married him within a month too

— Tina (@babyvietcong) June 23, 2018
"BDE is a quiet confidence and ease with oneself that comes from knowing you have an enormous penis and you know what to do with it," she writes.
"It's not cockiness, it's not a power trip —it's the opposite: a healthy, satisfied, low-key way you feel yourself. Some may call this 'oh he/she f*cks' vibe, but that is different: you can f*ck, but not have BDE. Some may call this 'well-adjusted,' but we know the truth."
Davis also named names. And to be clear, you don't even need to be a dude to have BDE. You can absolutely be a lady with killer BDE.
Idris Elba, Bobby Cannavale and Rihanna… BIG. DICK. ENERGY.
Justin Timberlake, Kanye and Jon Hamm… Nah.
The people of Twitter had their own thoughts too:
we're talking about how anthony bourdain had big dick energy which is what he would have wanted

— vampire workday (@imbobswaget) June 9, 2018
Obama is #BigDickEnergy and Trump is #littledickenergy. https://t.co/L7O9Wp5kbV

— Clementine Ford (@clementine_ford) June 27, 2018
Adrien Brody has big dick energy debate your mother

— lil mama (@freedom_gun) June 25, 2018
This article, of course, led to a lot of conversations around the Mamamia office.
Namely, which Australian celebs have that Big Dick Energy?
This is what we came up with:
Andy Lee… BIG DICK ENERGY
Tim Robards… BDE
Barnaby Joyce… nah.
Ruby Rose… the QUEEN of BDE.
Wil Anderson… BDE.
Todd Sampson… definitely.
Karl Stefanovic… erm…. nah.
Osher Gunsberg… nope.
Leigh Sales… BDE.
Eden from Love Island… unfortunately yes.
Buddy Franklin… yep.
THE HEMSWORTHS BROTHERS… OF COURSE. (Well, at least Chris).
Lee Lin Chin… BIGGEST DICK ENERGY.
Blake Garvey… nope.
Malcolm Turnbull… kinda.
Vince Colossimo… BDE.
William McInnes… yeah.
Lisa Wilkinson… yep.
Got any other suggestions? Tell us about them in the comments below.