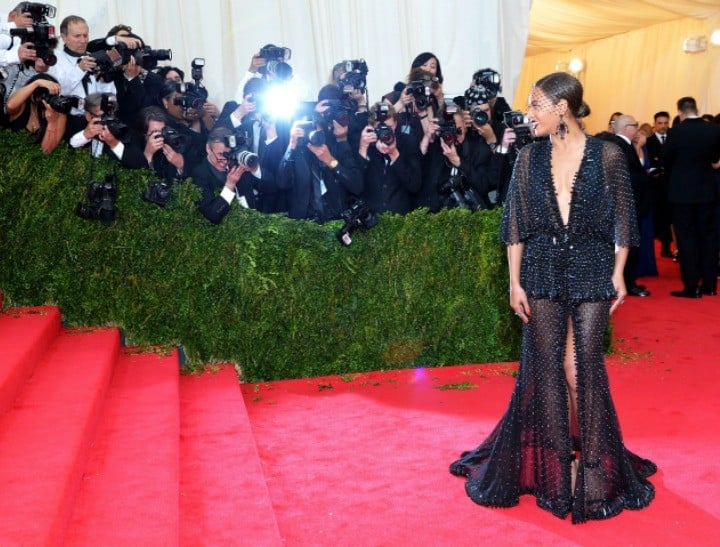 An excerpt from 'Becoming Beyonce'.
She's adored by millions of fans, writes and performs songs that move and inspire, but Beyonce is truly known by very few. Now highly-acclaimed biographer J. Randy Taraborrelli reveals the woman behind the star. In this extract from Becoming Beyonce, her biographer sheds light on the. Here's the real story.
Though it was just a few minutes of grainy black-and-white surveillance footage, it would become the subject of great fascination around the world. It would be examined frame by frame and discussed on the Internet and on major news outlets—ABC, NBC, CBS, CNN—as if of great national importance.
It would also make for screaming newspaper and tabloid headlines. Many people would have an opinion about it, even though no one other than the actual participants in the event would know for certain what had occurred.
In fact, the footage—which was first revealed by the gossip site TMZ— was actually quite astonishing: Solange Knowles was seen kicking and punching Jay Z with all the skill of a novice mixed martial artist while a frustrated but ultimately useless bodyguard did what he could to hold her back.
Meanwhile, Beyoncé stood by placidly watching, not making much of an effort to interfere, not looking stunned or surprised, just appearing completely disengaged. If it had been a scene concerning any other major celebrities, it probably would have made news.
However, because it involved Beyoncé and Jay, both of whom had gone to such pains for more than ten years to protect their privacy, it took on special significance, as if it was a sneak peak into the shocking reality of their private lives.
Of course, there are many rumors about what had occurred to cause the dispute, which happened as the trio was leaving the Met Gala, an annual fund-raiser for the Metropolitan Museum of Arts Costume Institute in Manhattan.
In order to understand what happened, it helps to have a little more insight into the kind of woman Solange Piaget Knowles has become with the passing of the years. "Fact is, she's more badass than ever," is how one of Solange's friends put it in 2014.
As we have seen, Solange has always been fiercely protective of Beyoncé. Back when Lyndall Locke broke up with Beyoncé, it was Solange who wanted to have it out with him. At that time, Beyoncé asked her to please leave the poor guy alone.
Years later, Solange would tweet about once plotting to murder her sister's ex-boyfriend. She didn't name him, but Beyoncé has only had one other than Jay, and that's Lyndall. "I had a great plan, too," she tweeted, along with a happy face; obviously, she was being facetious, but even Lyndall today says he's glad she didn't follow up on her "plan," whatever it was.
In more recent times when it comes to Jay, it's rumored that whenever Solange has felt that he has slighted Beyoncé in some way, she has stepped in to try to set him straight. No doubt she feels that it's her duty as her sister.