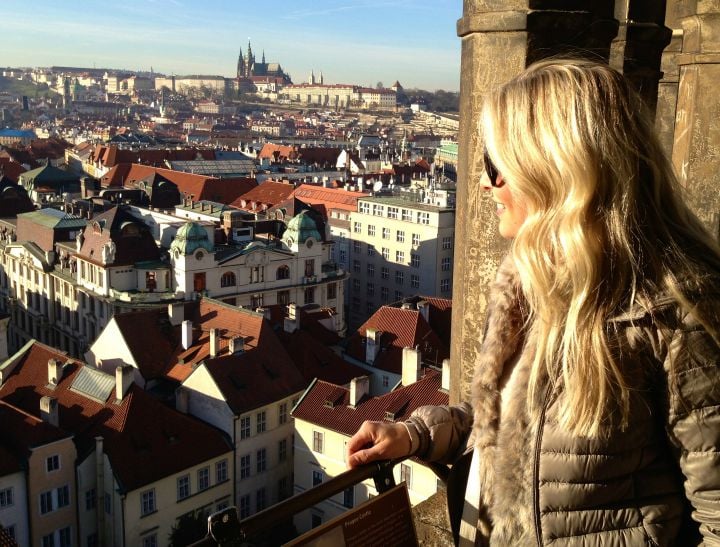 Prague is one sexy beast.
She's like the "supermodel" of European cities. She can't take a bad picture. Anytime. Day or night. From any angle. She's an absolute stunner!
Like Debrief Daily on Facebook. 
That being said, I can't imagine Prague being any more beautiful than she is in Winter. The architectural majesty provides a breathtaking backdrop to a city bursting with festive atmosphere during the colder months.
Where to stay.
For a killer location, try the boutique Hotel Jalta. With gorgeous views over Prague's buzzing Wenceslas Square, the rooms are small, but it's just a 5 minute (non-stiletto friendly) cobblestone street walk to all the famous sights.
What to see.
Throw on your walking shoes (and a warm coat), hit the streets and get lost in the romantic maze of medieval streets. Stay somewhere central and you'll easily be able to stroll to all the famous sights.
You can't miss Frank Gehry's iconic twisted "Dancing House" – the non-traditional design really stands out amongst Prague's famous Baroque and Gothic buildings. Unless you're an engineer or an architect, I guarantee you'll walk away wondering, "how did they build THAT?"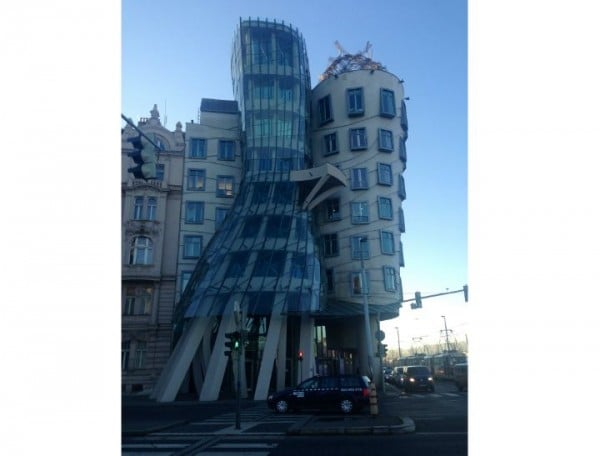 You're sure to stumble upon some of sculptor David Cerny's famous figures. His works can be seen all over Prague. I found the "Big Babies" on my morning walk. They're kinda creepy, but a guaranteed Instagram hit.
Linger in the Old Town Square and enjoy the spectacle when the medieval Astronomical Clock strikes the hour. It's a Prague must-do so you'll need to battle the crowds for this one.
While you're there, climb the clock tower to enjoy the most picturesque views of the city. I challenge you to take a bad picture from this vantage point!!
The Charles Bridge is in surprisingly good nick, considering it was built in the 15th Century. Make sure your phone is fully charged for this one, because those Baroque statues lining the bridge make for some very pretty pictures. If you don't enjoy battling hordes of tourists, arrive at dawn and enjoy an unforgettable sunrise.
For the quintessential Prague experience, jump on Tram 22. It runs from Namesti Miru past the National Theater and across the Vltava River up to Prague Castle. Allow yourself at least half a day to visit the city's most famous landmark - it's the largest ancient castle complex on the planet! The series of alleyways, churches, gardens, and buildings will have you "oohing" and "aahing" at every turn.
Time your visit for after lunch and enjoy a late afternoon classical concert at St George's Basilica church. The high ceiling and romantic setting provide the perfect opportunity to honour Prague's musical heritage and it will certainly enhance the festive feel of your trip.
The Xmas markets in Prague are regarded by many as the best in Europe. They're free to enter and open nightly at both Wenceslas Square and the Old Town Square. If you're lucky enough to be browsing the markets when it starts snowing, you'll feel like you're on a movie set or in a fairytale.
The larger market in the Old Town Square is filled with brightly decorated wooden huts and stalls, selling mostly food and plenty of trinkets - jewellery, toys, ceramics, candles, xmas tree ornaments, gloves, scarves – you'll have no problem picking up a pretty Prague memento here.
If the enormous Christmas tree and the sparkling lights don't put you in the festive spirit, a few swigs of Gluhwein certainly will.  When the mercury drops below zero, your Christmas cheer will certainly be enhanced by a cup of the hot sweet fruity wine.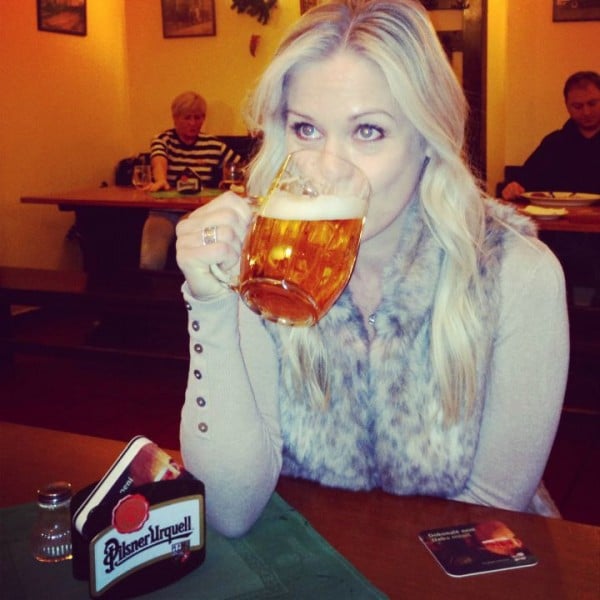 Where to eat and drink.
You could easily booze your way around this city.
There are plenty of authentic Czech beer halls where you can sample what's widely regarded as the best AND cheapest beer in the world.
I'm not a beer drinker (I can't handle the unpleasant bloating and all that) but considering Pilsner was invented right here in Prague, I decided to give it a go. The Pilsner at Pivnice U Rudolfina is regarded as the best in town - something to do with the way it's "tapped". My glass of beer was actually bigger than my head. It's no wonder they refer to it as "liquid bread".
If you plan on going hard with the beer, you'll want something to line your stomach.  A word of warning though – at the Rudolfina, there's no English menu so the waiter translates: "Beef. Pork. Chicken. Fish. Vegetable".
That's it. Menu translation complete.
If the idea of eating a pig's knee doesn't make your stomach turn, the "roast pork knuckle" is one of the most traditional dishes you can try in this city.
Something I didn't expect to find in Prague was a phenomenal tapas bar! La Bodeguita del Medio is a little slice of Cuba tucked away in a side street just off the Old Town Square. Good food. Live Latin music. Super-cute bartenders. And the best mojito in Prague. Yep – this will do quite nicely for a Friday night, thank you very much!
They also serve buckets of cocktails here. And that's not an exaggeration. It's actually a cocktail in a BUCKET, designed to be shared by 5 people with enormous straws that could extend to the next table. You'll be well hydrated as you dance into the wee hours. The party atmosphere really gets going here late on Friday and Saturday nights.
If you prefer your cocktails with a view, try the Hotel U Prince in the Old Town Square. The terrace has been voted one of the top 15 rooftop bars in the world. It's a divine spot to take in the sunset.
Where to shop.
When it comes to shopping in Europe, you probably think Milan, Paris or London. But if you're a shopaholic like me and you can't resist popping inside every single ZARA you walk past (just for a quick look, I promise!) you'll enjoy getting your spend on in Prague. The shopping is surprisingly good here. And the selection of well known labels now rivals many western European cities.
Apparently the rent is cheaper in Prague, which means the prices are slightly cheaper. And the shopping is tax free, so anyone carrying a passport from outside the EU can get some cash back through the VAT refund scheme.
The area around Wenceslas Square is home to plenty of big retailers like Zara, Mango and H&M. The wide, tree lined street PARIZSKA, which runs from the Old Town Square down to the Hotel InterContinental, is Prague's equivalent of Rodeo Drive. All the super posh high end luxury brands – Cartier, Hermes, LV, Prada - and some fancy looking cafes where you can stop for an espresso and some great people watching.
I don't know a single person who's been to Prague and hasn't come back raving about it. There's a very good reason for that. Go check it out!
For more information about flights and accommodation go to www.lastminute.com.au.
SAMI LUKIS is one of Australia's most versatile media personalities - with a career spanning 20 years working as a television presenter, radio host, red carpet reporter and professional MC. She is also the Australian ambassador for the luxury skincare brand L'Occitane. Sami also owns a successful travel business hosting female only tours of New York (www.samilukis.com) and she travels the world as an expert travel blogger for www.lastminute.com.au.
Details:

Hotel Jalta: www.hoteljalta.com

Prague Castle: www.hrad.cz

Charles Bridge: www.czech.cz

La Bodeguita Del Medio: www.labodeguitadelmedio.cz

Hotel U Prince Rooftop Bar: www.hoteluprince.com