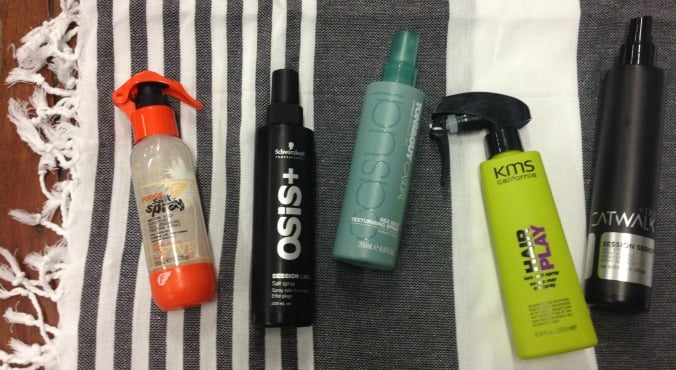 Image: No beach? No worries.
We can all agree that fresh-from-the-ocean-hair is wonderful, yeah? Seawater is a magical elixir that can somehow add shape and structure to unruly curls and make otherwise flat, fine strands textured.
The problem is it's a little hard to achieve beach hair on a daily basis if you live hours away from the coastline, or if it's freezing outside, or if the only thing you ever surf is the internet. That's where salt sprays come to the fore.
These frankly ingenious products go a long way in recreating post-surf hair — minus the damage and knots — but can be notorious for leaving strands a little more "crunchy" than "tousled". Here are eight salt sprays we've road-tested and recommend from the roots of our hair bottom of our hearts.
Toni and Guy Casual Texturising Sea Salt Spray
A couple years ago I somehow ended up with a bottle of Toni and Guy's messy salt spray for men, and loved it (despite not being a man). Happy to report this 'casual' version is just as effective — it doesn't make my strands crispy or stiff when it dries, and it feels nice and light in the hair. If you're a little cash-conscious, this will deliver good bang for your buck. ($15.99)
Bumble and Bumble Surf Spray
This is the king pin of the salt spray canon. Celebrities love to name-drop it, and it's got an almost mythical status among hairdressers and styling enthusiasts. It's probably the priciest option out there, but Surf Spray does live up to the hype — I loved the matte (but not dry) texture and body it created in my hair. Any deflation is easily fixed by a quick scrunch throughout the day. You can read a full review here. ($39)
I wasn't exaggerating about the legendary status — here are some of the A-listers who adore Bumble and Bumble. (Post continues after gallery.)
Celebrities who love Bumble and Bumble Surf Spray