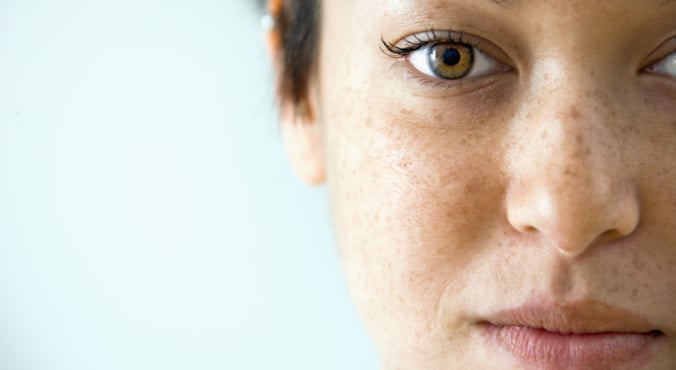 Image via Thinkstock
Recently I had the terrifying experience of seeing my face under a UV light. The result was a scary insight into exactly how much damage I've done to my skin over the years.
While I didn't fare as badly as I thought I would (or maybe they were just being nice?), I learned that three patches of pigmentation have popped up along my jawline and forehead – two areas where I have apparently been sloppy with my sunscreen application. I spoke to Emma Hobson of the International Dermal Institute to find out how to best treat pigmentation.
"The number one cause of hyper-pigmentation is exposure to ultraviolet rays. And this doesn't just apply to simple, daily exposure to UV rays alone; chemical fragrances may react with sunlight, medications may cause sun sensitivity, and dark patches may appear after invasive or strong peels where the skin has become sensitised," Hobson says.
---
You might also like:
Are you using the right sunscreen?
Emma Freedman: "The worst breakout of my life – and how I fixed it"
Would you laser your freckles off?
---
The result is dark spots, freckles, sunspots, and uneven skintone, which can be stubborn to shift. Hobson recommends three things to tackle those pesky, stubborn dark spots.
1. Exfoliation is the key.
Regular exfoliation helps even out tone by speeding up the cell turnover rate, therefore assisting the removal of pigmentation patches.
"The removal of the dead cell layer will allow better penetration of further treatment products. Alpha hydroxy acids (AHAs), in particular Lactic Acid, show very positive results when brightening pigmentation," says Hobson. She recommends a 3-in-1 cleanser that exfoliates, cleanses and brightens uneven tone.
Our favourite skin brighteners
2. Skin brighteners.
Since pigmentation can cause the skin to age prematurely, beauty companies have been quick to address the issue with the introduction of dark spot correctors and brightening serums. Both of which can be effective with the right ingredients.
"Ingredients, such as Zinc Glycinate [in skin brightening products], have been shown to reduce pigmentation as well as suppress the melanocyte growth factors that stimulate melanin synthesis," says Hobson.
Stabilized derivatives of Vitamin C and Glucosamine have also shown to be effective in treating pigmentation, but the newest ingredient to fight melanin formation are peptides – especially in sun-induced hyperpigmentation. If all this talk of peptides scares you, many botanical extracts also inhibit melanin production, says Hobson. Look for products that include ingredients like Kiwi Fruit, Mulberry, Licorice and Giant Fennel.
3. Hydrate and protect.
One of the best ways to prevent pigmentation is never leaving the house without applying a high SPF sunscreen. Damage from UVA and UVB rays can happen within one minute, even when you don't feel hot and though car and office windows. Hobson also stresses the importance of keeping skin moisturised with a daily SPF moisturiser that is packed full of hydrating ingredients, so that your skin reflects light.
Do you suffer from pigmentation? What have you found to be effective?