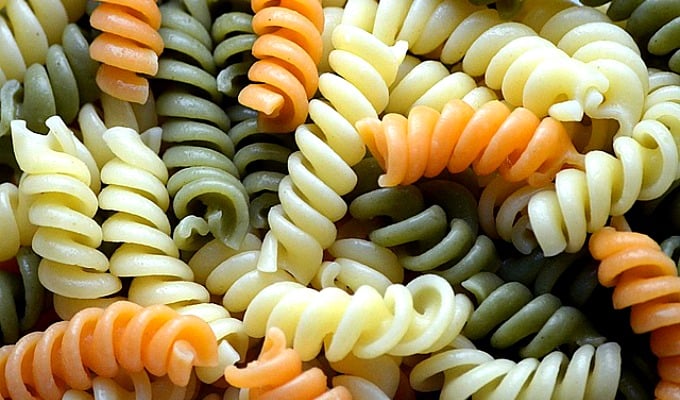 Image via Pixabay
White carbs – once they were the most popular food at the buffet table, providing most people with most of their calories and flaunting their 'six serves a day' status at the very bottom of the food pyramid.
But those days are gone. Now we're worried that grains are slowly poisoning our minds and our digestive tracts. We know that pasta's glycemic index scores are less than optimal – spaghetti and macaroni are particularly likely to send your blood sugar on a rollercoaster ride. Healthy eaters have soured to sour dough, and plenty of us sport maybe-made-up, but maybe-not gluten intolerances.
Modern dietary recommendations suggest throwing out anything your grandmother wouldn't recognise as food, and taking it easy on anything that's too refined or processed.
This is all fine, and understandable. There's just one problem: pasta is delicious. It's also quick and easy to cook. Sure, cavemen didn't have carbonara, but they also didn't have to stay back at the office until 7.30pm and still wake up early enough the next day to make it to a 6.45am yoga class.
It is possible to get the bulk of your caloric intake from good fats and protein, but it is so much easier not to. Enter a new breed of pasta substitutes that can slot into your previous carb-laden eating routine, but with less calories, no gluten and hopefully minimal guilt.
For the love of spag bol, I tried a few out, and here they are, ranked from most to least pasta-like.
Fresh fettuccine
Not all pastas were created equal, at least when it comes to their number on the glycemic index. Fettuccine has a GI score of 32, which is about as low as you can go in the world of pasta - the glycemic score of spaghetti, in comparison, is 46. Because fettuccine is actually pasta, it's still processed, full of gluten, and made of wheat, but it does release glucose more slowly into the body than its peers, making you feel fuller for longer. Plus it's fresh, so you only have to boil it for a couple of minutes before eating.
The upside: It tastes exactly like pasta, because it is pasta. It's also significantly less caloric than spaghetti. Seriously - it's 606 kilojoules per 100 grams, in contrast to spaghetti's 1510 kilojoules per 100 grams.
The downside: It's still guilty of most of pasta's sins, like containing gluten and refined grains. And, at between $5 and $7 a packet, it's not as cheap as other pastas.
Serve it with: This works with just about any sauce you'd use any other pasta for, unless you want to make something that specifically calls for a super-fine angel hair noodles, like a chicken soup.
Spelt spaghetti
Contrary to the beliefs of many, shall we say 'gluten challenged' individuals, please know that spelt is not gluten free. But it does have a lower GI than regular spaghetti, and slightly fewer calories. It's also quicker to cook than durum wheat pastas (boil it for about six minutes), and unlike wholegrain pasta options, it doesn't have that weird, gritty taste. Well... mostly doesn't.