They're the feel-good, binge-worthy movies that are an absolute necessity over this holiday season.
You know the ones. They're so bad that they're… good.
We are a sucker for any movie that is filled with fluffy romance, and hence you just can't go wrong with a good ol' made-for-TV film.
Grab the popcorn and a mate, these are best soppy movies that you can watch on Netflix right now.
Harvest Moon
When Jess, a discount Carrie Bradshaw-style shopaholic, goes bankrupt, she's forced to return to her family's pumpkin farm (yes, a freakin' pumpkin farm). Predictably, she must deal with like, mud and farm stuff, while unlearning all her fancy, princessy, high-heel wearing ways. She also catches the eye of the farm's tall, dark and handsome manager, Brett. Jess is soon so consumed by the dashing country boy that she sees the error of her ways, and they work together to turn the farm around. Soppy romance-on-horseback ensues.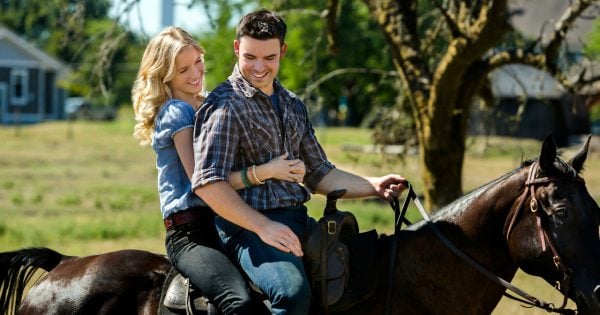 Autumn Dreams
Annabelle and Ben were a pair of lovesick teenagers who eloped, only to have their marriage have annulled by their meddling parents. Fast forward fifteen years later, and the high-flying pair are engaged to other people. Naturally, the long-separated high school sweethearts discover they're STILL MARRIED because there was an ERROR IN THE PAPERWORK (gasp!) and their union was never properly annulled. They must come together one last time to finalise their divorce because apparently there are no lawyers in whatever generic city this is set in ... and naturally all the feels are still there.
LISTEN: The Mamamia Out Loud team recommend the very best movies of the year to watch over Summer. Post continues after audio.
Rodeo & Juliet
This movie wins purely because it's called Rodeo and Juliet. Points for the title. In another city gal out of water tale, urban lass Juliet leaves her urban stomping ground to work at her late Grandfather's ranch. Obviously, being a City Gal, she struggles to fit in. That's nothing a cute long-haired cowboy with a cool accent cannot fix. When Juliet secretly enters a Rodeo to save her grandpa's farm, a man in a serious hat called Monty teaches Juliet how to ride her horse. And he teaches her a few other things, not to do with horse riding. Mostly kissing. There's a cute subplot with Juliet's mum finding love with Monty's dad, as well. Because that's not weird.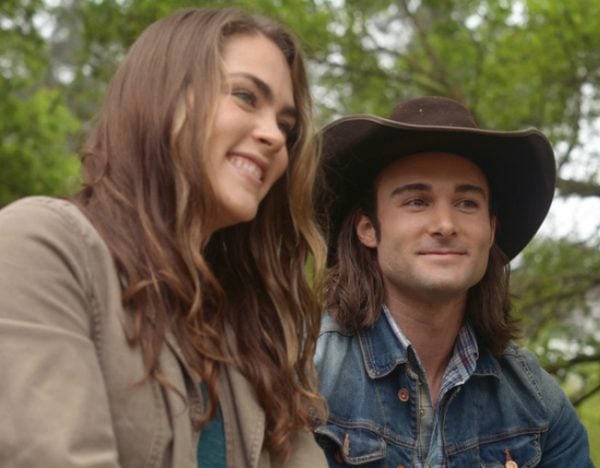 Love By Chance.
Oh, the plight of the career girl! Claire is a stressed-out pastry chef who is too busy to find herself a relationship, because women who work cannot get boyfriends. So, her mother takes it upon herself to find Claire the perfect partner, hoping that her suspicious daughter won't find out that this all a set-up. In comes handsome doctor Eric Carlton, the kind of man who is happy to be part of secret set ups (this is why you're single, mate) and Claire is smitten. But the rouse unravels when she finds out her mum was behind it all and then... they live happily ever after, it's a Hallmark movie guys.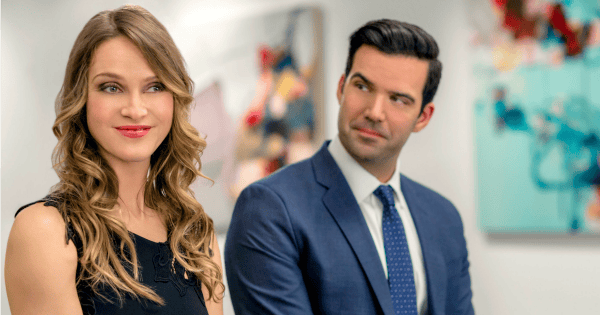 In 2018 Mamamia is launching a new community called Ladystartups for women who work for themselves or dream of doing so some day. We're already on Instagram (come join us @ladystartups) and we have big plans to help women grow their businesses, turn your side hustle into a full time gig or empower you to pursue your dream. Tell us what you want and need from us by taking this five minute survey and register at ladystartups.com to be the first to be updated when we launch.