They're the feel-good, binge-worthy movies that are an absolute necessity over this holiday season.
You know the ones. They're so bad that they're… good.
We are a sucker for any movie that is filled with fluffy romance, and hence you just can't go wrong with a good ol' made-for-TV film.
Grab the popcorn and a mate, these are best soppy movies that you can watch on Netflix right now.
Harvest Moon
When Jess, a discount Carrie Bradshaw-style shopaholic, goes bankrupt, she's forced to return to her family's pumpkin farm (yes, a freakin' pumpkin farm). Predictably, she must deal with like, mud and farm stuff, while unlearning all her fancy, princessy, high-heel wearing ways. She also catches the eye of the farm's tall, dark and handsome manager, Brett. Jess is soon so consumed by the dashing country boy that she sees the error of her ways, and they work together to turn the farm around. Soppy romance-on-horseback ensues.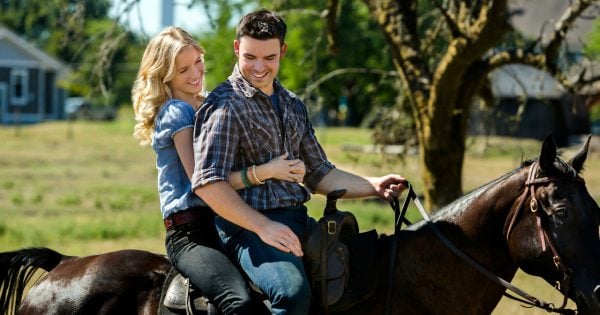 Autumn Dreams
Annabelle and Ben were a pair of lovesick teenagers who eloped, only to have their marriage have annulled by their meddling parents. Fast forward fifteen years later, and the high-flying pair are engaged to other people. Naturally, the long-separated high school sweethearts discover they're STILL MARRIED because there was an ERROR IN THE PAPERWORK (gasp!) and their union was never properly annulled. They must come together one last time to finalise their divorce because apparently there are no lawyers in whatever generic city this is set in ... and naturally all the feels are still there.