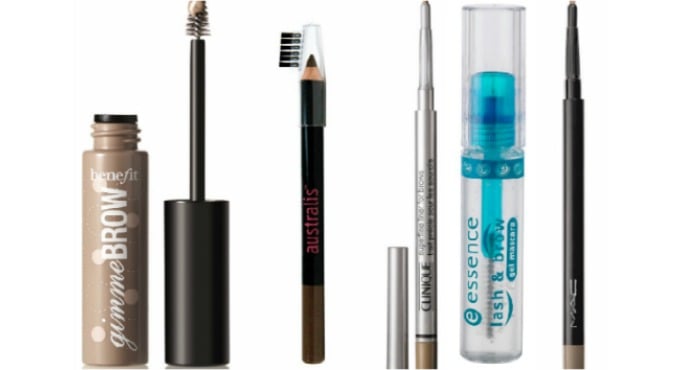 Image via Benefit, Australis, Clinique, Essence, M.A.C.
I have sparse, thin brows, and my quest to find brow products that suit me has been a struggle. I like a natural looking makeup, and don't want to end up looking like Frida Kahlo, so when it comes to finding brow products I feel a little overwhelmed.
Will the pencils be too harsh for my skin? Do I need a finisher? What is brow gel? It is all very overwhelming. So I did some research and came up with the three products you should consider investing in.
RELATED: 4 clever ways to deal with thinning eyebrows.
Pencils
There are a few things you need to look for in a pencil (especially if you have sensitive skin like I do). You want one that glides on, and doesn't tug at your skin. You also need one that is fine enough that it can easily draw thin stokes. Here are a few of the ones I found that fit the bill.
Clinique Superfine Liner For Brows
This liner is really soft, and really beautiful to use. The texture is smooth and it glides on. The pencil is fine, so you can make really light strokes that help define the brows quite precisely. The colour lasts all day, and I would definitely use again.  Clinique Superfine Liner For Brows, $32. 
Nude Brow Liner
This pencil was quite tough to put on initially, I had to rub it into my hand a little bit to soften the pencil. After that though, it was much easier to apply.
The pencil is naturally derived and contains minerals. The colour was really subtle, and looked really natural on. The pencil comes in blonde and brunette. Nude Brow Liner: $14.95.
Pencils
 Brow set
Pencils are only half the job - you also need a good brow set. They keep your brows in shape during the day, and also define them a little more, adding texture to them.
Essence Lash and Brow Gel Mascara
This gel is amazing. It was really gentle on my skin, gave me good shape, and it lasts all day. Essence Lash and Brow Gel Mascara ($4.10).
M.A.C Brow Set
M.A.C Brow Set is a brush on gel that sets the brow into shape. It comes in tinted or clear (I used tinted) and is really gentle on your brows. It can be used on its own, or over brow pencil. It is available in four different colours. You can find it here: M.A.C brow set. ($28)
Brow gels
 Verdict
Because I have such sensitive skin, I need a pencil and gel that are both really gentle, and easy to apply. My favourites, for pencils, are Clinique, M.A.C and IT Cosmetics. They are all very gentle, and looked really natural. My favourite for the brow set would have to be the Essence clear mascara, it lasts all day and is a great budget buy.
The best celebrity eyebrows for your browsing pleasure