So you're both on Tinder, you've both swiped right, and now you're wracking your brain for the perfect ice-breaker introduction.
'Hey' has been done, dad jokes often fall flat if the audience isn't right, and corny pickup lines are just… well, they're corny pickup lines.
But it turns out there's a well of dating excellence at our fingertips and we've been overlooking it for years.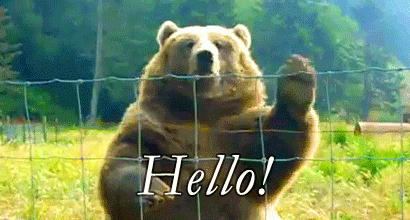 "It turns out people who use GIFs on Tinder messaging are 30 per cent more likely to get a response than those who don't," DTR podcast host Jane Marie says.
Speaking to giphy.com's editorial director, Tyler Menzel, about the topic on the newly launched Tinder podcast this week, Marie continued, "People who use GIFs are also more likely to have conversations that last twice as long."
Despite proving themselves to be the ultimate conversation starter among singles, the world of GIFs is a big, scary, and horrifically uncertain one.
Listen: Psychologist Leanne Hall and love guru Osher Gunsberg talk about how to break the bad relationship cycle, and find someone worthwhile. Post continues after audio.
And according to Menzel, there are generally two types of GIF users on Tinder, so figuring out which one you are before you get sending is important.
"There are the people who use GIFs literally, like, 'hello', 'goodbye', 'good morning'," he says.
"There's this one GIF that is of a polar bear jumping out of a pool and he's saying, 'OMG hi'. That's a literal use of a GIF," Menzel says.