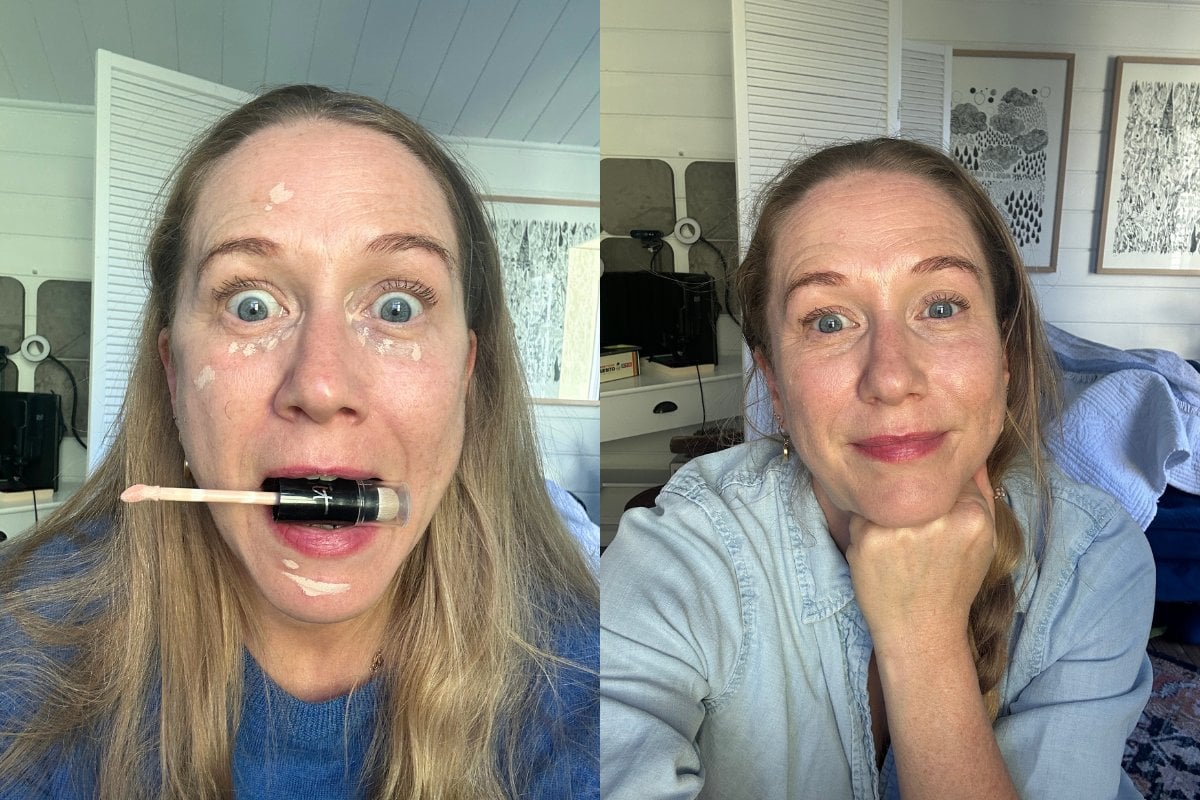 Not been sleeping much lately.
It seems to be going around. Or maybe that's just my (age) group. I'm not partying till 3am. I no longer have a kicking toddler in our bed. I'm cramming the chamomile and banning the phone from the bedroom and mainlining magnesium and... nup. I'm still there, panic eyes at 2am.
It feels unfair. This is a time in life when I should be sleeping like the babies who used to stop me sleeping. Us midlife women are all 10,000 steps and vegetables and home by nine. And yet, I slept better when I was all tequila and tacos and bed by three.
Anyhoo, while we work our way through that little hormonal mindf**k, I have been building an arsenal of surface-level helpers. We all know there's only one thing worse than feeling exhausted, and that's looking exhausted.
Watch: Rae teaches us how to even out our skin tone, apply foundation and concealer, plus find the perfect spot to place your blush. Post continues after video.
Because people tilt their heads and say, "You look tired," and you want to cry. Sometimes, you do actually cry, because apart from the sleeping thing, you're feeling pretty good. Got a lot of s**t to do. Need to look like you can handle it. Don't want the world to write you off.
So let's turn to the superficial, friends, and bury our sleep problems under a generous dollop of concealer. There is nothing I like better than treating a real problem with a beauty solution. And I am borderline obsessed with midlife skin and the things you can put on it to make it look fresh AF, in a mature, we-don't-say-AF-anymore way.
Concealer gets trickier as your skin gets older and more... specific. Some beauty experts say maybe you shouldn't use it at all, because it's (usually) thicker consistency can get trapped in lines and make them more of a feature, not less. But my undereye shadows, dashes of pigmentation, and the occasional hormonal outburst (pimple) mean I'm still a devotee.
After finding that quite a few of the "cool" brands' concealers no longer worked for me (too drying, too thick), I did a call-out in the Mamamia Outlouders Facebook group for grown-up concealer reccos. After a couple of months of trying them... results are in.
First off, here's my head with nothing on it, for comparison purposes. Keep it nice, friends, yes, I have a bit of mazzy and a bit of my recording red lip on...
So this is the most widely available not-too-exxy make-up brand in my neighbourhood. E.g.: They sell it at the chemist. And here's what I like about this – nice thick doe-foot applicator, really decent coverage, not at all drying. And it's unusual (for me) to get full coverage without the cakey stuff.
Verdict: This lives in the car.
I still get spots. See above, it's unfair. And this baby does not budge. I think it's a bit better on redness and pigmentation than under-eye, but that's just me. I'm sure a proper beauty person would say that's because it's a corrector and that's what it's meant to do, but for me it's about texture and staying power. My lifestyle doesn't really require a 30-hour pigment these days (lol) but this coverage at this price is hard to beat.
Verdict: Comes out for the big jobs.
MID
Hello, lover. Rageism is an Aussie Lady Startup brand that makes mineral make-up that delivers for grown-up skin. Their foundation has been one of my absolute must-haves for years now. It gives a real full-coverage, super-glowy base that I use for going out-out, every time.
The concealer is equally good. Lots of women told me this was their favourite-favourite, because mineral (great for sensitive skin). Because staying-power. Because creamy but not thick. It's got vitamin E in it, and it's highly pigmented, so it really actually covers.
Verdict: As good as they say. On high rotation.
SPENDY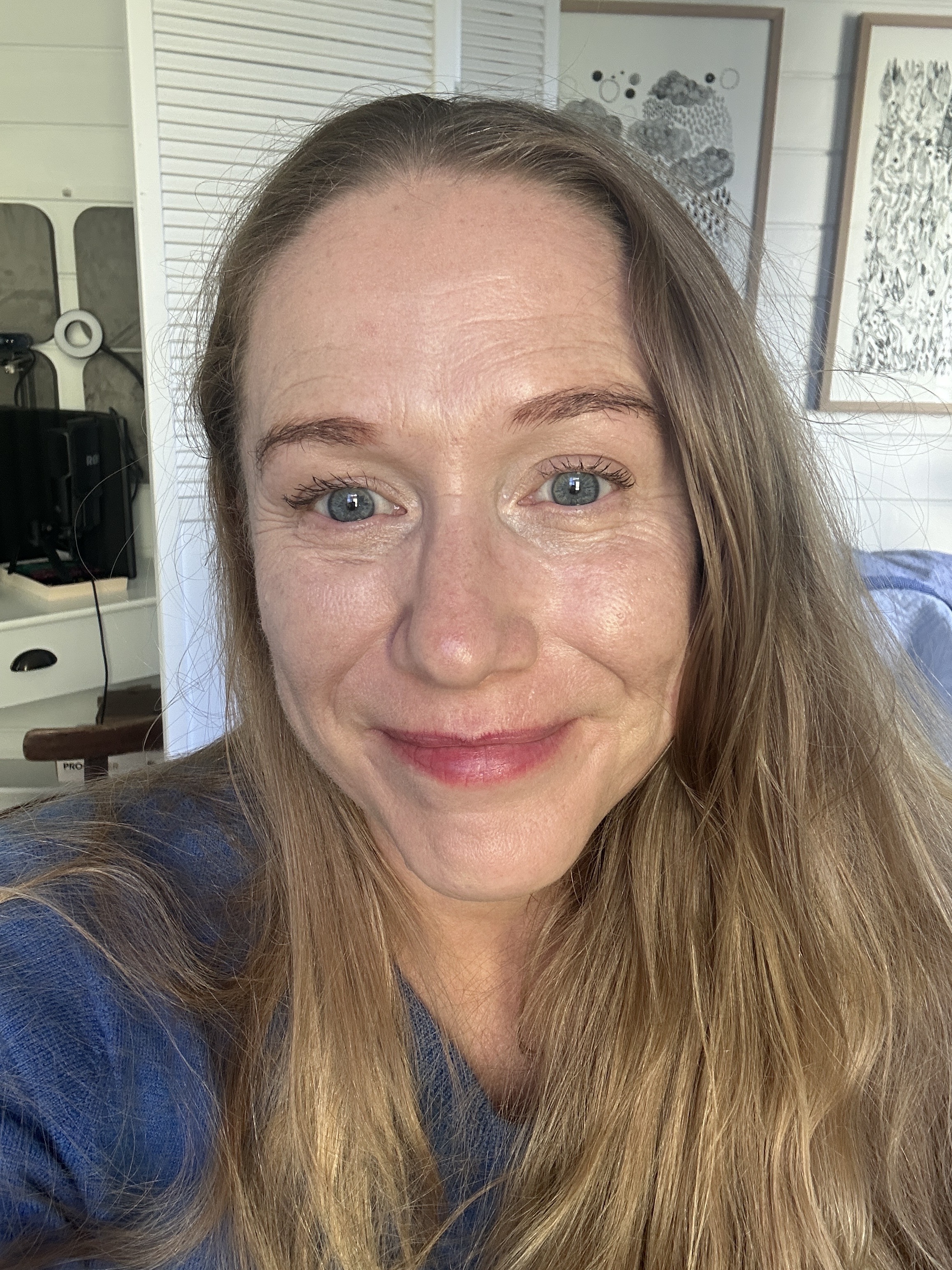 Image Caption
IT Cosmetics Bye Bye Dark Spots Correcteur + Serum, $52.
Let's have a moment for the little brush. It's no secret that I LOVE IT Cosmetics CC Cream (particularly the elusive Nude Glow version) and this concealer on under-eye is so great we're considering making it official. Bye Bye Undereye is a cult classic but (full disclosure) I have found it a bit thick for me. This might not be designed for exactly what I love it for, but it works for me. The serum-yness (that's official language) means it's not even a little cakey, and the double-whammy of applicator + brush is heaven.
Verdict: New obsession.
Okay. This was recommended to me by lots of Outlouders AND a wonderful mature MECCA staffer when I first went searching for my new-age concealer, and they were all so right.
Kosas is a brand that loves to say it's 'clean' beauty, and people who know more than me tell me that's a little bit silly because there's no such thing, really, as a 'dirty' beauty brand in our highly regulated market, but the word appeals to me all the same. I like products that are simple, no-nonsense, do what they say, and this concealer is that. It's medium coverage – so you can put a little or a lot on – and it's brightening and hydrating, so it never settles in your little crinkles and creases, but most of all the reason this is always in the make-up bag is that it is SO creamy. So good under eye.
Verdict: So creamy, so good.
That's that.
My apologies to your wallet. But my compliments to all that fake sleep you're getting.
Feature image: Supplied.
Calling all Shopaholics, Retail Therapy Enthusiast & Glamour Gurus ! Take this short survey now to go in the running to win a $50 gift voucher!
Unlock unlimited access to the best content for women