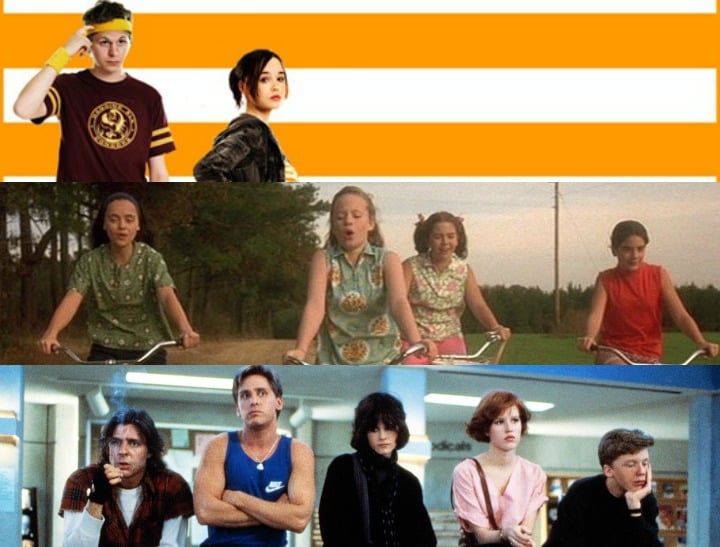 Because they never get old (even though we do).
Whether it's desperation to fit into the cool clique or struggling against your parents' rules — the reason that we love coming-of-age films is because they're so damn relatable. Even if we have never found a dead body with our friends or owned a magical pair of jeans, we understand the emotions and can put ourselves in their shoes (or pants).
We felt it when Juno decided her child's fate and we fist-pumped when Ferris stuck it to his principal. We all know how much growing up sucks and the trials and tribulations it brings with it.
So if you haven't caught up on these cinematic gems now is the time.
No excuses. Consider it a self-imposed detention…
11. Bend it Like Beckham.
"Anyone can cook aloo gobi, but who can bend a ball like Beckham?"
Sometimes girls just wanna play football, dammit. This movie made us love Keira Knightley (and Jonathan Rhys Meyers) and taught us that you gotta fight for your right to…play soccer.  We cheered for Jess when she finally convinced her conservative Indian family that she should be free to do her thing, and we cheered even more when she made out with her stud muffin coach.
10. Mean Girls.
"Glenn Coco? FOUR for you, Glenn Coco! You go, Glenn Coco."
When home-schooled Cady Heron moves from Africa and starts at an American high school, she's got a lot to learn about cafeteria tribes and buttering muffins. After accidentally infiltrating the cool girl group — The Plastics — she's pushed to sabotage them by outsider Janise Ian and the "too-gay-to-function" Damien. She quickly finds out that popularity isn't all it's cracked up to be  and real friendship will always win out (consistent coming-of-age lessons). Oh and that ALL girls should do maths.
9. Ferris Bueller's Day Off.
"Life moves pretty fast. If you don't stop and look around once in a while, you could miss it."
The ultimate movie for when you feel like chucking a sickie. Ferris, his girlfriend Sloane and BFF Cameron ditch school for the day and took a tour of Chicago. Along the way, Cameron learned to stand up to his domineering father and Ferris repaired his strained relationship with his sister while taking down the evil school principal.
8. Easy A.
"I might even lose my virginity to him. I don't know when it will happen. You know, maybe in five minutes, or tonight, or six months from now, or maybe on the night of our wedding. But the really amazing thing is, it is nobody's goddamn business."
High-schooler Olive Penderghast tells her badgering best friend Rhiannon a little fib about losing her virginity (which subsequently gets around the whole school thanks to gossip hound and religious freak Marriane). When lie begins to take on a life of it's own, Olive starts to learn that truth is always to best policy. It's smart, witty and hilarious and taught us that even if you don't care about what others think you should always care for yourself.
7. Stand By Me.
"I never had friends later on like the ones I had when I was twelve. Jesus does anyone?"
This classic coming of age film based on the Stephen King novella "The Body" tells the story of four young boys who set out to find a missing body and become local heroes in the process. In the end the kids find out that growing up sucks, life isn't fair and everything won't always be ok. Welcome to adulthood. Also: River Phoenix RIP.