I am about to make a very serious and controversial accusation.
It is my belief that, as of late, people have been throwing around recommendations far too haphazardly.
"You MUST watch this documentary I saw on Netflix," they insist. "It's about the psychology of adolescent honey bees in Ghana," they explain.
… No.
Before long it becomes clear that they didn't even like the documentary that much. It was average at best. But there is a certain currency that comes with recommending something. It says something about you. "I'll have you know I'm the type of person who watches documentaries about bees," they're really saying, and frankly, I don't care.
I, along with the rest of the world, only want the very best recommendations.
We're all far too busy to have people giving us substandard pop culture suggestions. So I present you with a very carefully and thoughtfully constructed list of the six books to read over the next few months.
I guarantee that once you start, you won't be able to put them down.
POST CONTINUES BELOW: Every week on Mamamia Out Loud we share our recommendations. This week, mine was The Dry by Jane Harper. 
The Dry by Jane Harper
Before I picked up The Dry, precisely nothing about it appealed to me. It's set in country Australia, the protagonist is a male policeman, and it explores what appears to be a murder suicide of a man, his wife, and his son.
But this book is absolutely brilliant.
It's incredibly suspenseful, and explores two mysterious murders simultaneously. The imagery of the Australian outback is so vivid you can almost smell it.
The New York Times described Harper's debut novel as a, "breathless pageturner… A secret on every page," and the Publisher's Weekly wrote, "a suspenseful tale of sound and fury as riveting as it is horrific."
If you like true crime, this book is absolutely for you.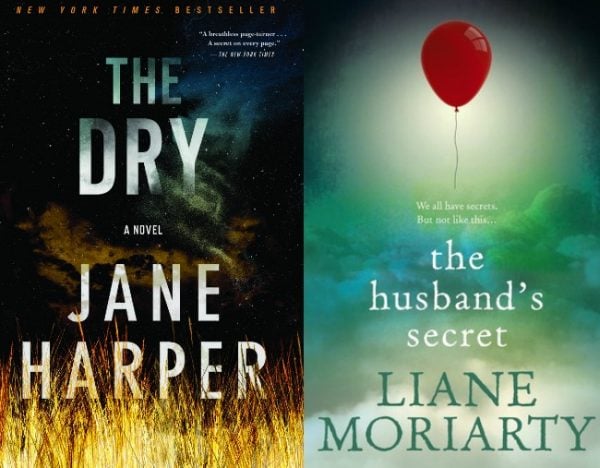 The Subtle Art of Not Giving a F*ck by Mark Manson
I tried so hard to resist the cult of The Subtle Art, I really did.
I argued with friends who preached Manson's teachings as though they were gospel, despite the fact I hadn't read it.
And then I actually picked it up. Dammit.
The Subtle Art of Not Giving a F*ck is the self-help book for people who can't stand self-help.
It's easy to read, straight forward, practical and is guaranteed to change the way you think. It draws on a great deal of intellectually dense philosophy and psychology, spanning centuries, and reinterprets it in a way all of us can understand. Manson doesn't promise us happiness or prosperity - rather, his point is that bad things are going to happen, and we need to learn how to best deal with them.
Manson's book is funny and frank, and the perfect conversation starter. It's great for anyone who feels like they need a kick up the butt, or who wants to read something that makes them feel smarter.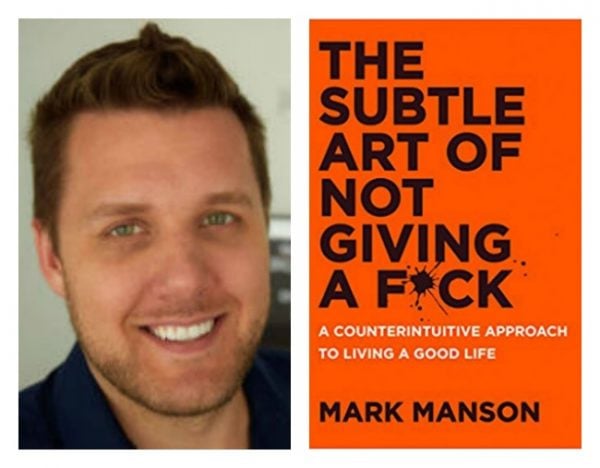 The Husband's Secret by Liane Moriarty
It is almost impossible to put into words the unparalleled brilliance of Liane Moriarty.
I'm warning you that once you read one of her books, you will find yourself searching for everything she has ever written. Moriarty is the author of Big Little Lies, Truly Madly Deeply, What Alice Forgot, Three Wishes, The Hypnotists Love Story, and The Husband's Secret.
Sophie Hannah wrote of The Husband's Secret, "A staggeringly brilliant novel. It is literally unputdownable."
I found myself not being able to leave a cafe one afternoon midway through, and when I eventually did get in my car, I didn't turn it on for about 45 minutes because I couldn't stop reading.
It's a story about a woman named Cecilia, a mother to three children, who finds a note in her attic one day from her husband that says, "If you're reading this, then I've died." What follows is an unimaginable confession.
Moriarty's book is for anyone who loves a compelling story, and wants to be transported somewhere else entirely.
POST CONTINUES BELOW: Liane Moriarty speaks to Mia Freedman about what goes in to writing a best-selling book. 
Option B by Sheryl Sandberg and Adam Grant
Facebook COO Sheryl Sandberg's book Option B: Build resilience in the face of adversity, is one of the best selling books of this year.
In May 2015, Sandberg was holidaying in Mexico with her husband Dave Goldberg, when he suffered a shock cardiac arrhythmia. He collapsed at the hotel gym, and later at the hospital, Sandberg was delivered the news that her 47-year-old partner had died.
Option B is about how to cope with a life-shattering tragedy. It combines Sandberg's personal insights with groundbreaking research.
Malala Yousafzai, Nobel Peace Prize Winner, writes, "I recommend this inspiring book to everyone around the world. None of us can escape sadness, loss, or life's disappointments, so the best option is to find our Option B," and fellow author Atul Gawande adds, "It provides lessons that everyone needs to learn."
Sandberg's book is perfect for anyone who has faced loss or trauma, or has someone in their life who they desperately want to help.
The Mummy Bloggers by Holly Wainwright
I might be slightly bias, but Holly Wainwright's debut novel The Mummy Bloggers manages to say everything you've been thinking about social media for the last 10 years.
Mia Freedman writes that Wainwright is, "The freshest funniest new voice in fiction since Liane Moriarty." The Mummy Bloggers is fast-paced and suspenseful, and offers a fascinating insight into the world of women who make their money from a carefully curated social media presence.
POST CONTINUES BELOW: Mia Freedman speaks to Holly Wainwright about her brand new book. 
It centres on the lives of three bloggers, one of whom is intensely unlikable,  and explores what lengths these women will go to in order to beat out the competition.
I can say with certainty you will never, ever guess how it ends.
Wainwright's writing makes for an effortless read. You'll find yourself wanting to flick forward, but not wanting to miss a word. It's the perfect book for anyone with an Instagram or Facebook account, who wants to read something thoroughly enjoyable, and then feel smarter for having read it.
All The Light We Cannot See by Anthony Doer
I was given this book by three independent people who insisted I absolutely had to read it.
And the first few chapters did not grab me at all. It was overly detailed and convoluted.
My advice is to absolutely persevere.
It's set in World War II and is about a blind French girl and a German boy whose paths collide as they both try to survive.
All The Light We Cannot See has been dubbed one of the most beautifully written books ever produced. It's the winner of the Pulitzer Prize for Fiction, and you'll find yourself thinking about it months after putting it down.
If you like books that challenge you, and have an interest in history, Anthony Doer's novel is sure to impress.
*****
An honorary recommendation goes to Mia Freedman's book (if you haven't already read it) Work Strife Balance. It's for any woman who feels like she's not quite coping, and wants to feel less alone.
Grab these books and put them on your bedside table.
Let us know what your book recommendations are below... 
The award-winning podcast Mamamia Out Loud is doing their first live show. There will be laughs, disagreements and you can meet the hosts afterwards! We're also donating $5 of every ticket price to Share The Dignity so grab your friends and come along to share the love and laughs, get your tickets here.