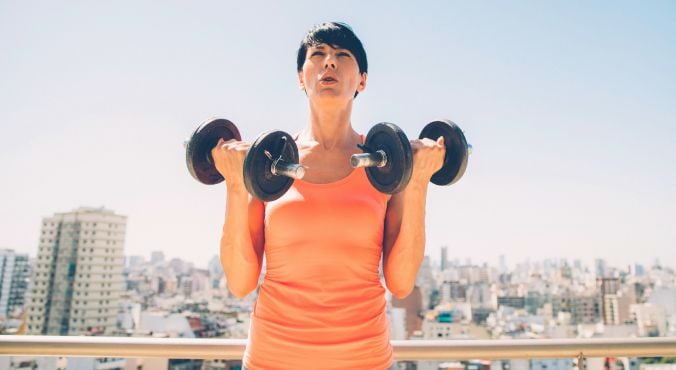 Image: iStock.
Regardless of whether you're a regular gym bunny or totally new to exercise, the idea of strength training can be a little intimidating.
The numbers reflect this — according to Australian Bureau of Statistics data, just one per cent of Australian women train with weights regularly. This is a shame, because there's a long list of wins associated with this workout approach.
RELATED: How to use the weights section at the gym.
"We know that heavy strength training can offer significant health benefits for women. When appropriately designed, it has the ability to protect against osteoporosis, cardiovascular disease, lower-back pain, cancer and other disabilities," says Accredited Exercise Physiologist Alex Lawrence.
Here are seven things you mightn't know about it.
1. Weights aren't strictly necessary.
No gym membership? No weights? No stress. These aren't a pre-requisite for enhancing your strength.
Alex Lawrence says body weight exercises — i.e. using your own weight to create resistance during a workout — can "pose a significant challenge" and are a great alternative to lifting weights. "There are extensive benefits from utilising body weight exercises. Not only is it an inexpensive alternative to a gym membership, it's also an effective tool to meet your strength goals," he explains.
RELATED: 4 things you should be doing when you've got sore muscles.
Body weight exercises include things like squats, lunges and pushups, which can all be performed in the comfort of your own backyard or living room.
2. It burns calories like crazy.
Strength training increases your muscles, and in turn, your metabolism. This means your body will blaze through calories at an elevated rate, even when you're at rest later in the day.
"It has been suggested that a pound of muscle burns six calories at rest, compared to two calories burned by a pound of fat," Lawrence explains.
"Not only that, but lifting heavy weights can give your metabolism a prolonged boost long after the workout has finished." (Post continues after gallery.)
How the rich and famous stay fit
 3. Yes, you can strength train while pregnant.
Although there's a persistent belief that strength training during pregnancy is unsafe, Lawrence says this generally isn't the case.
"It really comes down to the mother and her capabilities and training experience. While it is not advised going from one extreme to another, this doesn't mean that a mother cannot begin a weight training program while pregnant," he explains.