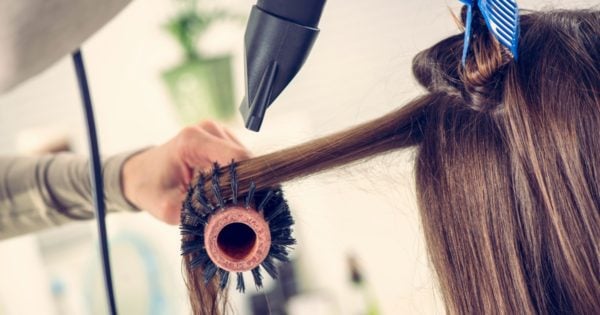 Not long ago, oil was considered a dirty word in the world of beauty, associated with greasy hair and shiny skin. Given that history, you can be forgiven if you're feeling a little intimidated by the current oil trend taking the beauty world by storm.
After all, voluntarily applying oil to your body after years of doing everything possible to avoid oily skin or hair would feel a little strange.
But trust us, it's worth it. From rosehip to jojoba (and all coconut in between) there are plenty to choose from. My favourite? Argan oil, or 'liquid gold' as many refer to it thanks to its bountiful helpful properties. It's a natural ingredient extracted from the kernels of the argan tree native to Morocco.
After first trying it last year, it's now quickly made its way into most areas of my beauty regimen, from my hair to my makeup.
1. For commercial-worthy hair.
There are many things I love about having naturally curly hair, but the constant dryness (oh, and the frizz) is not one of them. Which is why argan oil is a miracle worker. It nourishes hair, adds the good kind of shine, acts as a scalp moisturiser to help fight dandruff. Talk about a hard worker.
Going for pure argan oil will keep your options open – you can use as an intensive hair mask, or in place of a leave-in conditioner. Just apply to damp hair, working the product right through from root to tip. It's also great as a styling product to get rid of any frizz and loose flyaways, particularly after heat styling. I squirt into my hands, rub together then gently smooth over my hair.
The trick to avoiding oil overload is just to use a very small amount – a pea sized amount will do the trick. If you're a bit apprehensive or don't want to give up your existing favourites, look for hair products that include argan oil as an ingredient instead.