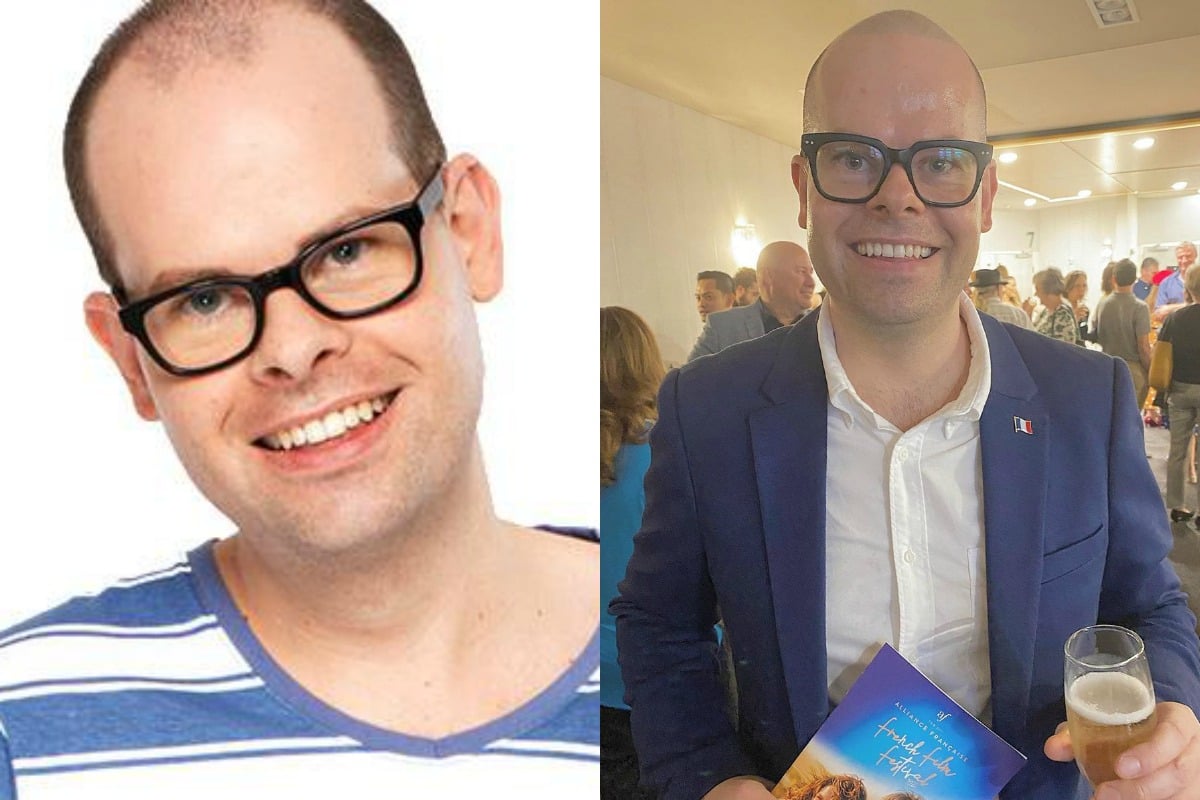 As a kid, Ben Zabel had a routine he would follow each morning before school.
"Usually while I was getting dressed I had a John Denver cassette playing in my room," he tells Mamamia. "Then my mum would make me a Sustagen drink – she was obsessed with the idea that I had brittle bones and would just fall over one day and die – and she would chop up a banana. I would sit in my green lime beanbag in my uniform and have my Sustagen shake while I watched Agro's Cartoon Connection."
Now, three decades later, Zabel is working on a comedy show with Agro which they will be performing around Australia, beginning at the Brisbane Comedy Festival next month. He's still getting used to the idea of being up so close to his childhood hero, who puppeteer Jamie Dunn has been keeping in a suitcase "for, like, 15 years".
Side note: If reality TV interviews were honest. Post continues below.
"Every time he gets Agro out and we do an Eskimo kiss and we rub our noses and he bites my face, I squeal. It's so crazy!"
Zabel never imagined himself having a career in entertainment, but going on Big Brother in 2013 changed his life. The former flight attendant went along to the Brisbane Big Brother auditions purely because they were being held in the hotel ballroom where his high school formal had taken place.
"I really wanted to see it one more time," he explains. "I'm quite a nostalgic person."
Despite not joining in when everyone at the auditions was asked to "bark like a dog that you know" and "give your best orgasm", Zabel somehow made it through. Once he was on Big Brother, viewers loved his quirky personality. When he came out of the house, he found that everyone was treating him differently.
"It's so weird," he remembers. "I felt like I'd gone to like Earth 2. People have always said to me about my snort, 'You know, you could probably get surgery to fix that.' I remember googling 'snort surgery'. Then all of a sudden it was, 'I love your snort! Your snort's so great!' Really?