Disgraced wellness blogger Belle Gibson, who claimed to have cured herself of terminal brain cancer with little more than healthy eating, earned a fortune by giving her fans false hope.
And now a video shown in court has revealed she rehearsed with her publisher what she would say to reporters to convince them of her claims.
In the footage, tendered to the Federal Court as part of the investigation into Gibson's conduct, the blogger is questioned by Penguin representatives about everything from her terminal cancer diagnosis to her philanthropic claims, in an effort to prepare her for media appearances ahead of the 2014 release of The Whole Pantry.
"We want to rehearse some questions with you," a Penguin representative says in the media training video.
"Because what we suspect might happen now, is that because you are the success story of the moment … you know what journalists do, they want to start scratch, scratch, scratching away."
"They already are," replies Gibson.
"And we're concerned about that," the Penguin representative says.
The video has been used as part of Consumer Affairs Victoria's investigation. Prosecutors have accused her of "misleading and unconscionable conduct" over the promotion of The Whole Pantry app and book, in which she claimed to have healed herself of cancer without conventional medicine.
Gibson admitted to Australian Women's Weekly last year that she had never in fact suffered from the disease, but said she was duped into believing she did by two men claiming to be doctors.
Gibson is also accused of giving just a fraction of the $300,000 she promised to donate to nine various charities, after raking in more than $420,000 in sales.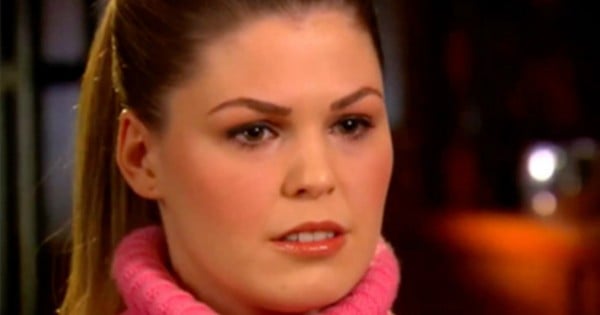 Image: Channel 9.
When pressed on charity donations in the Penguin interview, Gibson says the Indonesia- and Cambodia-based charities she was dealing with "don't speak English", but that she could have documentation to prove the claims within six months once her books are "tidied", reports Fairfax media.
Later in the interview, the lead Penguin interviewer says: "I think you really need to get your story straight about the charities. I think they're going to go there with that."
In the footage, Gibson also tells the Penguin interviewers she believes she is dying.
"I don't think I'm going to die tomorrow, but my body is dying. Of course it is," she says.
Gibson stresses there is enough of her "cancer story" out there, and that she doesn't want the media to "know every nitty, gritty detail" about her life.
"You know like, 'Who was the person who you lived with?' You know, 'Their exact name'," she said. "That's a whole other situation and story."
Penguin has since admitted it failed to fact check the book, and earlier this year was ordered to pay $30,000 following Consumer Affairs action.
The company will also be forced to include "prominent warning" notices on all future books containing claims about therapies that are not evidence-based.
Gibson has refused to file a defence in the civil case against her. She faces penalties of up to $1.1 million.
She did not appear in court on Tuesday.
Justice Debra Mortimer has reserved her decision until a later date.